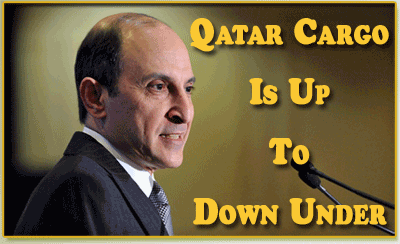 Qatar Airways Cargo said it joined the International Freight Assistance Mechanism (IFAM) an initiative by the Australian Government to help restore critical global supply chains for high-value Australian agricultural and fisheries producers, who have been heavily impacted by COVID-19 containment measures around the world. Through this initiative, the Australian Government is helping cover the cost of airfreight – reducing airfreight and freight forwarding costs for exporters and other measures for businesses and exporters.
"Air cargo is crucial during times of crisis and we are glad to support the Australian Government and businesses in the fight against the pandemic," Qatar Airways Group Chief Executive, His Excellency Mr. Akbar Al Baker said, adding:
"Through our passenger flights and freighters from Australia, we are offering registered exporters over 750 tons of cargo capacity each week for their high value fresh produce.
"In times of crisis, we need to be able to adapt quickly and we are proud to be part of this initiative that supports global trade."
"Through IFAM's mechanism, QR Cargo is offering block space capacity and charters for Australian exports from Melbourne, Sydney and Perth," QR Cargo said.
"For other destinations including Brisbane and Adelaide, trucking options are available." More click here.