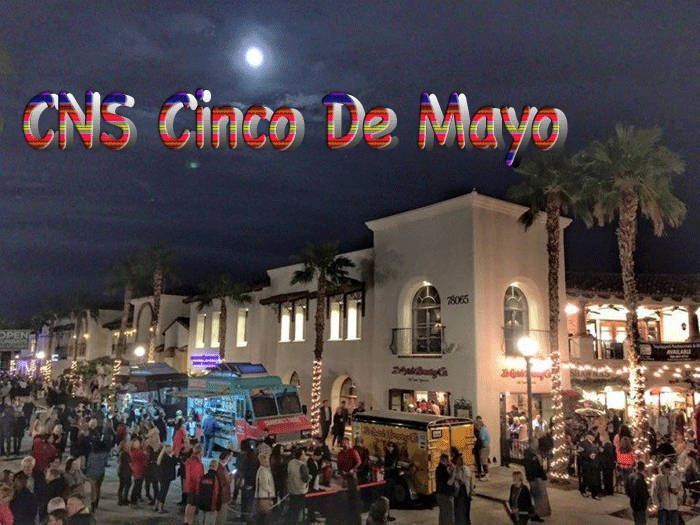 Cinco de Mayo falls on a Saturday in 2018, affording readers a nice chance to spend the weekend with margaritas, chavelas, or just go all in with shots of Patrón.
For people that want to get a head start on Cargo Network Services (CNS) Annual Partnership Conference (beginning Sunday, May 6 with a golf tournament), here is what's happening in the always very hip Coachella Valley for Cinco de Mayo.
Of course, the host CNS hotel "Waldorf Astoria" will feature the lovely and sumptuous Adobe Bar & Grill, Mariachi music, and a relaxing evening.

Cinco de Saguaro Pool Party

But The Saguaro Hotel Palm Springs, located 18 miles away in Palm Springs, is hosting a poolside party on Saturday, May 5, celebrating Mexican culture & life through music, community, and the spirit of the Mojave Desert.
With a DJ spinning the best, it is strictly rhythm-driven desert vibes. Elsewhere, "Dringk" a Rancho Mirage restaurant/bar about 10 miles from the CNS host hotel, offers low-priced food and drink options for Cinco de Mayo, with live music, specials including $4 margaritas, $4 Modelo drafts, $4 tequila shooters, $4 Mexican candy shots and $2.50 street tacos. Las Casuelas Terraza in downtown Palm Springs will celebrate May 5 with a traditional mariachi band and food, and guests will be able to add a special shot of premium Casamigos Tequila to any margarita for only $4. It starts at 11:00 and goes until Sunday at 12:30am.

Right Under Your Nose In Old Town


Our top choice for genuine flavor of the day is an event in the upbeat City of La Quinta, only 4 minutes away from the host hotel. It begins at 18:00 and continues until 21:00 (or longer), pairing an authentic fiesta with unique South-of-the Border flavors from some of La Quinta's best restaurants including tequila and taco tastings for only $5 each at Solano's West Coast Bistro, The Grill on Main, Old Town Tavern – Barbeque & More, and Stuft Pizza. Each restaurant will offer a different brand of tequila and a distinctive food tasting.
Not sure if Chef Brett from The Grill on Main will offer his irresistible Cast Iron Baked Brie appetizer served with honeycomb, fig chutney, dates, candied walnuts, roasted garlic and artisan bread, but I can dream, can't I?
The special Cinco season features include Mariachi music on Main Street and an outdoor beer and wine garden. Free admission & parking.

Cinco Swam Before The Party

On May 5, 1862, France was at war with Mexico and attacked the City of Puebla, where two forts blocked the advance of the French troops.
Before the day was over, one of the forts was destroyed and the Battle of Puebla went to Mexico.
The battlefield is now a city park, with a statue of General Zaragoza, Mexico's hero of the encounter, on horseback near a war museum.
Cinco de Mayo is a national day of celebration in both Mexico and the U.S.
This year as CNS meets in Palm Springs, California, we raise our glass to everyone and better times all around during 2018 and beyond.
Feliz Cinco de Mayo!
Geoffrey