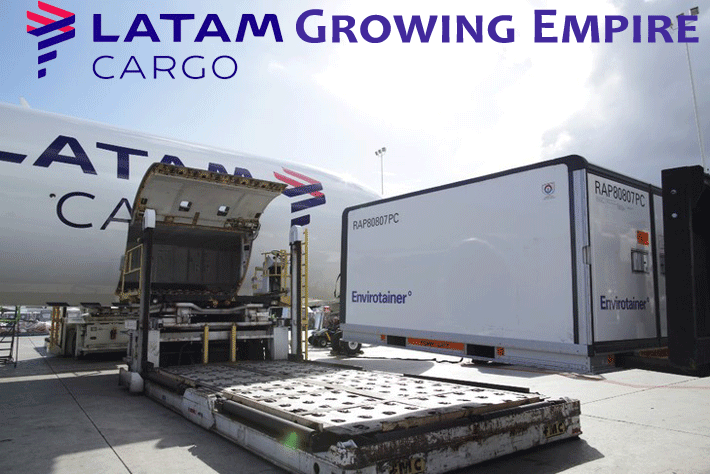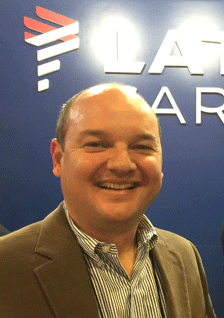 LATAM Cargo Vice President Sales East Coast Andres Varela doesn't claim to know it all.
But there is something this youthful, energetic 19-year veteran does know. As vice president for Miami-based LATAM Cargo, he understands he has a tiger by the tail. LATAM is growing its cargo business all over the world.
New Destinations For 2018
LATAM continues building a growing empire in the sky.
Last month in March 2018, LATAM added Rome (Italy).
LATAM operates three weekly flights (increasing to five weekly flights in July 2018) from São Paulo to Rome, which will become its second destination in Italy after Milan.
LATAM Airlines Group and its affiliates now offer flights from São Paulo to Lisbon and Boston.
We note LATAM's website shows schedules to these destinations began April 15.
LATAM also announced they intend to add 3x weekly flights to Tel Aviv by the end of 2018. Subject to regulatory approval, the airline plans to operate the flight from Santiago to Sao Paulo to Tel Aviv.
JBA With AA & IAG
Last year, when Brazil's Administrative Council for Economic Defense (CADE) approved the proposed Joint Business Agreement (JBA) between LATAM Airlines Group and American Airlines, the move added to the approval of the LATAM-IAG (International Airlines Group) JBA that was given approval in March 2017.
Both JBAs have also been approved in Colombia and Uruguay.
First CEIV Pharma
Last year, LATAM Cargo historically became the first airline in the Americas to receive CEIV Pharma certification from IATA, and in November 2017 was awarded with the certification as a handler for its HUB at MIA.
Since that global certification and marketing scheme began in Brussels in 2014, it has been gaining recognition from airlines, airports, freight forwarders, and shippers.
Interestingly and maybe even unique amongst all CEIV-certified carriers, while welcoming the benefits of accreditation, LATAM also tipped its hat to the process.
"The CEIV certification process," LATAM declared, "has been beneficial for LATAM Cargo.
"CEIV has provided access to new assessment and control tools, which we have helped to improve our product quality and service delivery up and down the line and, it has also strengthened our awareness in the importance of the proper transportation and handling of pharmaceuticals."
On The Line In Miami
Andres was born in Colombia. He said that when he began his career in aviation fresh out of college, he opted for the airlines rather than joining his dad, who was an executive at a brewery in Colombia.
"I did my apprenticeship at Tampa Airlines and fell in love with the business at once.
"After six months, as I prepared to go back and finish my last year in college, my boss at Tampa told me, 'You are not going back to college.
You are a natural in this business.'
"So I stayed and the rest, as they say, is history. I have been an airline cargo guy ever since.
"To me, air cargo's greatest attraction lies in its dynamism."
"One day the consignments are running perishables, the next, the oil business, and then pharma and even more heavy lift.
"LATAM by attitude and dedication moves easily to the task of handling them all."
An Air Cargo Resource With Options
"LATAM is exceptional as an old fashioned airline with a real passion for the business that comes down from the top and touches all of us.
"Our air cargo product and dedication to every process of the business puts us in a class all by ourselves.
"For example, the mix of our fleet between freighters and belly lift provides our customers options unique in this hemisphere. Coupled with our growing global route system, it is steadily moving our brand to places all over the world, including China."
A Very Good Year
"2017 was a very good year. It began a bit slow, but steadily momentum has increased," Andres said.
"Business was especially alive southward. Brazil, which in many respects dictates success in air cargo, is coming back alive.
"Chile and Argentina have also rebounded nicely as rates move upward, which is a major plus right now.
"Generally speaking, corporations have adjusted nicely to right sizing their businesses and shipping smarter.
"Value for money means even more in a robust market so we at LATAM continue to bring our style of attention and detail to every commercial account.
"For example, our results in Brazil as a market were up 20 percent YoY versus 2016.
"No doubt, the struggles of the past few years are fading, so we move forward into 2018 with even more confidence seeing a good year ahead.
"While it is said that a rising tide lifts all boats," Andres Varela said, "LATAM will take nothing for granted as we continue to build and expand our product offering."
Geoffrey