The Express Industry Council of India (EICI) recently released the Indian Express Industry-2018 report which presents an optimistic scenario for the domestic express industry.
With an annual growth rate of 15 per cent, the express industry in India has rocketed upward.
However, the report stated, though it has enormous potential, obstacles have stymied its growth.

Needs More Time

Among the obstacles EICI points out are lease periods for infrastructure developments.
The period should be increased to 30 years. "For development of air cargo infrastructure," the report said," there should be time-bound approval from the Bureau of Civil Aviation Security (BCAS)," aimed at example, for the commissioning of cargo and express terminals.

Flipkart Challenges Operators

Pointing to Amazon and home-grown Flipkart, the report said that "e-commerce players have challenged express operations and "unlocked" opportunities by bringing in value added services".
"In fact, e-commerce players have caused a major disruption in the domestic cargo sector.
"E-retail, as a part of the B2C express segment, is estimated to contribute Rs 5000 crore ($752 million) to the express industry during this fiscal.
"In terms of volume, the report states," close to 1.3 million shipments are being shipped daily – including the forward fulfillments and returns," the report said.

E-Retail Changes Everything

"The dynamic and competitive nature of the e-retail segment has brought in many new trends for the industry such as adoption of alternate delivery methods, customer-centric delivery, shift from air express to surface express, increase in regional movement, adoption of technology and expansion to remote locations," the report pointed out.

Need For Greater Handling Flexibility

The report also pointed out that if foreign cargo carriers were allowed to self-handle security functions and obtain regulated agent certification, it would facilitate the ease of doing business and also hasten the development of the air infrastructure as well as air express.

Overseas For Domestic All Cargo?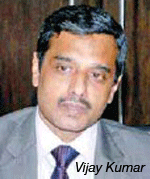 Perhaps, the most important recommendation made in the report concerns domestic cargo carriers .
"The government," said the report, "should allow domestic cargo carriers to fly abroad.
"That," according to Vijay Kumar, COO of EICI, "will not only bring more operators but give us a level playing field" with international cargo operators.
"The EICI would like the government to re-evaluate the civil aviation policy and open the skies to domestic cargo operators, Mr. Kumar declared.
Today India's top domestic air cargo operator is Blue Dart and the only other dedicated cargo carrier – though on a much smaller scale – is Quikjet.
Tirthankar Ghosh