White Paper For True Cargo Partnership
It seems that spring has not sprung quite yet for many across the U.S.
But the weather cannot slow down newly named Cargo Network Services (CNS) President Mike White.
But there's no denying many of us are anxious for the 2018 CNS Partnership Conference to happen and for some hot weather in the sunny California oasis of Palm Springs.
Why Palm Springs Is Irresistible
This will be the first time the conference will be held in Palm Springs, and we are hearing at lot of good things from participants about the location.
"We are excited to be holding this year's CNS Partnership Conference at the Waldorf Astoria LaQuinta Resort and Spa," Mike White exclaimed.
"The Waldorf is a superb property with great restaurants, numerous pools, and five nearby golf courses," Mike said.
"But make no mistake, the CNS Partnership Conference is still what former CNS President Tony Calabrese imagined many years ago­­—an event that is all about partnership."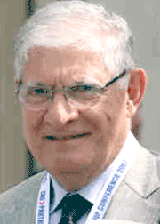 Words to build Upon
"I have known Tony for years and I always kept in my mind his words about the event he started.
"'Mike, we started this to bring parties together and never forget why the word partnership has made the event such a success.'
"So, we continue to carry on what Tony started."
CNS Listens
"At CNS our team reviews the feedback from attendees and listens to what our guests want and that continues to help make this, the premier air cargo event to attend.
"Networking and one-on-one meetings are a lot of work.
"Many call this conference speed-dating between providers and customers."
An Effervescent Tired
"I hear every year from attendees that that they are worn out but in a good way. Where else can we see so many customers in one place and one time?
"For many, more business is usually accomplished during the three day event than the rest of the year combined."
The Agenda Changes With The Landscape
"To accommodate the need of all those meeting," Mike White said, "CNS has reduced the plenary sessions from two days to just a few hours on day one."
CNS Takes Off At Keynote
"This year, our keynote speaker will be Dr. Alexis von Hoensbroech, Board Member, Products & Sales for Lufthansa Cargo, who will give his industry views from one of the largest air cargo carriers in the world.
"Following Dr. von Hoensbroech will be a panel discussion on Trends, Challenges and Opportunities Shaping the Industry's Future.
"The last twelve months have been a banner for air cargo.
"The panel will discuss their views of the last year and provide insight on the future and how the industry must adapt to meet future needs."
CNS Innovation Stage Bows
"Something new this year is a smaller venue called the CNS Innovation Stage with 20- to 30-minute presentations.
"The Innovation Stage will feature informational speakers on today's subjects, ideas, products, and services.
"Speakers will be representing key sectors for air cargo including the use of autonomous vehicles on the ground network, airport development, security and economic updates, just to name a few.
"As always though, bring your dancing shoes to wrap up the event with a little Hollywood glamour thrown in for the gala night closing," Mike White said, adding quickly:
"Look, we all know that the key to all of the success of the conference are the people that attend, our sponsors, and the hard work of my colleagues.
"You can't go down a hallway or walk through a restaurant without seeing old friends and business colleagues at this event.
"When you look at the CNS conference, it is truly about friendship.
"The warmth of Palm Springs helps those friendships grow and bring forth new possibilities and business," Mike White assures.
Geoffrey