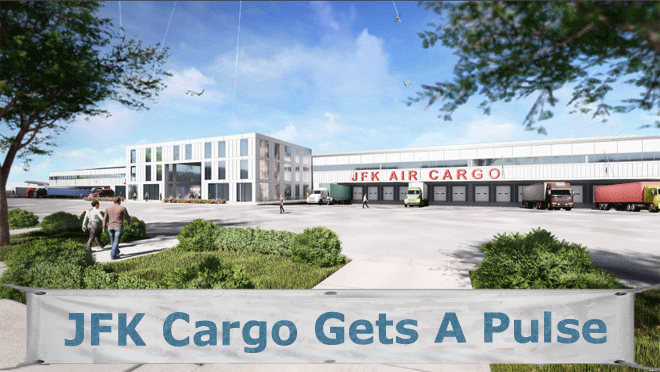 Claiming "to advance JFK International Airport's place as an international cargo handler," a "place" that the airport once upon a time dominated from its opening in 1948 until the early 1990s when more than half of all airborne cargo in USA transited the facility, airport operator The Port Authority of New York & New Jersey signed a deal to allow JFK Air Cargo LLC to lease a new 250,000 sq. ft. cargo transfer facility to be built with $70 million in private funds at the airport.
The Port Authority said it is putting up $13 million toward site preparation work and needed roadway improvements. Located on 16.2 acres of property in the North Cargo Area, the JFK Air Cargo LLC facility is projected to be completed anytime between 24 months and two years.
The JFK Air Cargo LLC news is heralded by the airport operator as part of a grand plan for the airport that calls for a $13 billion redevelopment, with most of that money to be raised via private funds, earmarked for passenger facilities.
In 2017, Aeroterm JFK II LLC signed a long-term lease for a 346,000-square-foot cargo handling facility, yet to be built at JFK.

Blast from the past . . . Some of our favorite people from back in the day that are still in our hearts and minds, true air cargo pioneers at JFK International Airport.
You might notice two pictures of Ed Chism.
First he was the go-to-guy at Pan Am Clipper Cargo.
Later he was the man, who built the team that put Emirates SkyCargo on the map in the USA.
Ed is still at it somewhere, with an adult beverage close by, we hope.
The lady in the middle, Dolores Hofman, today is Program Manager, Queens New York Airport Development Council, but above all a dear heart, and a great air cargo pioneer.
Dolores would not take no for an answer when she began her airport cargo career as a forklift truck cargo driver inside Pan Am's cavernous Building 67 at JFK International.
Next to Dolores, is somebody you would like to have behind you anytime.
Jim Larsen, first at Seaboard World Airways, and later as Port Authority Cargo boss helped build and grow New York air cargo and the JFK Air Cargo Association.
He was also in the World Trade Center September 11, 2001 and actually walked down 65 floors from his cargo office in Tower One, whilst saving lives by helping others.
Today happily retired, Jim lives with his wife Annette in nearby Lakehurst, New Jersey.
Isaac Nijankin, who was "Mr. Air Cargo" at Varig Brazilian Airlines Cargo and later Cargo Air Lines, during a distinguished thirty plus year air cargo career, pioneered and supported every effort to advance the industry. Isaac was very instrumental at the start up of TIACA, where he worked for, and supported that organization for many years.
Isaac and his wife Monique are retired, but still heard from occasionally from their home in Long Island, New York.
Precious memories . . .