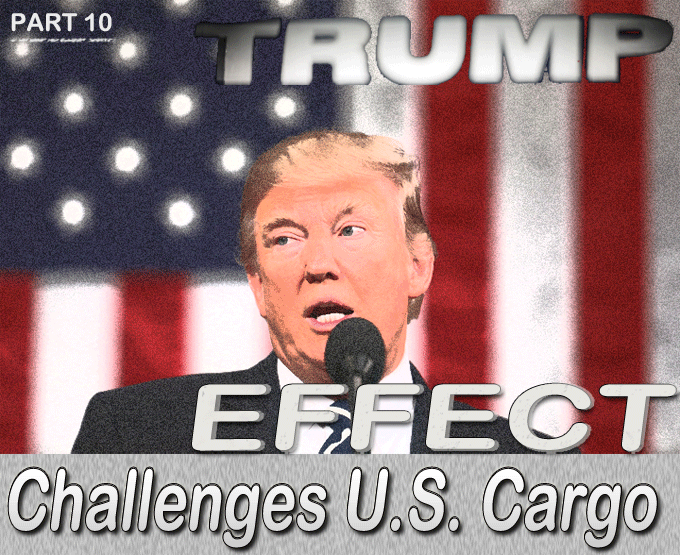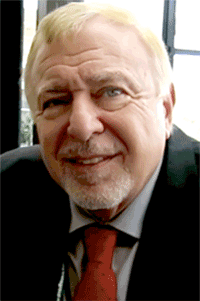 Bill Boesch is an air cargo pioneer but also a dreamer & doer across a distinguished and exemplary 40 plus year career. Bill served as President of American Airlines Cargo where he put that carrier on the world stage during the Robert Crandall era.
Bill is also a key logistician for U.S. military forces who during the Iran & Iraq conflict created methodologies in transportation that delivered the goods while saving lives.
For his effort Bill was awarded The Medal of Freedom at a ceremony on Ellis Island in New York harbor, in the shadow of the Statue of Liberty.
Among his other activities, Bill has contributed a series of nine articles exclusively to FlyingTypers offering his unique knowledge and perspective into the ongoing impact that the administration of President Trump is delivering to business and air cargo.
In "Trump Effect Number 10" Bill goes four square into sharing both an up to date business recap, and look ahead into the latest thinking, as Amazon and other drivers change the landscape for air cargo in 2019.
President Trump has been in office for over two years now and – despite major political opposition from Congressional Democrats and some Republicans – he's made good on many of his promises to enact sweeping change in America.

The Record So Far

With the confirmation of Justices Neil Gorsuch and Brett Kavanaugh to the U.S. Supreme Court, as well as a record number of lower court judges, he has established a conservative majority in the judiciary.
Mr. Trump has taken steps to shift U.S. policy in a pro-life direction.

Promises Kept

Building on his campaign promises, Mr. Trump has taken a hard line on immigration, rounding up and deporting record number of illegal immigrants, tasking the U.S. military to secure the southern border; arresting Central American illegal asylum seekers and placing increased restrictions on H1-B visas.

Tax Cuts & Trade Deals

Mr. Trump's economic policy has included a $1.5 trillion-dollar tax cut as well as a new, assertive trade policy that rejected trade deals such as the Trans-Pacific Partnership, while forcing the renegotiation of others, as with the new U.S.-Mexico-Canada Agreement (USMCA) to replace the North America Free Trade Agreement (NAFTA).
In Veteran's Affairs, he has pushed for the partial privatization of the VA health system, promising increased choice and higher quality of care for veterans and their families.
His support for Israel has been unprecedented, including the recognition, both of Jerusalem's status as the Israeli capital and the annexation of the Golan Heights, seized from Syria in 1967.

The China Card

Mr. Trump challenged China with a tough package of tariffs forcing them to the negotiating table to establish a fairer trade deal and protection of American intellectual property.
He has reasserted American sovereignty through his withdrawal from the Paris climate agreement, the Iran nuclear deal, the United Nations Human Rights Council, and the UN's Global Compact on Migration, as well as rejecting the G7's joint statement in 2018.

Fair Share Agenda

Mr. Trump has challenged U.S. allies, pushing NATO allies such as Germany and France to pay their agreed share of defense costs.

The Report Card

Whatever your opinion on these matters, it's undeniable that Mr. Trump has shaken up the status quo.
Economically at least, his policies have paid off, with U.S. GDP booming, a stock market taking off and jobless rates near record lows. But, while he has been busy, "Making America Great Again," this has come at a cost for the U.S. commercial airline industry.

Cost To Air Cargo Not Favorable

Not all of the challenges of the U.S. commercial aviation came out of his policies – record labor cost increases led by pilot and mechanic shortages resulted from trends and policies that predate the current administration.
But Mr. Trump's fair-trade agenda is a factor hurting the U.S. air cargo industry.
The industry's scheduled air cargo service had dwindled to a single carrier – Amerijet, based in Florida, serving the Caribbean and parts of South America with a fleet of 767 freighter aircraft.
Beyond that, the U.S. flag integrators, namely FedEx and UPS dominate U.S. freighter operations.
The remaining U.S. freighters are operated by the American charter carriers whose predominant market is limited to ACMI contracts for companies like DHL and Amazon, with CRAF missions to fill out their product offerings.

Negative On China

The great hope for growth in the air cargo sector, and somewhat in the passenger market, has been the Asia-Pacific region, with booming China as the crown jewel. This market had been experiencing tremendous growth in both revenue and yield, but American carriers now risk having reduced volume and lower long term market share as trade disputes bite into America's trade with the region. Following the imposition of tariffs on Chinese goods, carriers have reported a 30% drop in the U.S.-Asia air cargo market.


Europe Is Oversaturated

A second tier of effect in this decline has been the oversaturation of the U.S.-Europe market, where capacity shifted from Asia has resulted in a glut that's driven down yields.
These problems could be short-lived, but not before potentially claiming some vulnerable victims in the U.S. cargo industry.
This pressure makes the ongoing transformation of the air cargo sector even more important.

Integrators No Longer Hold The Aces

The dominant position of the integrators has already eliminated most scheduled U.S. air cargo freighter service, with former cargo carriers either bankrupt or absorbed into other airlines.
Any serious observer of the industry will already be looking ahead to the consequences of current trends and what they mean for carriers.

Amazon Is The Elephant

The elephant in the room is Amazon, which operates an unprecedented integrated business model.
Unlike FedEx and UPS who solicit their express cargo from the manufacturers and e-commerce vendors, Amazon moves its own merchandise, effectively making it, its own air cargo customer.
Currently Amazon meets its air logistics needs with ACMI contracts for 767 aircraft from ATSG and Atlas, like the long-gone Emery used to do.
Amazon also just announced that it is negotiating with Atlas for a deal on 737F aircraft, which will give it increased penetration of the U.S. market.


Amazon Alibaba Deal?

There are also strong rumors of an international startup in the next 18 to 24 months. Amazon must be looking at Alibaba in China with its 15,860 products from 5,286 vendors, possibly giving it and Alibaba access to each other's home country as part of the final U.S.-China trade deal.

Amazon Can Control The Market

By being both vendor and carrier, and through unprecedented data mining into customer preferences and habits, Amazon can control its market and flatten out seasonality peaks and valleys by adjusting prices and offering free express delivery, forcing many FedEx and UPS customers to demand lower rates from the integrators so they can be competitive.

What's Next?

As Amazon expands and starts to operate internationally, the situation is likely to worsen.
The question is, what is Amazon's next move?
Will it start to operate its own airline to lower its costs and control its own air transportation?
If so, will it form its own 121 airline, "Prime" as its AMCI aircraft are already printed in its colors and name; or will it buy one or both of the air cargo charter operators it is presently using or maybe even an integrator?
Or is it thinking more strategic as all it really needs to do is buy a controlling interest in any of these companies.
Either move by Amazon would change the face of America's air cargo industry and cause withdrawal or consolidation of the present U.S. cargo charter carriers, and maybe even one of the integrators.
Bill Boesch
My thanks to Kuba Wrzesniewski for his help in research and editing this article.

To Read Part 1 of This Series, Click Here
To Read Part 2 of This Series, Click Here
To Read Part 3 of This Series, Click Here
To Read Part 4 of This Series, Click Here
To Read Part 5 of This Series, Click Here
To Read Part 6 of This Series, Click Here
To Read Part 7 of This Series, Click Here
To Read Part 8 of This Series, Click Here
To Read Part 9 of This Series Click Here
To Read Trump Effect—India Walks Softly Carries Big Stick, Click Here
To Read Trump Effect—Implications Of A Trump Trade War, Click Here
To Read Trump Effect—Trump Across The Pacific, Click Here