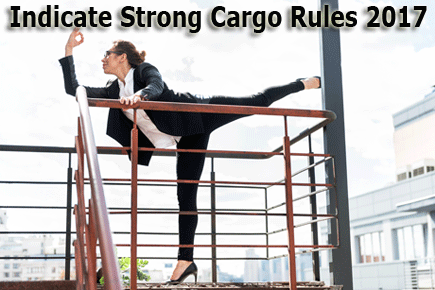 Various sources suggest pricing has been sliding through May but demand indicators are strong for the rest of the year and rates seem likely to rebound this summer.
Drewry's East-West Airfreight Price Index, a weighted average of all-in airfreight "buy rates" forwarders pay to airlines for standard deferred airport-to-airport airfreight services on 21 major East-West routes for cargoes above 1,000 kg, rose to 88.3 in April which equates to an average rate of $2.86 per kg. This compares to 86.7 in March and just 81.8 in April 2016.
"Led by higher rates out of Asia to North America, Drewry's East-West Airfreight Price Index increased by 1.7 percent month-on-month in April," said the analyst. "The index is now about 8 percent above where it stood in the same month last year, reflective of strong demand seen in the sector."
A number of forwarders FlyingTypers contacted reported pricing on major lanes out of Asia had subsided during May. Drewry also anticipates a similar trend in its next set of figures. "Drewry expects to see a seasonal dip in airfreight rates in May, followed by a rebound in June," said the analyst.
Certainly, demand indicators in Asia are almost entirely positive. The WTO now forecasts global trade growth of 2.4 percent for this year, up from 1.3 percent in 2016, although the upper end of its forecast could see trade expanding by over 3 percent during 2017.
The Association of Asia Pacific Airlines said that on the back of strong international demand, business conditions continued to improve across Asian economies, in turn lending support to international trade activity. This helped underpin further growth in air cargo volumes in April, with demand in freight ton kilometer terms registering a 9.0 percent year-on-year surge. With offered capacity up only 2.8 percent over the period, the average international freight load factor increased by 3.7 percentage points to reach 65.1 percent.
AAPA said Asian airlines had recorded a 9.5 percent increase in air cargo demand in the first four months of the year "supported by a pick-up in export orders across the region's economies." With business and consumer confidence indicators positive, the AAPA, which is traditionally cautious with its forecasts, is now expecting continued growth in cargo markets in the coming months.
The AAPA's confidence was also borne out by the latest survey results for a new APAC Forwarding Index being produced by Mike King & Associates and Logistics Trends & Insights LLC. (The full index will be published in the coming months and the May report is available to FlyingTypers' subscribers for free here. The third monthly APAC Forwarding Index survey is also now open here.)
52.3 percent of May APAC Forwarding Index survey respondents indicated air freight volumes were higher in May than in April, while the APAC-Europe air freight lane continued to thrive with 77.8 percent of respondents reporting higher volumes in May compared to a month earlier.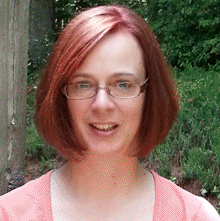 "The Europe to APAC lane is another area of growth," added Index analyst Cathy Roberson. "In our April survey just 54.5 percent noted higher M-o-M volumes on the lane. In May the figure climbed to 66.7 percent as respondents noted that improving economic conditions were boosting volumes."
On the APAC-North America lane, 57.1 percent of respondents indicated higher volumes in May than April. 28.6 percent of respondents noted higher M-o-M volumes on the North America-APAC lane in May, and two thirds of respondents reported higher M-o-M volumes on APAC-Emerging Market lanes.
Volume figures for Asia's leading load hubs and key carriers have also been positive. Executives at Seoul's Incheon Airport are now expecting volumes to expand by 10 percent this year after a bright start to the year. HKIA saw volumes expand 8.9 percent in April compared to a year earlier, with exports up 14 percent in the month. Over the first four months of 2017 HKIA's volumes were 10.9 percent year-on-year.
At Singapore's Changi airport volumes rose 4.4 percent year-on-year in April. After a decade of malaise in terms of cargo growth, Changi handled more than 2m tons of cargo in the 12 months ending April 2017, a record for the South East Asian hub and representative of 7 percent growth over the period. At Shanghai in China, ground handler PACTL saw volumes rise 9.6 percent in April and by 11.3 percent over the first four months of 2017, while China Southern Airlines saw its international cargo volumes increase by 16.8 percent in April and volumes were up 15 percent over the first four months of the year.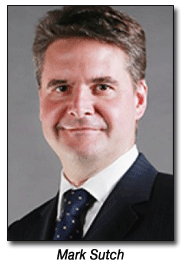 Cathay Pacific also recorded a major year-on-year increase in cargo in April when volumes rose 10.7 percent. Mark Sutch, GM for Cargo Sales & Marketing, said demand from Hong Kong and key Asian markets to North America, Europe, and India remained buoyant, prompting the carrier to boost capacity in expectation of rising demand later in the year. "Strong e-Commerce traffic as well as capacity reduction in the market boosted Intra-Asia movement," he added. "Yield has continued its upward trend."
Such is the market upturn, Cathay announced an agreement with Atlas Air Worldwide to wet-lease two Boeing 747-8 Freighters to supplement capacity. "This will enable us to provide our customers with increased options and services from June, when most market indicators are suggesting a solid year for air cargo," said Sutch.
Indeed, the outlook for airfreight is positive at least through the summer months, according to the May survey for the APAC Forwarding Index. Across all APAC air freight lanes, over half of respondents expect higher volumes in August than now, with optimism strongest on the APAC-North America lane where 71.43 percent of respondents predict higher volumes over the period, not least because they are expecting to benefit from key electronic product launches.
APAC-Emerging Market and APAC-Europe volumes are also expected to see short-term expansion with 66 percent and 55.6 percent, respectively, of respondents forecasting higher volumes three months from now on the lanes.
"The likelihood of air freight volumes falling in the coming months is remote, with just 9 percent of respondents expecting lower overall air freight volumes three months from now," added Roberson.
SkyKing


International Air Cargo Association (IACAC) Chicago is an old line club that has well served the "City of the Broad Shoulders" since 1955.
---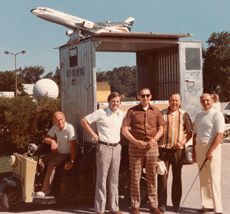 It was forty years ago today—these guys taught air cargo how to play . . . Sometimes we like to forget just how long ACN has been reporting (is that part of getting older?), but then every once in a while a picture like this one falls out of the file. This photograph was taken in 1977 when The International Air Cargo Association of Chicago (IACAC) held a golf outing. We think this photo defines for all time, not only the golf outing but also the values of friendship and cooperation in air cargo. So here once again, stepping up to the first tee are: (left to right), Joe Monaghan Sr., cargo sales rep Delta; George Stark, Qantas cargo sales manager; Herb Weidmann, cargo sales manager, Delta; Mel Brockman, regional sales manager, Pandair Freight; and Neil Vincent, cargo manager Flying Tigers. Anybody know where these people are, let us know at geoffrey@aircargonews.com, and we will pass it along.
---

A highlight of the IACAC calendar occurs August 15, when the group hosts it' annual Charity Golf Outing that dates back to the club's start up and is one of the oldest continued traditions in the air cargo business.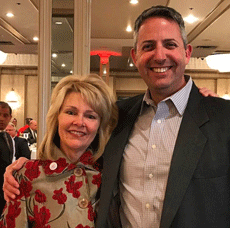 IACAC's President Scott Case, pictured with Chicago Brokers & Forwarders Association (CCBFA) President Jane Sorensen, declared:
"We are in an all-out push this month to get attendees and sponsors for the IACAC Annual Golf Outing held August 15 at the Bridges of Poplar Creek in Hoffman Estates.
"Shotgun start will be at 08:00.
"Cost is $125.00/single golfer and $400.00/foursome.
"Golfers receive a continental breakfast, eighteen holes of play, cart rental, and lunch afterwards.
"But everybody is welcome just to join us for lunch, and the cost is $35.00."
"We've got some great early-on commitments from organizations for hole sponsors and raffle prizes.
"The IACAC Golf Outing raises money for our Annual Scholarships.
"Attend, donate, and spend profligately—you'll help out a member's child who could use money for college," Scott declared.
More: http://www.iacac.com/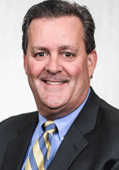 Steve Langhart is now Director of Cargo Sales at Southwest Airlines.
At Southwest since 2008, Langhart has served as manager of ramp and operations and cargo customer service manager at Houston's Hobby Airport, and senior manager of cargo customer experience.

In terms of first quarter performance from Airport Council International (ACI):
"Improvements in business confidence, economic outlook, and global trade have helped revive airfreight volumes," ACI said.
"Overall freight volumes increased 8.3 percent Y-o-Y above Q1of 2017 and 10.9 percent for March 2017.
The March bump was "strongest in Africa (+15.6 percent versus 2016) and the Middle East (+15.5 percent), followed by Europe (+13.7 percent) and Asia Pacific (+13.0 percent).
"North America rose 5.9 percent for March 2017 Y-o-Y and Latin America-Caribbean rose 4.7 percent," ACI said.