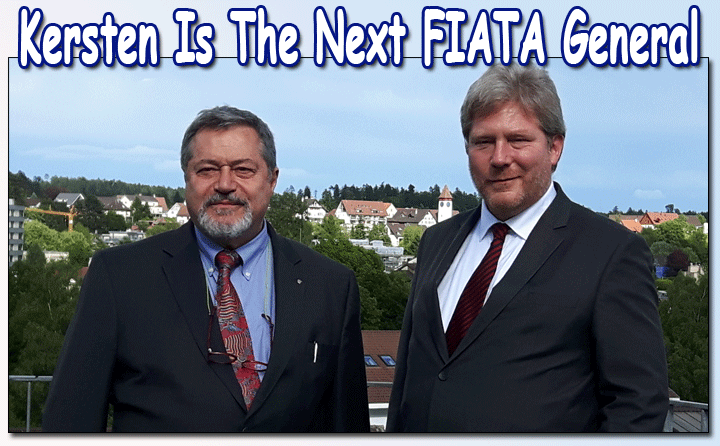 "Welcome to FIATA," declared FIATA Director General Marco Sorgetti (left) as former UIC Freight Director Hans Günther Kersten (right) was selected as Mr. Sorgetti's successor. Kersten will serve as FIATA Deputy Director General until Marco retires in September.
"I am sure a person with your professional background will add another layer of accomplishments in the long list of extraordinary achievements of this association," said Marco.
Hans Günther Kersten studied Business Administration, Economics and Law at the University of Cologne, Germany.
Herr Kersten began his career as an associate at Oppenhoff & Rädler (later merged with Linklaters).
For the last 18 years, Hans Günther has worked for Deutsche Bahn in various senior management positions.
Herr Kersten will be present at the FIATA World Congress in Kuala Lumpur, Malaysia, October 4-8, 2017. The event is open to everyone.
For more information, click here.
Geoffrey



Marco Leonardo Sorgetti is an individual everybody knows and relies upon at FIATA. As director general, and in reality the overseer of events and agendas, in the broadest sense, he is the single individual who holds things together.
Although he is always soft spoken and leaves the headline news to others in the organization, Marco is an artisan at his work; smart, steadfast, and thoroughly committed to the task of gently guiding FIATA to greatness by working hand in glove with each successive generation.
For example, although FIATA had much on the line at its 55th Annual Congress in Dublin in October 2016, Marco, while supporting and working very closely with the organizers of the event, left most of the hosting and details up to the local cargo organization, as is tradition in FIATA.
It's a subtle but important fact that FIATA makes a regular habit of developing an empowering culture with its myriad organizations located in countries all over the world.

About Marco

Marco turned 64 on August 28, 2016. He was born in Torino, Italy, where he earned his sheepskin graduating from Liceo Massimo d'Azeglio of Torino in 1971.
His further studies included university training in languages and foreign literatures in Turin in 1978.
He was awarded a Certificate as Expert in Transport and Transport Insurance by the Chamber of Commerce of Turin in 1986.


Why Does FIATA Matter

We asked Marco about FIATA and his answer was straight from the hip:
"FIATA matters because it is the only organization in the world that can stand tall in representing the mission and knowledge of freight forwarders and logistics service providers at all levels of the global market. FIATA has a strong voice; it is historical, democratic, widespread, and, pardon me for being immodest, well managed.
"The organization has a spotless reputation and it does treasure impartiality and independence of judgment.
"It is charitable, as we have seen with the Ebola fund, and considerate, as we see with its training programs.
"FIATA promotes better business, integrity, good standards, efficiency, and loyalty.
"This does not mean that all our members are saints by definition, but all freight forwarders who want to be proud of their job should become FIATA Members and contribute to these objectives.
"FIATA is one for all and all for one."


Little Into Big

"I first came to FIATA as a very small forwarder from Turin, which was not even one of the big hubs in the world.
"At FIATA nobody knew me, but I was always given the floor to express my views when I raised my hand and wanted to ask questions or make comments.
"Nobody cared if I was big, small, rich, or poor.
"I had a voice in FIATA regardless of my origins and conditions.
'This is a pretty unique environment and not easy to copy for anyone in the world, where only big personalities and big money get a podium.
"FIATA is beyond that, everybody is somebody at FIATA and that is what matters.
"I would be happy if there were two FIATAs, as we could then have some serious competition, but there is only one.
"We do challenge each other sufficiently, even inside the one and only FIATA."


If Not FIATA Then What?

Although Marco excels in (pardon the pun) forwarding the large, diverse group of FIATA today, he reveals a passion for psychology and astrophysics.
"These have been my hidden passions all these years and I plan to start on Astrophysics when I retire.
"I had given some thought to becoming a shrink, but it is probably better like this.
'This is probably why everybody is trying to drive me mad," Marco laughed.
What you like about Marco right away is that he is a good listener with a wealth of ideas, and he is always willing to share. He is also one of us—a freight forwarder who, luckily for FIATA, pivoted in Turin to organized air cargo.
"I was a practicing freight forwarder in Turin and, being a bit restless, entered the area of freight forwarder associations quite early, out of sheer curiosity.
"Eventually I became the president of the Turin Association (APSACI) and continued on the path by cooperating with the Italian federation (FEDESPEDI) and CONFETRA. At that time I started getting an eye into FIATA and in 1992 when the congress was held in Florence I made my debut by transforming an argument over the dining table with the European Chairman into a self-promoting session for Turin and myself.
"We have been on good terms ever since," Marco smiles.
"After 1992, I attended almost all FIATA Congresses, with few exceptions.
"When I sold my company in 2000 I worked for the President of FEDESPEDI and when the opportunity later came I sent my resume to CLECAT, the EU-level association of freight forwarders' federations.
"After a three-tier selection, I was chosen as director.
"When my predecessor retired from FIATA, I submitted my application and was chosen as director of FIATA in 2011.
"I started here on January 1, 2012, so it is now over six years."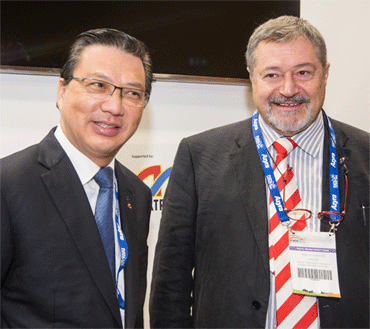 The next stop for the FIATA annual World Congress is Kuala Lumpur, Malaysia, October 4-8, 2017.
At the FIATA World Congress 2016 in Dublin, Marco discusses the upcoming congress with Malaysian Minister of Transport Dato' Sri Liow Tiong Lai.
The Minister affirmed that "Malaysia is eager and looking forward to welcoming FIATA to Kuala Lumpur."
Comparing Forwarders Around The World
FIATA is as diverse as can be imagined, with more than 40,000 member organizations from around the world. We wonder how various parts of that global group differ, but also how they are the same.
Marco has an immediate answer, saying:
"One could say, 'they are all flying' and perhaps that is correct; however, my impression is that their cultural differences tend to fade away when they talk business, as the air rules are probably the most unifying set of rules that exist in the world.
"By definition, aircraft must take off and land according to the same rules all over the world, and there is little time for differences; it has also been established last as mode of transport and that gives airfreight the benefit of having to deal with the shortest legacies."

Completely Satisfied By The Airlines
"Completely is a very ambitious word," Marco gently chides.
"There is always something that one can wish for, but in general airlines play a role that is irreplaceable in international trade and in my view they work at their best where their relationship with freight forwarders works well."
Is FIATA/IATA On The Right Track?
"With the FIATA/IATA accord (signed in Dublin at the FIATA World Congress in October 2016) on the rules forwarders and airlines will adhere to in the next few years, my impression is that IATA is on track, but I daresay so is FIATA.
"The hope is now we will see our relationship advance on many fronts, including, for example, on IT communication standards. There are still too many problems in this area."
On Air Cargo Security
"The British say that the proof is in the pudding.
"Contrary to expectation, our biggest threats (and sadly, incidents) seem not to come from the 'bomb in the box.'
"We sadly learned not long ago how much easier it is to create havoc without even coming close to the aircraft.
"Air cargo security is important and I personally think it has reached an acceptable level, with some room for improvement, in particular in the efficiency of the process to manage the information stream.
"But the boundaries of security seem to expand continuously."
Does Management Recognize Air Cargo?
"In general, I think it is true.
"Especially as compared to, say, 25 years ago, when many operators, in particular in certain markets, considered airfreight a sort of 'pain relief' if something else was going wrong, rather than an effective way to handle the supply chain.
"Things have changed and more and more goods privilege air transportation; however, this also brought considerable issues in addressing sustainability.
"On balance I find corporate management more aware and more informed about the resources and the challenges."
What's Ahead For FIATA?
"Well, FIATA started this debate a couple years ago.
"But in 2017, for a 91-year-old lady, FIATA has come up with a trove of proposals that we will try and put in place.
"There is enough to do for a couple of lifetimes, including much more services to members and much more traveling to the advocacy hubs in the world on the agenda.
"We cannot pass the opportunities that the developments in Trade Facilitation will offer in the next 5 to 10 years.
"In my view, TF (hand-in-hand with security), IT standards, and innovative financial services will top our agendas."
Relaxation Time
"I relax when I get home, sit on my balcony, look at my plants and flowers, and everything becomes peaceful. I read a lot and I love gardening. I love music, especially rock music and Vivaldi. I am also doing a lot of word games in Italian (this is called rebus).
"Other than Turin, where I was born and which remains in my heart with breathtaking, snow-white mountains surrounding it completely, I think New York is the most spectacular place I have ever seen.
"The first time I landed in New York it was sunset and we were flying above the skyscrapers against a red sun: it was memorable.
"Today I guess this is almost commonplace in many countries, but back then Dubai was a village and Shanghai was not a place on the tour operators' lists.
"But even today New York remains what it has always been—the dream of your young years.
"Nothing can ever quite match or replace that feeling."
Great Restaurants
"I like to dine in small, remote, and authentic restaurants in the countryside and for this kind of relish, Italy is pretty unique, Piedmont in particular. I have a list of these places, but I am jealous, plus the normally rather old owners are inconsiderate and keep dying: it is a disaster if you want to suggest a favorite restaurant.
"All this culinary tradition comes from a long ago past which almost does not exist anymore, where the language is local and mysterious. An incomprehensible combination of passion and restraint, with women who can show the greatest hatred of one another just by sitting quietly side-by-side and exchanging smiles.
"The food must be good then."

Great Hotel
"I am not fussy about hotels. All I need is a good Internet connection and a relatively hard bed, but I must say I was impressed with the Mandarin Oriental in Kuala Lumpur. They really took very good care of us and the infrastructure is second to none."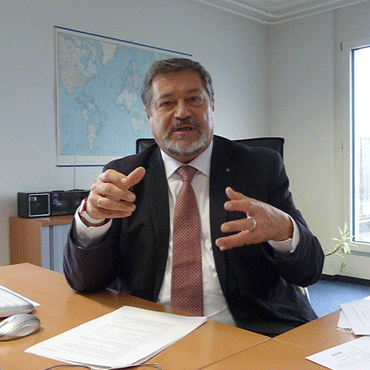 Why Join FIATA?
"Being a FIATA member is a sign of your intention to embrace better business rules if you are a freight forwarder, and it is a sign of your intention to approach good, law abiding, and professional operators if you are another entity connected with logistics, trade, and customs, even if you are not directly involved in logistics services.
"The FIATA logo is the sign that you have considered the applicable rules in your country, that you wish to belong to a community of operators that try to treat one another with respect and efficiency.
"Joining FIATA costs very little money, but it requires an uplifting mental process; FIATA members are always invited to take account of the simple integrity and compliance rules we promote.
"Dealing with a FIATA member means dealing with somebody who has thought about its work at high profile and would do its best to remain in that league.
"Being a FIATA member is about trying to be good and showing that you are trying to be good," Marco Sorgetti concluded.
Geoffrey