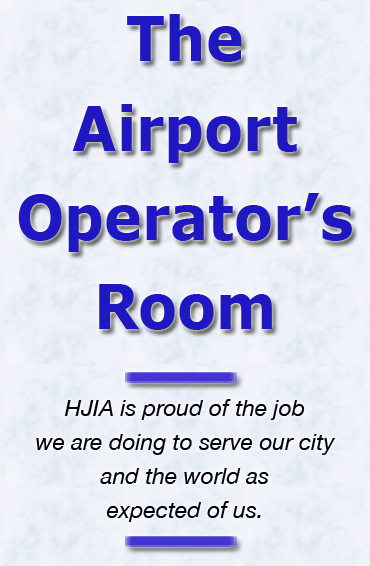 "Greetings from my ATL-Air Service Development office inside my home," says Elliott Paige, Hartsfield Jackson International Airport Air Services Director.
"Luckily, I have a bedroom set up as a home office, so my commute takes only a few steps.
"I sit here a lot to write my thoughts down, most recently on the supply chain of toilet paper, since I found it intriguing that this was an issue for so many people in the early part of this pandemic.
"I have enough supplies for my household, not hoard amounts like some people I know."


Lost in Space

"Work-wise, I am surprised by how busy I am during the day.
"Today, I lost track of time and had lunch at 3:30 PM.
"Many teleconferencing calls throughout the day starting with a morning check-in with Linda (Linda Eshiwani-Nate takes care of all things Air Service Development-related at ATL) and the rest of my team, and endless e-mails, plus webinar, where I am occasionally the speaker.
"Many of the e-mails are requests from various stakeholders wondering what's happening, and us trying to predict what's in store the next day with passenger airlines.
"Sometimes the call is to get clearances for ground workers to unload an Antonov Charter when the operator is challenged, so of course I lean into that as well."

Like Eerie!

"One of my colleagues who had to venture into the airport offices commented that the world's busiest airport seems so void of passengers, in comparison to the 300,000 passengers we are accustomed to, it was 'eerie.'
"Som people are afraid to travel.
"In April ATL witnessed 6,200 passengers on some days.
"Most recent numbers for June were up ten fold to 60,000, a mere drop in the bucket as compared to normal, but at least the numbers are trending upward although our giant airport, which is among the world's busiest, is still pretty vacant."

World's Longest Parking Lot

"Like many major airports worldwide, ATL airport had closed two runways, and they were used as plane parking lots.
"We are collating information from all our stakeholders.
"Many of our partners need financial relief and have made their requests. We are working with them as best we can.
"We are also collaborating with WorkSource Atlanta to help those affected by staff shortage due to COVID-19. "HJIA is also trying to ensure we take care of our employees."

Not Down Far Enough To Look Up

"Our main challenge was knowing when this crisis would bottom out so we can return to both, safety in terms of COVID-19 eradication and financial health (a.k.a. returning to positive growth).
"We continually received requests from people still needing to travel who are unsure of availability.
"The words used by many during the crises is still apropos, that things remain 'very fluid.'"


Air Cargo Heroes

"However, there is one very important feature for which ATL had to stay open. The world remembers Hartsfield-Jackson Atlanta International Airport as a mega-hub for passengers, but we are also a pretty big hub for cargo.
"Everybody is thankful for the surge in cargo.
"Many carriers increased volume to take advantage of the need to move more goods during the crisis.
"To everyone in the logistics and supply chain who are busy getting us our stuff,
"I remind everyone that these people continue to be our heroes."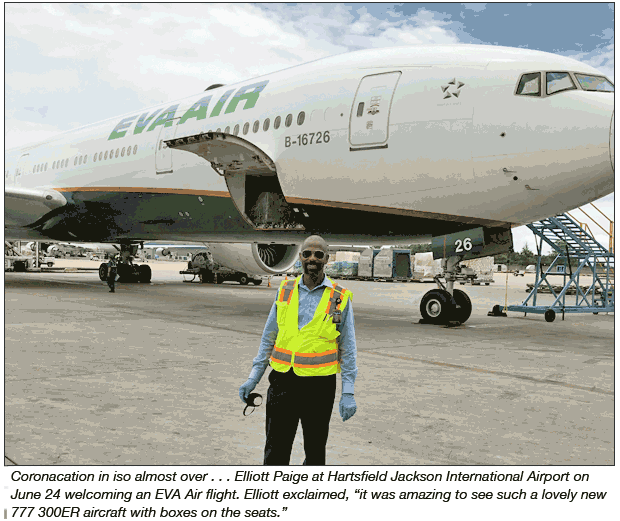 Workers Melt Away

"The challenge the GHAs face is that while air cargo is booming, they had a hard time keeping workers.
"Labor losses increased due to the contagion, yes, but also fear among staff.
"People were actually leaving or quitting over concerns for their family's safety.
"Some GHAs actually went on a hiring campaign.
"Other GHAs, for now, are suffering from the loss of schedule carriers, and some airlines that have closed shop (e.g. CargoLogicAir) and some others.
"Today, our GHA's have much better procedures to keep staff safe. Temperatures of everyone are checked with laser thermometers at the beginning of each shift. All staff must wear masks when working in close proximity to each other. Touch points are sterilized between shifts, and time between shifts allow one shift of staff to leave before the other arrive. Workers get daily advice on how to operate safely and instructions for the proper usage of PPEs. It helps them feel safe while they work as heroes."


Go with the Flow

"I think the need to keep goods flowing (including medical supplies for healthcare workers on the front line) means cargo volume will continue all year long even as volumes return to regular cargo, as retail opens up.
"E-commerce is also booming as more people order from home.
"Being very hopeful, we all imagine that cargo volume will multiply several times when a vaccine (fingers crossed) is found."


Home of CDC

"We are a distribution hub not only because the CDC is here in Atlanta, but also, we are naturally a disaster-relief air-hub due to our size, location and connectivity.
"We were there for millions during hurricanes Katrina and Maria, as example.
"HJIA is proud of the job we are doing to serve our city and the world as expected of us."


Glad to Still be Working

"Notwithstanding, I was and today am grateful to still have a job and one that is always exciting even during strange global events like this one.
"I communicated continually with other professionals in trade and logistics online to find solutions to airlines that are grounded, and to discuss recovery.
"I still spend an inordinate amount of time on tele-video apps talking to other airports, airlines, and tourism people, offering solutions and sharing our experience. We all need to work together to get out of this.
"During my weekends, I have also dedicated more time to writing and sharing my ideas on economic processes," Elliott shared.

Reading Books also Reading You

"I have lots of projects, reading on Measuring and Understanding the Relationship Between Air Service and Regional Economic Development (an ACRP study).
"Hopefully, I find time between all that for cooking.
"Along the way working at home was, and in some respects continues to be a voyage of discovery.
"One day it was a hearty Antiguan goat soup since my daughter has moved home.
"Her college, like many others, had only virtual classes. Many colleges are worried about their survival as new students defer, and present students request their money back. She graduated 2020, without all the fanfare of a graduation ceremony. I felt bad for her as I had all my graduation experiences.
"I also have been able to start diving into books I have had on my shelves for too long, and maybe clean up my home office.
"I desperately need to file personal papers, but I hate filing, so I keep procrastinating.
Who wants filing to cut into their TV time? "Priorities," Elliott laughed.


All is Well that Ends

"In the end, we will pull through this global pandemic.
"Business practices have and will continue to change, especially how we deal with customer experience, and how we make our workplace feel safe for staff and our facilities safe for our users."

The New Normal

"Hygiene practices and culture will have to change.
"My last travel was to the West African country of Liberia in February 2020.
"As a result of the Ebola crisis, they have protocols such as regular temperature checks for all passengers leaving an aircraft, including high tech thermal cameras attached to computers that alarm when someone with a fever passes in front of them.
"Every public building requires its patrons to wash their hands in provided facilities before entering.
"We may have to adapt some of these measures in high volume facilities."

Brings out the Best in All of Us

"I remain proud of the robust logistics sector and the folks who are in the trucks, warehouses, and cargo aircraft still making our economy turn, even slowly, never to stop," Elliott Paige said.
Geoffrey