Marco Leonardo Sorgetti was a practicing freight forwarder in Turin, Italy before he pivoted to organized air cargo. He sold his company in 2000, worked for the Italian federation (FEDESPEDI) and then joined CLECAT, the European Freight Forwarder Federation as Director. In 2012 Marco became Director General of FIATA, the international association of 40,000 Freight Forwarder member organizations. He retired in 2017, but has remained active in the logistics field.
Marco is always soft spoken, smart and steadfast. What we like most about Marco is that he is a good listener with a wealth of ideas and he is always willing to share with everyone. Here he answers our questions and shares his thoughts:

FT: What do you want to happen?
MS: Probably the most obvious and uncanny thing one could wish for this summer, an effective cure for COVID19 . . . One could argue it is not very creative as a request.
As second best I would wish for more solidarity, perhaps almost as uncanny. Surely easier to achieve and nearly as effective as a cure, solidarity could work at individual and even at national level. The Latin said: spes ultima dea, so one should not give up hope. Maybe we shall get both.

FT: What is the most important point about the shipping industry that you want to get across to everyone that asks you that question?
MS: Reading the news one thing strikes me: there is a rush to axe jobs for companies to survive this period without losing margins . . . Airlines, shipping and logistics are not different from any other sectors, but this is not a good strategy in the long run. It may give stakeholders the impression that the company is well managed, but in the end the impact on society at large will be terrible, companies will not have markets to operate in as consumers' buying power will be gone for a long, long time. This is a short-sighted approach, we need a new deal instead.
Everyone should be ready to accept some sacrifice. I wonder how deep we need to plunge into depression to learn that we need to use other instruments in times like these . . . This is a time to resist, resist, resist whatever it takes, we must invest in our future and stop thinking about ROI's to impress the stock market.
The recent figures published by many countries, in particular the UK, show that the period ahead will be difficult, solidarity will be key to overcome the situation.

FT: How has the pandemic impacted your retirement?
MS: So far the impact has not been great for me: more time for thinking, cooking and dealing with stuff left behind . . . I hope that employment does not drop to the point to jeopardize our pension funds, but there is no guarantee about that. If that happens, my pension too may be at stake and probably many others could join the pain. I really hope we shall not see such an ugly picture.

FT: How has your family coped during the pandemic? How has this COVID-19 experience impacted your view of the importance of family?
MS: Mine is a family with no big numbers. For three months I have only seen my partner. My sister, nephew and niece and their partners and scions have been confined to the screen of the computer or the mobile phone. We met again two weeks ago for Sunday lunch and we were six, scattered around a 24-seater table. In our family we do not wish to take risks if they can be avoided and we abide by the rules. On the other hand, our family ties have known ups and downs in past years, and have become mysteriously closer now that we have had fewer opportunities to meet. A good side effect, I daresay.

FT: What is your take after maybe a million virtual emails and meetings during the pandemic? The plus factor versus what is missing? The future? Will the web replace face to face?
MS: In my view the web will not entirely replace face-to-face meetings, but there will be additional technology in our lives; we have all realized which meetings are indispensable (and those that were not) and will adapt accordingly.
We were used to travelling long distances with impressive frequency and this will probably have to change. This being said, we had lived through a period of inflated egos. Facebook and Instagram is just the hors d'oeuvre: showing our egos either in person or through technology is what many of us have done in the past few years. The virus has made us all a bit more thoughtful, conscious of the concept of community, but I am sceptical this will last.
Travel will pick up again, although the timing may be slower than the travel industry would wish for. In any case we have become much more agile in dealing with technology and making our location next to irrelevant in whatever we do. If you think about the much higher numbers of those who are capable with tech devices now, even at an older age, this is a very positive development.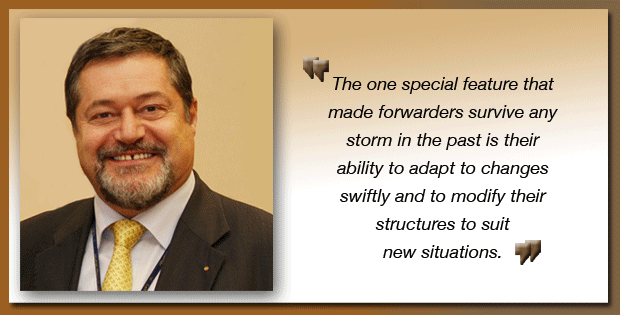 FT: Will you travel this year? If not what has to happen to get you back in the air?
MS: I sincerely do not plan to travel far in the near future. FIATA's events have been postponed and my requirement to travel long distances outside of FIATA's interests is very limited. I could take back to the air if there is a request in my sector, FIATA or otherwise, but the moment there are no signs in this direction.
Looking at the future, I think the FIATA HQ next year seems to be the closest time for me to travel again, unless something unexpected happens before then. In any case that means Switzerland (FIATA Headquarters) and Belgium (FIATA World Congress), so my expected displacements in 2021 are only short distance.

FT: How have the past five Pandemic months impacted your thinking?
MS: The impact of the pandemic on my feelings has been impressive: my impatience with bad habits has increased manifold and my sense of impotence has increased even faster, eventually shattering my youngster's foolish sense of omnipotence, despite my age. I look at people who struggle with rules and habits with more understanding, but I am intolerant of those who display defiance and obliviousness in the face of wearing masks and keeping distances. I am scared of the increased level of cynicism of my present thoughts and I would like to be able to tame my own nature into something more compassionate. I am still trying . . .

FT: Is there emerging a need for an enhanced standby plan to deal with crises?
MS: Dealing with a crisis is one of the most difficult things for humans, in particular because something happens precisely in the area where we believe we have our greatest success. Who can deny our modern ability to fight diseases? At no time in our history has humanity had so many weapons to combat the illnesses that afflicted us for centuries, still all this comes to nothing when a microscopic virus decides to use our bodies to spread on the entire planet.
Giving public health the right value and making plans for universal health systems all over the world will surely be part of our future debates. A dollar spent on public health will look like a much better investment than a dollar spent anywhere else. I regret that so many had to die to arrive at such a simple idea.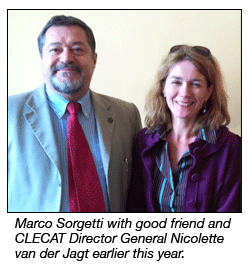 FT: What have you learned about shipping, helping others during 2020 that will impact your thinking ahead?
MS: What was surprising in the beginning of the Pandemic in Italy was the number of logistics employees who selflessly devoted their energies to keep our engine running . . . and that was a time when there was no certainty about what should be done for protection. Italy was right on the front line, very soon it became the worst affected country in the world; nobody had an idea of what was happening, just the TV images of the hearses being trucked away by the military . . . Yet deliveries were taking place and we never had a problem with our supplies, but the lines to get a slot into the shop were long . . . it was astonishing to see drivers, warehouse staff, cashiers, etc. all working tirelessly, despite their lives being at risk.
Obviously doctors and nurses were first on our thoughts, but I could also see behind the frontline what kept the society together and that was largely due to logistics being on the ball at all times. Let us hope all this is behind us, but the recent numbers give room to more uncertainty in Italy. Outside of Italy things are not looking any better.

FT: Imagine that you are talking to yourself ten years ago face-to-face knowing what you do right now, pandemic and all.
MS: Curiously enough, some ten years ago I was having a conversation of this kind with my partner, who is an epidemiologist. I was saying that my greatest concern for a pandemic was a virus that spread "like a cold, but, unlike a cold, it actually kills you." Ten years ago this sounded pretty remote and my suggestion was dismissed.
Interesting to note, not ten, but twenty years ago, one of the first things the newly appointed Berlusconi government did was to delete our national pandemic plan, which could have helped the preparedness of my country if it were in place now.
Reading it today with hindsight, one gets the shivers, but that is history. I am not aware whether other countries had such plans and ditched as we did, but other governments appear to not have done much better, judging from the numbers we read in the news.

FT: What would you say as the person that you are today?
MS: I am very thankful for the kind of life I have enjoyed so far. I have been busy and never bored. I have been very lucky, a piece of luck in life is a great gift. I would be very happy that everyone had the same luck in life, but I see this is not always the case, and I am concerned about the plight of many. I am a regular contributor in several solidarity plans, but I have never had the courage to personally engage in action. I always think I have to do more for others, but I do not dare do much more than parting with some money. You always want to do more, then the end of the day comes and you have only done a fraction of the things you wanted to do.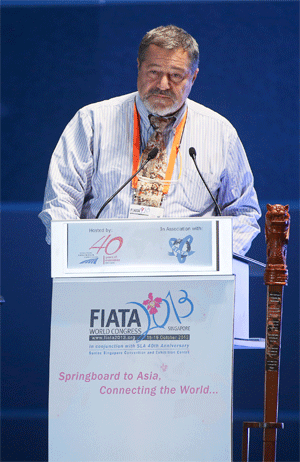 FT: Think about a few years ago at FIATA and lean in here. What excited you during your journey through heavy stress, working day and night and dealing with so many different people from team members to diplomats to the actual membership freight forwarders, to event and Congress planning?
MS: In FIATA there was not so much time to think about what to do. When I took the positon in 2011, FIATA appeared to me as a tunnel, full of chores and tasks and exams and you never saw the end of the pipe . . . then, time flows like in hyperspace and all of a sudden you are too old and you retire. Until then the sequence of events and things to be done prevents you from doing anything else. It is like firefighting 24/7. I am surprised that something has actually been done, if I look at it in hindsight.
When I was FIATA's DG, at times I was trying to modify some of its clichés. One day I decided to ask one of our student-employees to write an article about his first impression about the World Congress. This was a U-turn from the habit of interviewing one of the persons of gravitas within the organization. The student's name was Ian, he wrote a more than decent article, using the word "magnitude" to describe his impression when he contemplated the vast audience of the Opening Ceremony. It was quite a revealing and rewarding experience for me to see through a student's eyes what I was accustomed to perceive as an inevitable sequence of tasks.
One time I was talking to a PCO who was trying to sell her services to us. She asked me to describe what the job of organizing the congress was like. Then she said "are you trying to tell me that every year your six FTE's office organize a thousand participants' conference in a different continent, with different theme, topics, speakers, sponsors, media and even different local organisers? Are you kidding me?" When I replied that this was indeed the case, and it was no joke, far from being our core business, I confirmed this was indeed "the job": she gasped.
The best experience in FIATA is to breathe the extreme variety of its humanity. FIATA is a microcosm, a small specimen of the bigger world, in its complexity and diversity. I was dealing with over one hundred nationalities at any given moment of my work and that was really great. There is a catch: they tend to wake up and go to bed at all times, global a 24/7 organization may be . . . and your days become endless. I was doing crazy things like leaving from Zurich on Wednesday night to speak in Taipei on Friday and be back in the office on Saturday morning.
I do not think there is anyone of those who approached me, who did not get a timely answer. I consider this to be a success, when you deal with something like 7,000 members. I can only hope they have the same impression.

FT: How did you keep things going? Share some pointers for today's executive?
MS: I had acquired considerable experience with FIATA's bodywork in my previous experience as a FIATA member going to Congresses since 1992, as well as DG of CLECAT for nine years, so it was relatively easy to adapt my previous involvement to a different "magnitude," as Ian had put this concept in his article. This being said, with the small structure that the circumstances allowed, if you did not wish to leave matters behind or unattended, it meant working at least twelve hours a day almost every day.
In the last few months I have seen a pretty impressive pattern change for FIATA and my experience with the new paradigm is so limited that it is difficult to make any suggestions. I am told that Stéphane Graber is a particularly clever person. Unfortunately, I have not been able to meet him yet, because my planned participation at the 2020 Headquarters was frustrated by the pandemic. FIATA is a 90+ years old organization and it has an accumulated patrimony of knowledge that can assist in the big change it is going through. I am sure many resources are available to help in this evolution.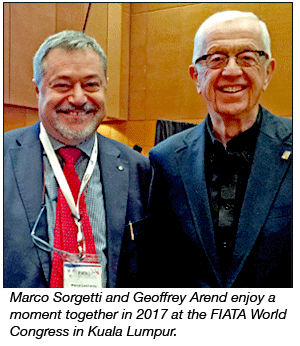 FT: What will airlines look like post pandemic?
MS: My perception is that once we can digest the idea that everybody need wear a mask at all times when on board, things will slowly go back to normal, or what will look like normal. I am however convinced that the way the airflow is treated in the cabin will have to change. We are told that aircraft is the safest of all travel, but in my view we need to do more to show what has been done to improve. There will surely be new technology in this area of aviation, this may be a welcome improvement and we need to see it.
Regarding airfreight, I do not see much difference in the pipeline, save for the consequences of the economic downturn, of which we have just seen the beginning. There are ups and down in rates and the best equipment to suit the situation is still somewhat unclear. Some convert A380's and others criticise this trend, so the fog has not lifted yet. I am hearing from many sources that we are already struggling with capacity. These are all signs that the industry has yet to find a new stable balance.

FT: United, as example is talking about laying off as many as 36,000 or about half its people.
MS: I have already said what I think about mass job losses. Whilst I understand the reasons for it, I cannot share the value. We must find other ways to deal with the problem, if we cannot find a cooperative way to deal with redundancies, the economy at large will suffer enormously. This is not only about airlines, it is for the entire employment area, regardless of the industry: there are no Martians coming to invest in earthly salaries, someone must pay them here, if we wish to have a consumers' market on this planet. I hate to say this, but this is a challenge we have not seen in the past one hundred years at least, nothing we have experienced in our lives before is comparable to this.

FT: Are you optimistic looking ahead? Why?
MS: I am an incurable optimist. Humanity has taken many blows and it has emerged stronger and wiser from each and every one of them, so we shall do the same this time. What cannot be denied is that the cost will be expensive and it will be all the more expensive if we react unwisely with a desire to dismiss rather than resolve the issues. I am from the Alps, in here we do one thing: stick together and climb, that is what we need to do in this case.

FT: What are some measures and perhaps basic rules that freight forwarders can employ to advance the business? What might be changed or adopted that you admire from other industries?
MS: The one special feature that made forwarders survive any storm in the past is their ability to adapt to changes swiftly and to modify their structures to suit new situations. This is a time when changes are so important that forwarders need to adapt even faster. I am ready to think that individuals will be inclined to resort to e-commerce and home deliveries more often and more permanently than in the past; this can multiply the opportunities for forwarders to increase their business, in particular if they can make their last mile processes seamless and less intrusive. Some of this change is already happening.
When I lived in Switzerland I was amazed at the level of trust among locals, which was surely different from my previous experiences. In my view we need to improve on this point and learn how to offer trust more readily and make sure we deserve it, even when conditions are not written by lawyers and signed five or more times for acceptance. We must learn how to make our lives easier and socially rewarding.

FT: Are you able to describe some people or events that are absolutely outstanding during this time?
MS: Leaving politicians aside, as most of their performance has been quite disappointing, I am impressed by the heroic performance of many civil servants, even in Italy, where they do not easily command respect for their work. Another aspect that was a pleasant surprise is our ability today to adapt to different paradigms of work, without too much trouble and discussion. Without the investments made at the end of last century in broadband and technology the consequences of this pandemic on our economies would have been immediately worse. Individuals adapted to changes rather quickly and this was a pleasant surprise. Along those working at their peril like truck drivers and cashiers, others have been able to work from home without much consequence, thanks to modern technology.
Twenty years ago this would have probably been impossible, not least for lacking the skills, if not for the investments. There remains a sizeable part of workers who were (and some still are) sitting idle. This will continue unfortunately until a cure is found or they manage to change jobs. This difficulty is particularly noticeable in the performing arts, where many have been without occupation for months now. I perused the La Scala website and the sense of uncertainty in this otherwise lofty and unreachable empyrean is depressing, but I must say that our radio, inn particular Rai Radio Tre, has done a great job in making sure that we all kept our wits on what matters most, during this long period of uncertainty. No matter how interesting the programme, you can still cook through it and the meal is ready by the time it is finished, that is the beauty of it. The persons who worked to keep culture alive in this period of darkness, providing decent programmes in spite of difficulties win my COVID19 award.
Thank you, Geoffrey, for the opportunity. Stay safe and active. At the end of the day you are only 80!