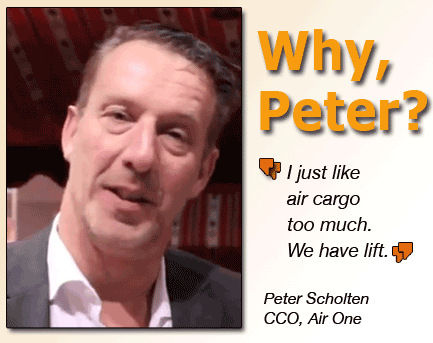 Up pops cargo pro Peter Scholten, now serving as CCO for London-based Air One that serves as sales agent for Aerotranscargo, an all-cargo outfit based in Sharjah, fielding four B7474Fs.
Peter Scholten is a touchstone character of the air cargo business, very much like the Duracell Energizer bunny in the commercials that just keeps on going and going.
Thoroughly professional and totally results driven, Pete has this quietly determined air that has been a constant through thick and thin during the near three decades we have known him.
Last time we touched base, we were both in a lounge somewhere on a Friday heading home, me to New York and Pete to Dubai.
It was during a time when he headed up Saudia Cargo in Jeddah, and would jump back to DXB for the weekends.
Peter was always low key and seemed to be coated in Teflon while on the SV assignment.
The Saudia experience actually afforded that carrier the right man at the right time.
Later after Peter departed, Qatar Cargo came on the scene and ate everyone's lunch in the region.
Peter, as mentioned, has 30 years in global aviation and transportation management, including 14 years as regional VP on different continents for Martinair Cargo.
He has also worked the forwarder side, having spent five years as Managing Director of Road Air Flora, a leading freight forwarding company in the Dutch perishable market.
So having been on both sides of air cargo, he has had his shares of ups and downs.
But as this pandemic year continues, here comes Peter Scholten once again, where he was meant to be, at the helm of humping and running an air cargo resource.

Why Peter?

So we have one question.
Why, Peter?
"Air One is a newly formed company that solely focuses on global sales activities for Aerotranscargo," Peter said.
"I am still going strong and all is safe during this global pandemic.
"Just like air cargo too much.
"Having a great time with the Aerotranstranscargo freighters; it's going very well," is Peter's relaxed and assured response.
Contact Peter here.: peter.scholten@aironeaviation.com
"We have lift," Peter smiled.