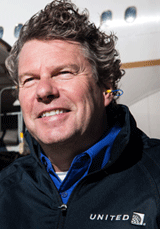 "After the dread and destruction of recent days, and given all the infrastructure challenges in the area, it's gratifying to report that United Airlines resumed flight operations into most Florida cities Tuesday," said Jan Krems, President United Cargo.
"We'll resume limited cargo service in some locations on Wednesday, and we plan to lift all restrictions in U.S. locations impacted by Irma by Thursday.

Shouldering A Big Lift

"I also feel privileged to report that, coming right on the heels of efforts that resulted in over 500,000 pounds of critical relief supplies carried in support of the victims of Hurricane Harvey, the United family stepped up again to assist those impacted by Irma. I'm proud of the key role Cargo and our partners play in this crisis support, of course, but I'm also very appreciative of the skill and energy of our United teammates in Airport Operations, Community Affairs, Network Planning, Corporate Security and countless other groups whose collaboration is needed to supply disaster victims the relief they need.
"Along with these efforts, United PetSafe has made a donation to the Humane Society of the U.S., and we're assisting other animal relief organizations as well, in support of animals impacted by Harvey and Irma," Jan Krems added.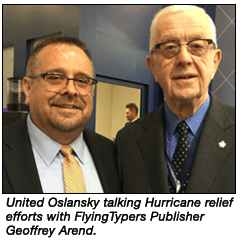 Safe At Home

"With all its catastrophic effects, the one positive thing about Irma is that we had several days warning of where it was headed and how much damage it might do," Mike Oslansky, Director of United Cargo's U.S. Operations, declared.
"This window of information allowed us to pre-position relief supplies on 'extra section' flights into locations in Irma's path – bringing goods in on aircraft that turned right around and carried passengers out of harm's way.
"Then, even as Irma was making landfall in the U.S., we were sending wide body aircraft with humanitarian supplies to San Juan, which is serving as the "hub" and nerve center to provide supplies to the U.S. Virgin Islands and other islands in the Caribbean. And now that we're flying into Florida again, the team is increasing our efforts to obtain the items most needed and load them on United aircraft."
Geoffrey