Just when you think you've heard every 911 story, here comes a wonderful, inspiring, and true tale of the fateful day and its aftermath. The Canadian musical Come From Away is currently on stage right now in New York.
Take Time To Feel Good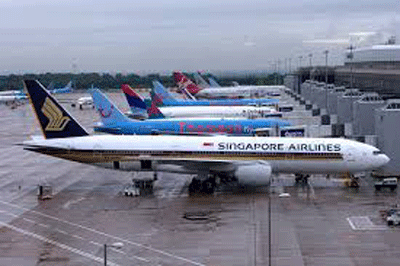 The story is "aw shucks" heartwarming and comfortable to watch.
The tale unfolds with spirit and sureness as we learn what happened to several airborne flights when the 911 tragedy struck. U.S. airspace irised shut and Canadian Air Traffic Control stepped in to offer help.
One place experienced what must have felt like the whole world dropping in for a visit. The sleepy Gander, Newfoundland, handled a total of 38 jumbo jets and 4 military flights bound for the United States at Newfoundland's Gander International Airport—the nearest sizable airport on the continent—as part of Operation Yellow Ribbon.

Recalls Another Era
The last time Gander had seen action like that was more than 60 years earlier, when it was a busy World War II military base.
Of course, a quick read of aviation history reveals that Charles Lindbergh had set Gander as a refuel and service stop back in the 1930s, when he laid out the "great circle route" as the aerial path to and from Europe (the route still in use today).
Gander served aviation from the dawn of aviation until the post-war era, when long-range aircraft and better engines relegated the field as little more than a dot on the map—a fleeting memory below the wings of giant aircraft coming and going 6 miles above.
One More Once
But on 911 it was like déjà vu all over again as 6,759 passengers and airline crew members—plus 9 cats, 11 dogs, and a pair of endangered apes—descending on the small northeastern town of Gander (and its nearby villages), nearly doubling its current population of 9,651.
Take A Gander At This—Everybody Helped
The scene at Gander International Airport on September 11, 2001, was intense. People departed their airplanes with nowhere to go as chaos and uncertainty ruled.
The immediate challenges included food, housing, transportation, supplies, and translators.
But for five days in September 2001 the people of Gander and elsewhere in Canada rolled up their sleeves, opened their hearts, and unlocked their doors, offering unconditional sanctuary for thousands of complete strangers.
"The Plane People""
Imagine one day you are living a quiet, peaceful existence and the next your home or apartment is filled with strangers. Suddenly you're in an almost out-of-body experience, caring for and feeding people you've never met.
That is exactly what happened.
"Perfect strangers were invited into people's homes, where meals, beds, and new clothes awaited them," People Magazine reported.
"Striking school bus drivers put down their picket signs and volunteered to transport people from their planes.
"Schools were converted into makeshift shelters.
"Restaurants and bakeries donated food, while pharmacies provided everything from diapers to medication to feminine products."
"No one was charged for anything," NPR said.
"When asked what they owed, 'the plane people' were often told in response, 'You'd do the same for us.'"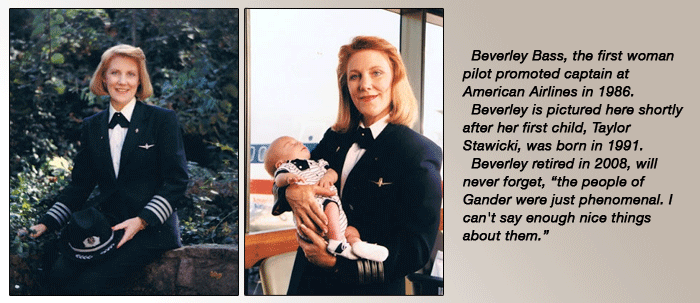 View From The Bridge

"The people of Gander were just phenomenal," American Airlines pilot Beverley Bass, told The Dallas Morning News.
Beverley, who among other feats was the first woman pilot to be promoted to captain at American Airlines in 1986 (she became the first female B777 captain in the world in 1988), added:
"I can't say enough nice things about them.
"They brought smoking patches to the airplane.
"They brought diapers of every size. They brought baby formula.
"They filled 2,000 prescriptions in the middle of the night."
"When we got off, they had tables set up," she continued.
"The people of Gander had cooked all night long.
"They made all kinds of sandwiches.
"They gave us a bag.
"It was kind of like Halloween.
"You went from table to table and just picked up what you wanted.
"They had fruit and brownies and pies and cakes—they had made everything."
"We were fed three hot meals a day every day we were there."
The Smile Is Sent Back
When the travel ban was lifted on September 14, all of the 6,759 "plane people" returned to the airport, boarded their aircraft, and left Gander.
"But Gander surely never left them," People Magazine reported.
"Money was donated and scholarships were set up to say thanks.
"Gifts were sent.
"Two travelers fell in love and married.
"Many returned on the 10th anniversary of the attacks," The New York Times reported, "where a small ceremony was held at the town's community center."
Stories & A Broadway Play
After 911, many stories of the Gander "Plane People" emerged including The Day the World Came to Town, a Canadian TV movie (Diverted), and a BBC radio play (The Day the Planes Came).
Come From Away
Playing on Broadway at the Gerald Schoenfeld Theatre in New York, Come From Away is the result of stories that emerged during extensive interview with both the people of Gander and "The Plane People." Come From Away has won numerous awards, including a 2017 Tony for Best Direction.
In New York the esteemed "Drama Desk Awards" for the show include authors Irene Sankoff and David Hein.
First Rate All The Way
Come From Away includes a first rate company of actors, all playing multiple roles.
Come From Away proves tolerance and kindness are easy to achieve. In this confusing summer, marked by a disturbing lack of tolerance, the show is a reminder of the better path to travel.
Geoffrey