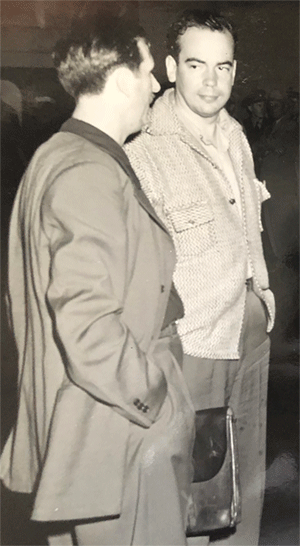 Pictured in 1949, Richard Malkin, FlyingTypers Editor Emeritus and Ed "Ansel " Talbert, FlyingTypers Contributing Editor.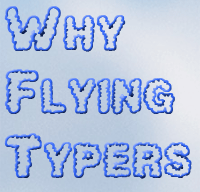 It is also worth mentioning that the publication that you are reading worldwide today called Flying Typers can trace its name back to the days of the AVG. Often people inquire as to our name FlyingTypers.
"Don't you mean Flying Tigers," is a comment we have heard.
Actually during WW II Flying Tigers were both fighter pilots (P40) and air transport pilots (C46 & C47) as well.
Our publication title is genuine. It dates back to the days of the AVG, when during the long trek over the mountains, the pilots got to know another determined group of people, the first air cargo journalists who worked for Time Magazine, Life Magazine and Yank Magazine, The New York Herald Tribune, Stars and Stripes and others.
Along with their regular kit, these reporters brought along the essential tool of their trade, a small portable typewriter in a black case—the 1940's version of the laptop computer of today.
Our Contributing Editor, Ed "Ansel " Talbert, who served as top aviation editor of The New York Herald Tribune, and a founder of The Wings Club recalled:
"Preparing for a flight, a pilot looking out the left seat window at some reporters as they trudged their way toward his aircraft to cover the story said to the co-pilot:
"Here come those flying typers."
We are proud to carry the name FlyingTypers as we pioneer this 21st Century Ezine worldwide.
We are also dedicated to never forget the people and events that shaped our great industry.