Donna Amendola retired after spending the past 30 years as a pioneering woman in logistics at EMO Trans Global Logistics.
While there may not be publications lining up to hand out an award to this "Pioneering Lady of Transportation," they could, or better put they should be.
Based in the northeastern U.S. inside the EMO offices in Hartford, Connecticut, Donna has a reputation for being the longest employed salesperson for one freight forwarding company. She can proudly look back on serving three decades with EMO Trans, while looking ahead to a well deserved happily after.
"I never imagined departing EMO, but it is time to start a new chapter and share time with Dennis, my husband of 34 years," she said softly.
"We are moving to Sarasota, Florida, very soon, where I will finally have time to exercise, swim, read, cook, dance, and boat around the various Sarasota area bays in the sun," Donna smiled.
From The Ground Up

Donna started as an Account Executive for EMO Trans in August 1987, at a time when few females were employed in outside sales.
EMO CEO Jo Frigger (pictured here with Donna) saw beyond the stereotypes and accepted norms of business as usual.
"Our idea at that time and still today is to fit the right person in whatever job has to be done at this company anywhere in the world," Jo said.
"We knew right away that Donna was a natural," he added.

Up The Ladder

So up the ladder went Donna, building success upon success. She was promoted to positions of increasing responsibility from Hartford's sales manager to regional sales manager for the northeast region to director of business development, USA/Germany.

Thirty Years

Donna's final post at EMO was as director of business development for the northeast region.
"I loved working at EMO because of the freedom I was given to make decisions on my own regarding business transactions with customers," Donna said.
"There is a transparency at EMO Trans that allows for frank and open communication with others to both get things right and to also maintain EMO Trans' extraordinarily high service delivery.
"Coming up in the freight forwarder business, I was given access to top company management at any time.
"I am very proud of the opportunity EMO Trans gave me and also of the contributions I have made to EMO BDL, as well as the northeast region and the entire company."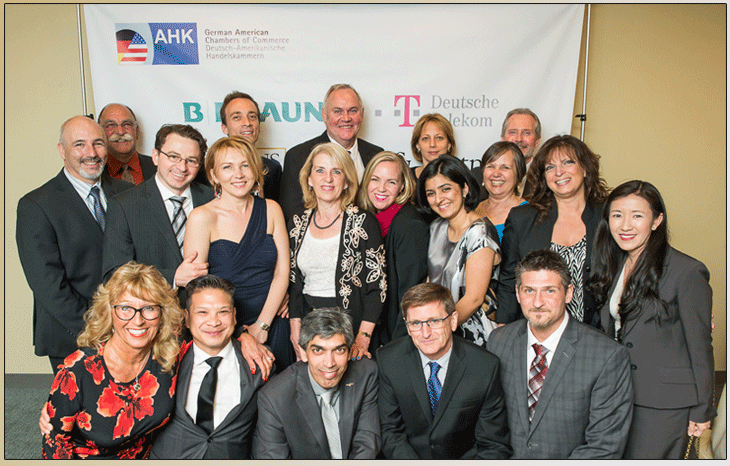 Donna with her EMO Trans Colleagues and customers at The German American Chamber of Commerce Annual White Asparagus in 2016.

Customers Always The First Thought


Donna said that she will sincerely miss her customers, the EMO BDL family, and colleagues in the U.S. and abroad.
"Our customers mean everything to us.
"In more than a few cases, business relationships have turned into life-long friendships.
"The company and its customers feel like extended family to me and I expect that embrace will remain part of my life forever.
"To our service partners and everyone at EMO Trans, especially Jo Frigger, our leader and the visionary most responsible for making EMO Trans what it is today with 250 offices in 50 countries, heartfelt thanks and wishes for continued success, prosperity, and good health.
"I will miss working with all of you," Donna said, just before the music of farewell began to play.
https://www.youtube.com/watch?v=HMcHbh6HBDk
(Geoffrey)