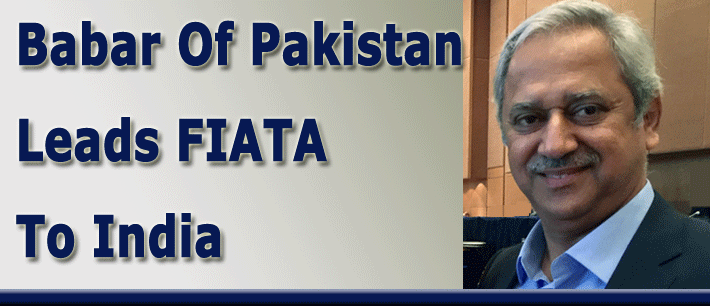 Leave it to air cargo and transportation worldwide to bring people together.
Next year FIATA holds their Annual World Congress from September 25-29, 2018. The host country will be India, with opening ceremonies in New Delhi. Newly-elected FIATA President Babar Badat of Pakistan will welcome shipping community leaders as well as Indian government leaders to the venue, opening the most important cargo transportation event of 2018.

Transportation Pioneer

Mr. Badat, an acknowledged pioneer and leader of transportation in Pakistan and member of the FIATA Board of Directors was elevated to the Post of President of FIATA for the next two years in a ceremony held at the close of FIATA World Congress 2017 in Kuala Lumpur October 8.

All Pro Badat

After talking with Babar Badat, Chairman of Transhold Pvt Ltd. of Karachi, Pakistan, it's easy to understand why the International Federation of Freight Forwarders Associations confirmed this effusive and approachable executive to the post of President in Kuala Lumpur.
FIATA, with national representation from 160 countries and more than 40,000 international logistics companies as members, had many places to turn and several excellent choices, but moved toward Mr. Badat.
Babar, very quietly and without much fanfare, has emerged as a leader and pioneering organizer of a robust and effective logistics industry that has become a bright spot on the Pakistani landscape.
Mr. Badat is a founder and served as first Chairman of the Pakistan International Freight Forwarders Association (PIFFA), which has grown from just a few companies in 2005 to more than 500 today.
The role of PIFFA includes support for Pakistan trade worldwide and the development and maintenance of a healthy international freight industry within Pakistan.
PIFFA also works to ensure that a level playing field exists for companies involved in attempting to establish and maintain the movement of freight both in the country and worldwide by all modes transport.

Present At The Creation

Mr. Badat's first company, Transfreight, was founded in December 1982, an outgrowth of a JV with a German company that began in 1979.
It is one of Pakistan's earliest international freight forwarding organizations.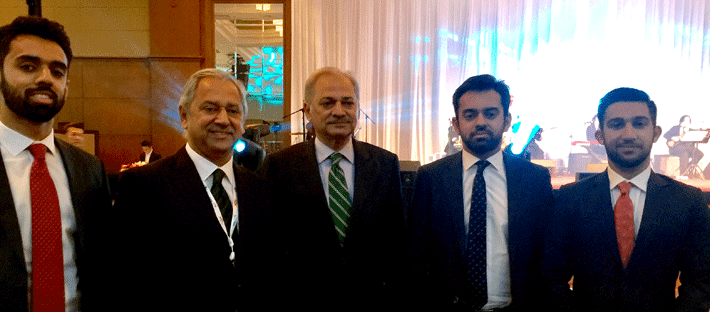 It's a family affair. Pictured in KL as Babar Badat accepted leadership of FIATA were (L to R)—Son, Haider; Babar Badat, brother Yawar; son Taimur and nephew Akbar.
Why Are These Men Smiling?
Pictured in a lighter moment is newly-elected FIATA President Babar Badat (right) and Debashis Dutta, who heads up the FIATA World Congress 2018 organizing committee and is the immediate Past Chairman of the Federation of Freight Forwarders' Associations in India (FFFAI).
As FIATA President, Babar of Pakistan will lead the biggest world organization of freight forwarders—some 40,000 strong—when the next World Congress occurs September 25-29, 2018, in New Delhi.

One Step at a Time

Babar Badat may have low friends in high places in Pakistan, but he uses his unique position to drive the destiny of his homeland into the modern logistics world. Despite the many well-publicized challenges, he remains convinced Pakistan's day is coming.
"You must always maintain your sense of purpose and mission to build on the great potential of the country and the world.
"Now approaching 200 million people, we rank as the sixth largest nation on earth.
"It also does not hurt to maintain your sense of humor," Mr. Badat smiles.
"Yes, there are problems, both social and political, which stretch across the canvas, affecting our ability to move ahead, I think but the government is moving to right things.
"Our country contributes to charity; in fact, outside of America, we're one of the biggest contributors in the world.
"Transhold is primarily a freight forwarding company with offices throughout Pakistan.
"From our beginnings we have kept pace and even slightly ahead of market.
"Over the years we have set up independent companies (including trucking) that served as conduits to move cargo—first for Russia and later for NATO into Afghanistan and elsewhere.
"Of course, as a matter of how business is done, Transhold considers itself quite flexible and ready to use its market position and expertise to create custom programs to meet any specific demand," Mr. Badat declared.
Geoffrey