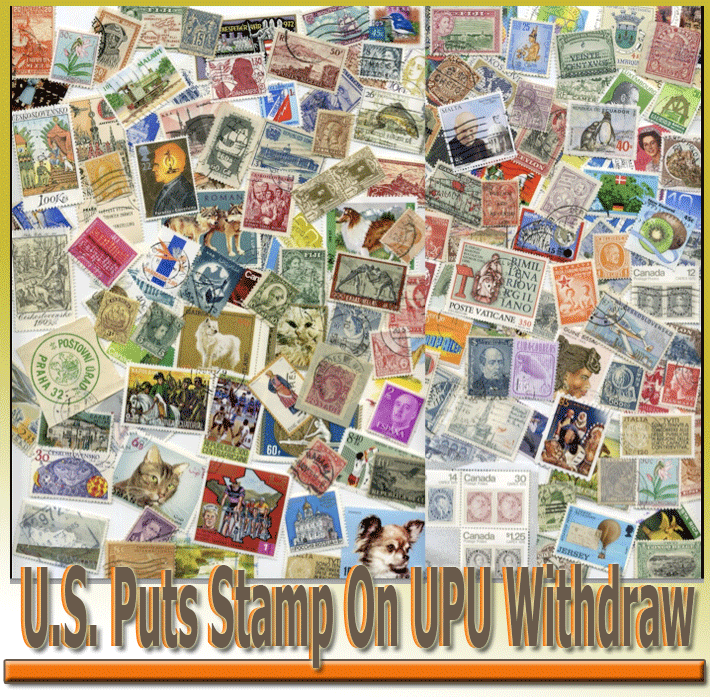 The rapidly growing trade in e-commerce shipments into the U.S. could be severely disrupted by the Trump administration's order earlier this month instructing the U.S. Postal Service (USPS) to withdraw from a treaty setting shipping rates with nearly 200 countries. In a two-part feature, SkyKing examines why the step was taken, what it means for shipping costs and who will be the winners and losers.

The decision of the White House to pull USPS out of the Universal Postal Union (UPU) treaty, which was first drafted in 1874 and sets fees that national postal services charge to deliver mail and small parcels to countries globally was not a huge surprise.
The White House said it had been unable to reform the treaty and would instead seek to "negotiate bilateral and multilateral agreements that resolve the problems". Some analysts viewed the decision as an extension of the country's ever-growing front in the trade war with China, but most agreed that reform had been required not least because the USPS loses money on providing the service - posting a loss of more than US$135 million handling foreign mail in 2016.

The Set Up

Under the treaty's existing structure, which was, for the most part, put in place in 1969, poor and developing countries have been assessed at lower rates than wealthier countries in Europe and North America. According to a research paper by James I. Campbell, Jr. cited by Nomura, in 2014, those in Group 1.1 classification (Australia, North America, Western Europe, UK, Japan) undercharged last-mile delivery of inbound letters and small packages to the tune of $2.1bn in 2014.
Out of this amount, the uncharged amount by the United States amounted to $255.2m during that year.

Call For Restructure

The rapid wealth advances made by many Asian countries had prompted growing calls for the current system to be restructured long before the Trump administration made its withdrawal announcement.

The China Edge

For example China is still adjudged to be 'developing', making it cheaper to ship products by air from China to New York than from the Midwest to New York.
While this trend has encouraged the rapid growth of international e-commerce and boosted Transpacific air freight demand, many American companies have claimed them it has rendered them uncompetitive in their own domestic market.

Toward Better Rates

According to Nomura, the Trump administration's withdrawal of USPS from UPU is an attempt to negotiate better rates under the terminal dues structure, which was introduced back in 1969 by UPU.
"The current terminal dues structure is believed to have put USPS at a disadvantage given the last-mile cost mismatch incurred by USPS and what it actually collects from the postal sender for last-mile shipment," it said.
"For example, postage costs of mail from China to a certain address in San Francisco can be much cheaper than interstate mail within the U.S."
The analyst said the UPU was a mispriced trade policy to begin with. "In a nutshell, under the UPU structure, higher-tiered developed countries (as per ranked by UPU) such as the U.S., Australia, Western Europe, UK and Japan are essentially subsidizing partial costs of the last-mile delivery costs for mail items sent by lower-tiered countries," it said.


Chinese Shipments Hurt USA

"Trump is making a case on how the wave of Chinese shipments from e-commerce market places are hurting the USPS, logistics players and local online retailers that are left with no choice but to charge higher shipping fees to their customers locally."
Jim Campbell, a lawyer and consultant on postal issues, said recently that the main problem with the UPU was that its pricing system did not reflect the massive rise in international e-commerce.
"The low terminal dues rates have always been unfair and distortive, but the rise of e-commerce has … hurt merchants and created serious political problems in industrialized countries," he said.
China is "now the largest source of e-commerce postal packages sent to the U.S.
"China Post gets a larger discount on deliveries of inbound packages than Singapore or industrialized countries, so it is easy to use China as an example to stand for the whole problem."

Watch On A Year

Although there is no set date yet for U.S. withdrawal from the UPU, it is expected to take about a year. Washington has said that on its departure it will introduce its own rates for the handling of international shipments by "no later than January 1, 2020".
Nomura expects bilateral negotiations could be the way to go for USPS.
"It is understood that the withdrawal process from the UPU may take a year and, during the process, the U.S. will negotiate for a fairer terminal dues structure with UPU," it said. "In the interim, postal services provided by the USPS for U.S.-bound mails from other countries will be negotiated on a bilateral basis rather than through UPU's terminal dues structure."
But who will 'win' and who will 'lose' from the Trump administration's withdrawal will appear here in Part 2 that will be published this week Wednesday October 31.
SkyKing