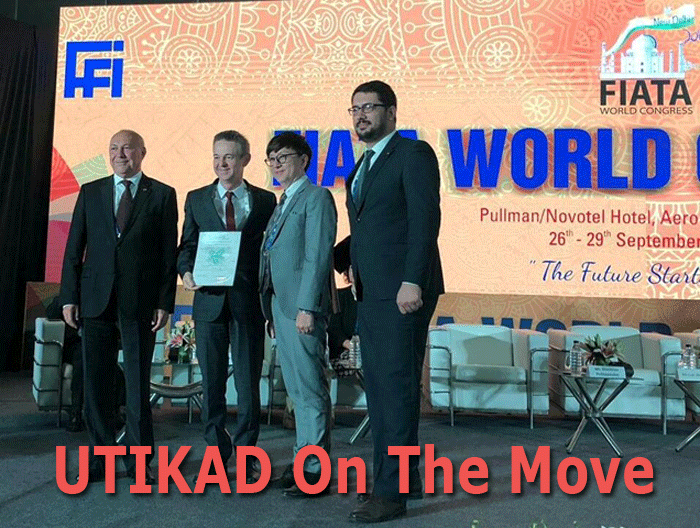 UTIKAD the 450 member non- governmental International Transport and Logistics Service Producers Association, and leading freight forwarding group based in Turkey, joined the FIATA World Congress meetings in New Delhi in September.
The delegation under the chairmanship of UTIKAD Chairman Emre Eldener (2nd from left), pictured with from left, Cavit Ugur, General Manager, UTIKAD; Thomas Sim, Chairman of Advisory Body Vocational Training, FIATA.
"The excellent and very high quality educational program for freight forwarders being implemented in Turkey by UTIKAD via the FIATA Vocational Training Advisory Committee has been approved for the next 4 years."
"FIATA World Congress," Chairman Eldener said "offered the opportunity for our delegation to conduct bilateral business meetings with representatives of different countries.
"As example UTIKAD in its mission to represent the Turkish logistics sector on international platforms, discussed in private talks , ways to develop cooperations between India and Turkey within the scope of our current 100 –Action Plan of the Presidential Cabinet.

New Horizons

"UTIKAD delegation met with the national freight forwarders associations of India, China and Mexico to discuss Turkish Trade and Investment Action Plans," Chairman Eldener said.
"FIATA World Congress provided excellent new channels for dialogue that eventually will increase inter-country business relations."
Logistics Summit

Earlier UTIKAD hosted "The Future Logistics Summit" that took place on September 19, 2018 at Elite World Europe Hotel.
During the Logistics Summit, attended by the officials of Turkish Cargo, and 14 panelist guests, the participants exchanged their ideas for the future of logistics based on the concepts such as industry 4.0, sustainability, climate change, blockchain and innovation.
Geoffrey