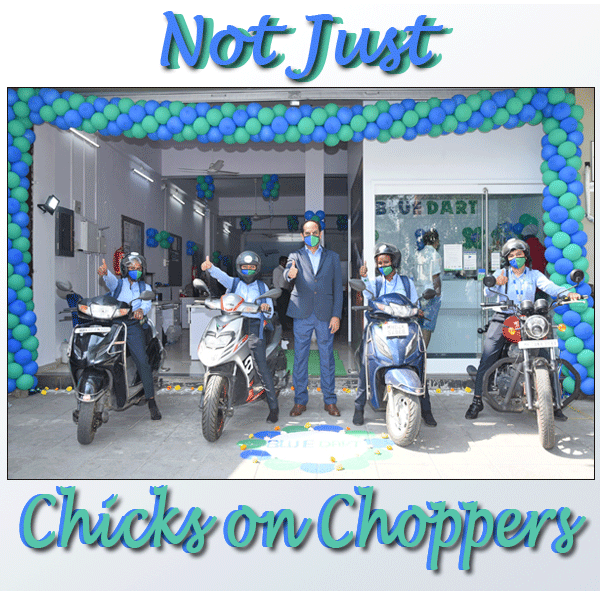 And none are about to be judged as just one of the boys!
Blue Dart, the India express company that at one time was managed and driven in large part by a pioneering woman named Tulsi Mirchandaney and then bought by DHL, said that it is operating the first 100% women-run service center in Navi Mumbai.
Pictured at Kharghar, Navi Mumbai the all-women service center includes a team of managers, customer service representatives, and security personnel as well as sales and counter staff.
The masked man in the middle of the chicks on choppers is Balfour Manuel, CEO & Managing Director, Blue Dart.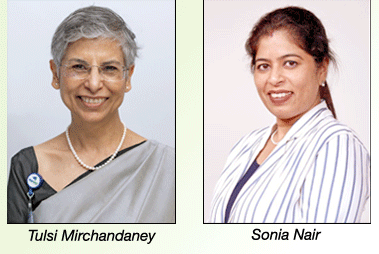 Blue Dart is kicking its hiring of women up a notch, branding the action "Diversity and Inclusivity".
The company is adding another service-center in Andheri that will be staffed 70% by women, "working shoulder to shoulder setting the pace of gender diversity," Balfour Manuel said.
"Tulsi Mirchandaney, Managing Director of Blue Dart Aviation, and Sonia Nair, our National Customer Service Head are two women that have played an integral role in leading Blue Dart to set and achieve new milestones, year on year.
"They remain an inspiration for many, myself included," Balfour Manuel declared.