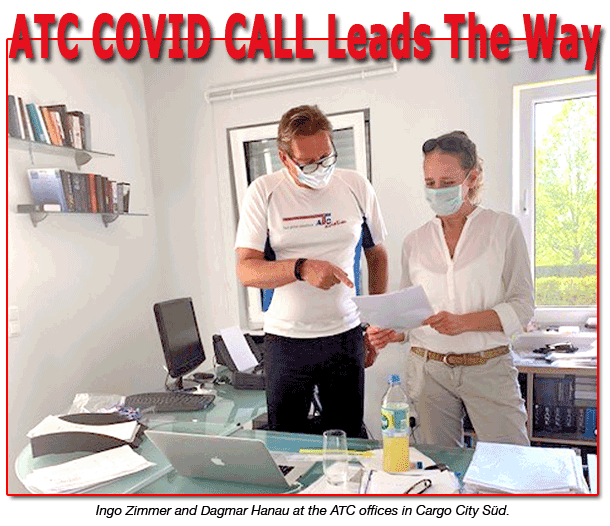 "When we review 2020," Ingo Zimmer, CEO of leading global innovator ATC Aviation Services, the GSSA force in European Cargo that has grown into the global leader during the past dozen years, "we first remember all the people who suffered and died during this terrible pandemic.
"Our thoughts are with their relatives and families."
"Fortunately," Ingo said, "at ATC most of our team members who were infected with COVID-19 were able to ride it out and recovered completely.
"But there is no letting our guard down, as 2021 gets into a rhythm.
"ATC, as example, continues our weekly COVID CALL, wherein our global family of country-managers update on the local situation and actions taken.
"A key element in our strategy from the outbreak of the pandemic was repositioning our team into home office operations. That very early move that continues in 2021 softened the impact of the raging virus.
"For team members who remained at the office we instituted weekly shifts under closely watched conditions with all the defensive sanitary conditions for better control of possible infections.
"But we didn't take "home office" for granted either.
"People have space in their ultimate sanctuary, their homes, allotted for living.
"To make the transition from the office easier and more familiar, we handed over office equipment, including ATC laptops and personal computers and also even office furniture for use at home.
The idea out of the gate as COVID hit that continues today is a team at ATC Global that is well prepared and equipped to be both comfortable and efficient with hardware anywhere.
"No laptops on an orange crate at ATC Home Office," Ingo Zimmer smiled.


Digitization Business As Usual

"All during the pandemic, the ATC experience, due to our belief and investment in an industry-leading, high grade of digitalization, has allowed for smooth sailing in every aspect of our offering.
"The past year underscores that even after the Covid 19 crisis has passed, Team ATC will continue with our home-office concept for some of our employees.
"The idea here is not unique.
"We take what we have learned from this otherwise jarring and life-changing, year-long experience and are working to provide the best creative environment for all of our transportation professionals.
"The results up and down the line tell us, that as a company, our attention to people first is a formula that works for customers and employees alike," Ingo said.
"Our acclaimed ATC COVID-19 Task Force handled an amazing number of PPE charters.
"ATC innovation logistics in 2020-21 have filled the skies with freighters and phreighters full to the brim with pharma, masks, gloves and ancillary equipment.
"ATC has flown relief material in never before imagined quantities between the continents."

Looking At Tomorrow

"Looking to the future as the threat from the pandemic subsides, we expect less activity in vaccine shipments.
"Firstly, because although not predicted, the need for capacity has been lower than expected.
"You can ship a million doses of vaccines on a single B787 pax freighter.
"Secondly, we note that most of the transportation agreements are directly between governments and national carriers.
"But I believe that digitalization was the most important challenge we have addressed with some very positive results, that have been critical to our success.
"Just in time, you might say, new reservations software was up and running after being efficiently implemented in our 34 ATC country organizations worldwide.
"We also moved to Microsoft 365 cloud solutions.
"Power BI is a software to visualize information that ATC has linked into a data lake that now contains all financial information as well as market information and statistics.
"These digitalized tools of the trade that will one day become normal with others, are up and running today at ATC.
"In enhancing digitalization in transportation, there is no hocus pocus.
"Information transparency benefits our service partners and is a helpful tool for our sales departments and our effort all around.
"Right now, the ATC reservation department bots transfer information into our customers' systems and that eliminates the need for costly manual double entries."


Leading The Way In GSSA

"In 2021, ATC is among the first Cargo GSSAs offering a global e-booking solution.
"Within the next 14 days in March will see the roll out in all 50 offices in 34 countries where we operate, so that airlines represented by ATC can easily book via our ATC webpage."


ATC Works Together As Partners

"Just like all stakeholders in our industry ATC has suffered from loss of capacity due to reduced passenger flight operations.
"But always working in close contact and complete cooperation with our airline partners we continue to pioneer inventive solutions put into force by the best, most experienced and dedicated team of transportation specialists in the world.
"We have managed the yield and our airline customers have benefitted."


ATC Delivers No Excuses

"Last year during 2020, ATC business was strong and much better than the market.
"ATC turnover was 235,000 tons of air cargo generated.
"For our airline customers however, the greatest satisfaction is that our efforts impacted the world in a positive way as it struggled to manage the terrible crisis.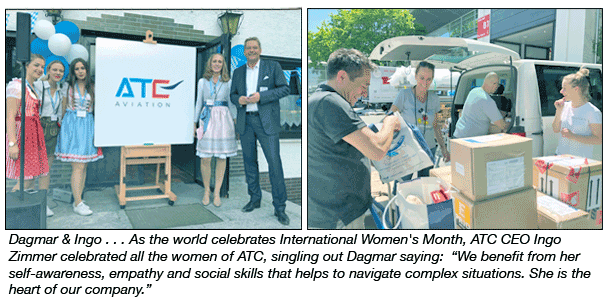 Women@ATC

"As we are celebrating Women's Month right now, I would like to say, being in the industry for more than 30 years I have met a lot of great woman in leadership/management positions.
"In our 54 offices around the world we are pretty much equal when it comes to gender balance.
"However, we still have room for improvement in terms of women in management positions.
"One particular person that I must acknowledge is Dagmar Hanau, known for her open, friendly manner and warm hearted and professional behavior.
"She gives everybody a feeling of high appreciation.
"She works with great commitment and always sets a good example. Her ability to correctly assess the strengths and weaknesses increases the productivity of the teams she works with.
"With her eloquence and determination, she is particularly impressive in international projects. Her unconditional loyalty to the goals and values of our company qualifies her as a top manager.
"We benefit from her self-awareness, empathy and social skills that helps to navigate complex situations.
"She is the heart of our company."

The Year Ahead

"Outlook for 2021 is very good," Ingo Zimmer declared.
"In January and February, ATC achieved pre-COVID period tonnage numbers and the demand and yields are still very strong.
"Cargo tenders are on a very high level.
"Some passenger airlines converted pax aircraft into freighters or even bought freighters.
"No doubt, after 2020 airlines are under some mandate to control costs, and this presents an opportunity for good and reliable GSSA solutions.
"We are here to help, ready, willing and able.
"ATC continues building because it wants and is able to handle more business," Ingo Zimmer concluded.
Geoffrey