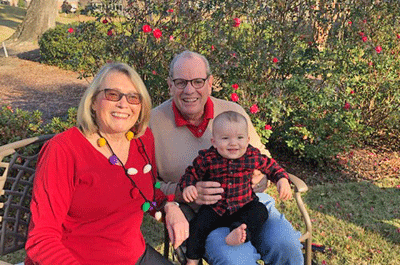 I received a letter with the above photograph enclosed, from John Ryan, the old cargo pro.
John is an air cargo builder. From 1987 until 2004, he and Angelo Pusateri put Virgin Atlantic Cargo on the map in the Americas.
Today, John with wife Gloria lives near Port Washington on Long Island, (the couple are pictured at home with grandson Cole) and still keeps his hand in, operating as a GSA for special projects.
"I guess I am retired, but the reality is that air cargo bites and never lets go.
"My long association with Hawaiian Air was shut down as the flights were discontinued because of the pandemic, but as always something else pops up.
"There is cargo to be moved and the need is for smarts and inventiveness in getting the goods delivered and that is still a sweet spot for me."

At JFK Air Cargo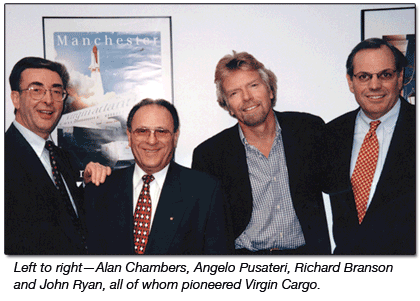 John also serves on the Board of the JFK Air Cargo Air Cargo Association, as he shows strength and passion for a business (logistics-shipping) that he has been part of since 1970, when he started at Bloomingdale's Department Store directing movements of 40 ft containers by rail.
Later John moved over to International Sea Freight where he was based in the World Trade Center in Manhattan. jgryan115@hotmail.com
What we have learned from contact with low friends in high places, like John and Kari Tikkanen (Finnair Cargo, semi-retired, kariKT@aol.com) goes way beyond the immediate, by offering a sharply focused glimpse of the future, based on the past.
The other thing unfolding here is just great, if for no other reason than, having something else to think about, as we trudge daily through this COVID-19 world.

A Trip To Port Washington

It is amazing what vacancies there are in knowledge, especially when inwardly you might suppose that maybe you know quite a lot on a subject.
I have written extensively on Port Washington, flying boats, and even done books on the subject
Have sat in Louie's, a favorite watering hole located at Port Washington, Long Island-New York. It is a spot that overlooks the place where international aviation first came to New York City via Pan American flying boats before they moved to LaGuardia Airport in 1940.
At Louie's recall mapping out a scheme over a couple pints with some Irish people (who walked into my LaGuardia office looking for help) at Louie's when the place was a genuine saloon.
Today that scheme is now The Irish National Air Museum located in Foynes, Ireland on the Shannon estuary.
But looking at this amazing picture, I never knew that the Blohm & Voss HA-139, a four-engine, all-metal inverted gull-wing floatplane named Nordmeer called at Port Washington in 1938.
The Voss, to increase range, travelled with a picket ship usually placed half-way through a journey.
In this case, that would have been in the Atlantic Ocean, midway from Germany to New York City.
So the HA 139 took off after being delivered waterside somewhere on a beaching gear, and then landed at sea near the picket ship in the middle of the Atlantic Ocean, where it was scooped up, hoisted aboard for fuel and supplies and then catapulted into the wind back into the air to continue the journey.
I must admit that the mahogany looking chase-launch in the picture above holds a very special interest; it is so sleek and breathtakingly beautiful.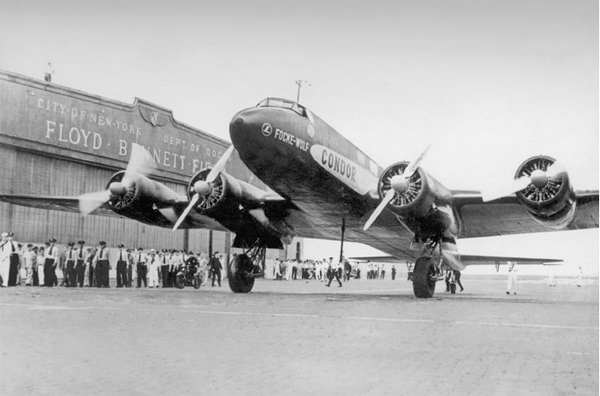 One More Thing

All of this brings to mind that in August 1938, Lufthansa flew a 24-passenger, Focke-Wulf FW 200 Condor landplane non-stop from Berlin to New York, landing at Floyd Bennett Field in Brooklyn and then returned non-stop as a proving flight for the development of passenger-carrying services.
The movement scared the hell out of Pan Am, which at the time was operating big, lumbering flying boats.
In 1940, both Finnair and Lufthansa planned scheduled passenger and cargo flights into New York from Helsinki and Berlin, utilizing the FW 200, but of course the war changed all of that.

Moving Forward

When the lamp is lit again, John and I are meeting up at Louie's.
Meanwhile we dream of the time when the JFK Club meets again, so we can go back to the future with that fine group of dear hearts and gentle people.
Geoffrey