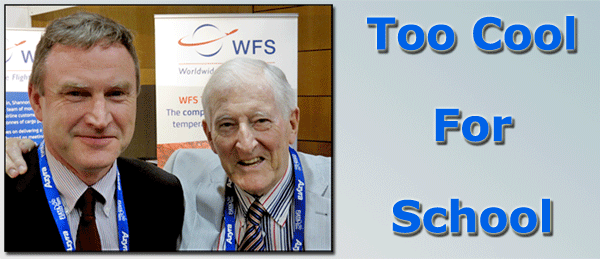 As he approaches his 90th year, Ireland's air freight forwarding pioneer and industry founder Sean Mc Cool, (pictured above with son, Ian) of International Airline Marketing Limited (IAM) has been inducted into the All Ireland Business Foundation / AIBF.ie "Hall of Fame" for lifetime achievements and his contribution to the air cargo business.
"The accolade," AIBF said," is in recognition of Sean's outstanding contribution to Irish Industry and Commerce over the seven decades of his career.
"In our opinion, the pioneering work undertaken by Sean in the development of the air-cargo sector has made an enormous contribution to the flow of cargo on and off the island, an infrastructure which has established Ireland as a major global export hub."
"I am delighted to have been selected for this lovely award and extend my heartfelt congratulations to the other accredited companies and to the All-Ireland Business Foundation for its excellent work bringing business partners together," Sean McCool said.

Constants In A Sea of Change

At a time in life when everything is changing, the McCools, both father Sean and son Ian have collectively been a constant of the Irish air cargo scene for more than 70 years.
Today their company established by Sean in 1989, International Airlines Marketing Ltd. (IAM) is Ireland's largest Air Cargo General Sales and Service Agent (GSSA), responsible for over 20 percent of all airfreight traffic from Ireland.
The father and son team, IAM has served many carriers including American Airlines, Etihad, Air Canada, All Nippon Airways, and South African Airways and others.
Sean's career began in the 1950s at Seaboard World Airlines (his first airline job).
Sean later moved on to Brinks (who he introduced to Ireland) and Aer Lingus commercial cargo, where he was responsible for the establishment of the highly successful cargo operation in Ireland and Europe.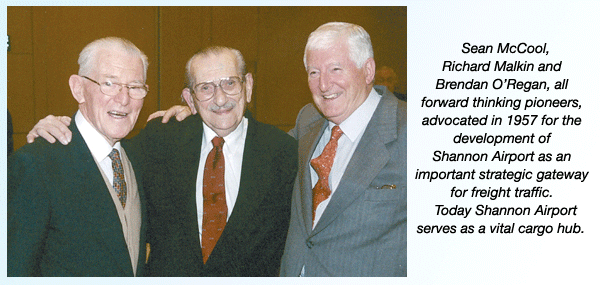 Between 1960 and 1964, Sean participated as an Aer Lingus Executive on the Marketing Committee of the Confederation of Irish Industries.
Sean is a founding member of the Irish Air Cargo Institute and the Irish Institute of Freight Forwarders (IIFA), where he was awarded an Honorary Fellowship for service to industry.
He is a former Council member of FIATA, the Irish Exporters Association, and a past VP of the European Confederation of National Freight Forwarders' Associations (C.L.E.C.A.T), a consultative body to the EU Commissioner of Transport.
"My first airline job was at Seaboard World Airways, the pioneering all cargo airline that served Ireland from New York," Sean recalled.
"I was responsible for both sales and operations, and on call around the clock," he said.
"I'd call the cargo terminal from home every morning before the night shift left to make sure the transfers had been made.
"Sometimes, after the flight came in, I'd get a call in the middle of the night and go out to the airport to help sort the shipments.
"It was all-hands-on-deck back in those days," Sean remembered.
"On the sales side, I spent a lot of time contacting forwarding agents here in Ireland.
"There weren't too many of them back in those days," Sean said.
"I would also spend several days a month out on the road converting surface to air.
"That was tough work and could take months, maybe even a year before a shipper would even pay the slightest interest.
"But I must say that from the beginning this has been a joyous ride in an industry filled with wonderful people."
"The training and experience in rolling up our sleeves and getting down to doing whatever it takes still serves the IAM team today," Ian McCool added.
"Despite the current challenges we shall continue to move toward return to a new normal.
"Right now staying close to the customer and keeping everybody on the same page is key.
"The best surprise we discover is no surprise," Ian McCool said.
Geoffrey