Say hello to Priyanka Ann Saini.
Priyanka is Chief Strategy Officer, Charlie Pesti where she handles the hefty responsibility of serving as marketing strategist for logistics, shipping, and supply chain solutions.

A World Turned Upside Down

"Where do I begin when thinking what has changed in the past year?
"The way we work in terms of method and medium, the increased dependence on technology, the rapid adoption of technology, the shift from physical to virtual and the cascading permanent changes as a result, the family dynamic and a relook at priorities."

Very Comfortable Remote Working

"Almost everything has changed!
"For me, I have always worked remotely and I am glad that people now understand that it is not the easiest thing to do.
"It is extremely difficult as you have to set boundaries, balance the household needs and responsibilities, be self-motivated, disciplined and most importantly, know when to stop."

The Endless Juggling of Life

Ginger Rogers, Fred Astaire's dance partner during an endless string of 1930s movie musicals, once famously said:
"I did everything Fred did whilst dancing backwards in high heels."
Here Priyanka broadens that comment: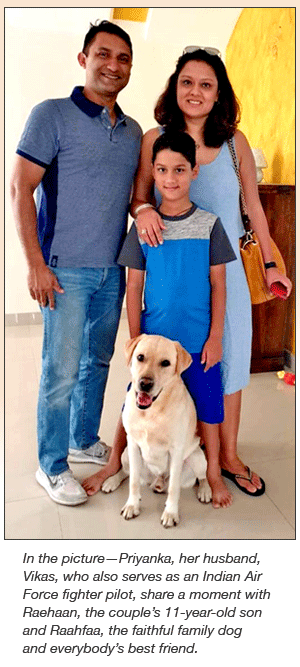 "Women are natural multitaskers and experts at prioritizing but I do believe, from personal experience, that if you have a supportive partner or an understanding household, you can very easily do justice to both work and home.
"It should not come down to an either/or choice but a simple time-management exercise.
"For me, I have never not worked despite being a military spouse and having relocated every 2 years for the past 14 years.
"This is on account of having a partner that sees you as an equal, and both working hard to make sure each other's career aspirations are recognized and respected.
"We do not limit ourselves to prescribed gender roles but instead, have an egalitarian outlook and support each other when the other's career demands more effort and attention.
"And, of course, when it comes to our son, his education, wellbeing and health take top priority – that is one thing that is sacrosanct and comes above all else.

Listen Up A Woman's Role Has Changed

"I believe that women have a very unique perspective and their voices must be heard. "We bring in the societal/community point of view and are thinking not just from their perspective but from that of their households.
"In my experience, as part of the military fraternity, as a wife, a mother and a professional, my worldview and life experience is very different from my male counterparts.
"Fortunately, I have always been recognized for my ideas, very often been given a free hand to execute them and my work has been commended and appreciated by the industry and no specific gender.
"I do not expect any concessions on account of being a woman…just to be recognized for my work and bring value to my organization and clients.
"However, I do firmly believe that these voices must be heard and given due importance.
"Only when we practice inclusion, can we be agents for change and create better solutions—that, I believe, should become commonplace and widespread.

The Daily Experience

"I am the Chief Strategy Officer at a logistics media consultancy, Charlie Pesti - a U.S.-based firm that works exclusively in shipping, supply chain and logistics.
"I have not experienced any gender-specific issues here and in my body of work to date.
"Yes, the hours are long as this is a global industry and it is as demanding, as it is rewarding.
"I work mainly with accounts in the U.S. and EU, and with the job come challenges and we experience these challenges as a team.
"There are days when we work into the wee hours of the morning but that is because we want to and we make up for it on other days.
"It is a very exciting, dynamic and fast-paced industry, one that I have come to love, respect and adjust to.
"For work, I have travelled to many countries but haven't experienced violence.
"Yes, there have been overtures that have not been appreciated, and initially I did not know how to deal with them as we are taught not to make a big deal of these things and there is no rule book that advises about such behavior.
"However, my way has always been to call out the culprits, confront them head on and condemn this behavior.
"I have done so with the support of male colleagues and have not encountered many who condone such behavior.
"I believe the only way out is to speak your truth, tell your story and call out misogynistic people when you see them.
"In my career, the way I have been able to support and help women is by conducting panels on diversity and inclusion at global events and inviting women from different parts of the ecosystem to tell their stories, share their experiences and shed light on how they have overcome difficult experiences."
Tirthankar Ghosh