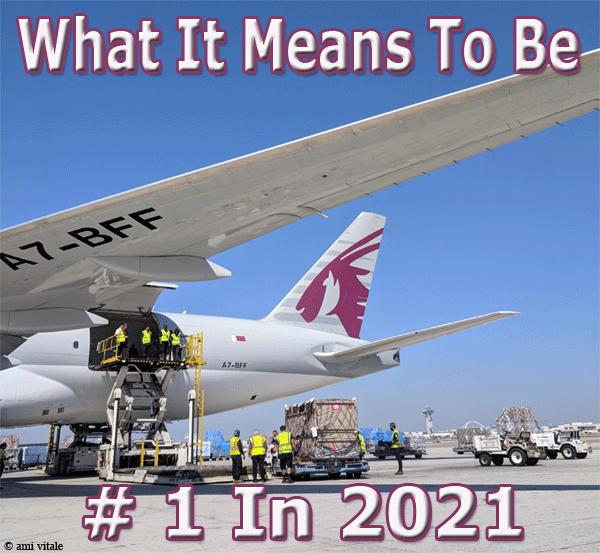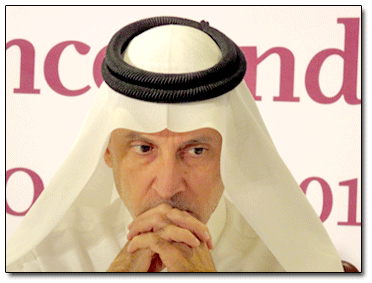 Qatar Airways Cargo, in case you missed it, was already the largest cargo carrier by FTKs in in the world of 2019 before the COVID-19 pandemic took hold.
But QR was not about to lean back and rest on its laurels, rather management in Doha doubled-down as the carrier became fastest out of the gate as COVID-19 smacked the airline industry square in the jaw a year ago.
Qatar Airways was a one of the first carriers to convert passenger aircraft into full freighter operations and now, this carrier has gone from shining star of the Middle East to Superstar of the World rising to become the world's leading cargo carrier with a global market share of 8.95% in January 2021
In January speaking at a CAPA webinar QR Qatar Airways' CEO Akbar Al Baker declared that Qatar Airways intends to "reserve all the routes it had introduced before the pandemic".
Mr. Al Baker told CAPA that the airline's current cargo position would reduce somewhat, once passenger-specific aircraft deployment starts again. For the record QR operates 30 freighters, and still has aircraft to add to the fleet.


Domination Within Reach

"Qatar Airways wants to be a dominant player in the cargo business," Akbar Al Baker told CAPA, adding "airlines learned from us how to convert passenger aircraft into freighters."
Result is that during January 2021, 61% of QR's cargo capacity was aboard dedicated freighters, with 39% on passenger aircraft.

Day In Doha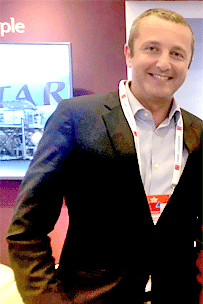 "It's really busy right now," declared Head of Cargo Guillaume Halleux.
As the web screen brightened, there sat Guillaume in front of a curved window-wall that revealed a glimpse of traffic and commerce streaming along a busy roadway this day in Doha.
Guillaume gazed down a long sheet of paper at more than a dozen web meetings he had organized for this day in early March 2021.
He sighed wistfully :
"The days are filled with meetings but we are making great progress as we move inexorably toward our goal of being the top international air cargo resource of the world."
Guillaume is a Frenchman, who decades prior began his air cargo career from a split hangar in London that Air France operated, half full of Concorde parts and the other half full of air cargo.
Only Guillaume, who has since served as an expatriate air cargo builder in several posts around the world, as he began his climb, was working nuts and bolts inventory for the Concorde SST section of that hangar in London, where eventually he became fascinated with air cargo.

The Lady Taught Air Cargo

It is International Women's Day 2021 and Guillaume recalls the friendly lady manager at AF Cargo that took him under her wing a long time ago and shared some of her knowledge of the air cargo business. She taught him that for every difficult decision to make, he should always ask himself : "what if this was your own money?".
Guillaume was inspired, and the rest as is said is history.
This Women's International Month with nearly half of his team still working remotely from home Guillaume laughs at the suggestion that perhaps the underutilized water cooler in headquarters might be retrofitted under a party circumstance as a Pastis station to celebrate the empowering and ever-growing presence of woman that populate the team up and down the line at Qatar Cargo.
"For International Women's Day, we did have some cakes and celebrations here," he smiled.

Easy Going Guillaume

There is an easy quick smile and graciousness about Guillaume Halleux.
But there is also passion, determination and commitment to be completely transparent and available to almost anyone connected as a team member or customer of Qatar Cargo.
Given the rise of digitalization as a key pillar of QR Cargo strategy and Corporate Social Responsibility meant to lift everybody, Guillaume says right away:
"We want to help and reach out to those in need of aid and who require support.
"Qatar Airways will be working to develop extending our offering via our new partner, webcargo by Freightos," he said.
"Our committment to our WeQare program that brings the true sense of caring and community from air cargo to the world will continue this year," Guillaume declared.
"Innovation up and down the line is also key on the agenda with strong focus on utilizing technology and data analytics to enhance customer experience and business efficiency.
"Technology enables us to continuously scale and manage the rapid growth within a short-time frame.
"The innovation theme supports the drive to attract new and fresh talent into a traditional business but with the right platform to take the big leap into Industry 4.0.

Giant Digital Leap

In terms of enhancing partnerships, freight forwarders worldwide increasingly are able to conduct real-time e-bookings, access live rates, and see available capacity on Qatar Airways Cargo via WebCargo.
Rollout began in France, Germany, Italy, Netherlands, South Africa and Spain in February and will continue globally during 2021.
"We are pleased to offer the next step in air cargo booking right now live on our website," Guillaume said.
"Digitalization brings tomorrow today with initiatives such as online rate distribution, ad hoc rate automation, track and trace and availability via API.
"The future of air cargo is indeed digital and our digital leap forward will definitely bring in efficiency across the supply chain.
"As to staff, there is no cutback program or hidden agenda, simply nothing between the lines.
"We are not taking a short-term approach—that is not our style.
"Qatar Cargo has risen to the top by building organically," Guillaume noted.

Big Change In Middle East Lift

What a difference a few years has delivered in the Middle East.
Less than an hour away from Doha by air, rivals and once wunderkind airlines Emirates and Etihad, look to be in free-fall, as both operate giant aviation enterprises located in Abu Dhabi and Dubai, a puddle jump just 70 miles apart.
Today losses are unavoidable, but Qatar whilst also suffering from the global pandemic impact, has not run up near the losses of Etihad, that during the past few years has delivered an undigestible near $6 billion in red ink.
Emirates with its giant fleet of out of favor mini-cargo lift A380s seems also stuck in some kind of neverland.
Into this world has come a plucky, chin out, aggressive but very attractive and beautifully equipped Qatar Airways Cargo.

Best The Blockade

Now with an easier, reduced cargo footprint, less costly, quicker-to-market flight pattern made possible minus the blockade that was put up by Saudi Arabia, UAE and others, Guillaume looks forward to stabilized return to operations one step at a time during the intermediate recovery year that everyone hopes gains speed, returning back to normal by 2022.

Passions, Patience & Prudence

But despite all the phone calls and meetings and plans to enhance digitalization and WeQare, this charitable incredible outreach to the world, through it all Guillaume is his usual effervescent self, his conversation reminding the visitor of the last really great cork that was popped on a bottle of champagne.

How A Lockdown Opened Some Doors

"It's amazing," Guillaume said, "but working from home is achievable, however we do miss the social interaction.
"I learned to my endless joy, that I could actually handle our two children and our dog Charlie, while my wife and I both worked from home.
"Charlie has been a big help," Guillaume smiled.
"The pandemic exposed both strengths and weakness.
"We all took salary reductions and those actions impacted thinking throughout the system as people also bought into the success of the airline at a heightened level.
"What I have learned during the past year is to more actively listen to my teams and that has enhanced my ability to empower them.
The Qatar Cargo coda is: follow your ideas and passions and don't be afraid to fail.

Word Up From The Ramp

"You know what," Guillaume said, "I find myself marveling at the performance and heart of the operational teams, at all the airlines and the GHAs around the world, not just Qatar.
"When you think about it, these people on the ramp minus most of their colleagues have had to work under impossible conditions and circumstances that they had never encountered before the global pandemic.
"In our case at Qatar Airways, we have called in people from other departments to help, and even equipment, as in one case some fork lift trucks from catering to load some PPE.
"What we discover as we reach out amongst ourselves and even others during this time is that in almost every case, a helping hand is the answer.

The Future

"Obviously the future is now.
"Digitalization will have to be the core value of companies that expect to be a force factor in business, moving forward.
"I believe in the near future we will continue to be closer and even stronger as airlines and teams for not only weathering, but also for what we all experienced and learned during this terrible pandemic.
"It has been quite a learning curve during days and nights of acting as first responders do, in our dedication to deliver pharma and other essentials to the world.
"There is a fraternity of people in the air cargo business that will emerge from this time that can carry the industry forward.
"I remain very optimistic," Guillaume Halleux assured.
Geoffrey