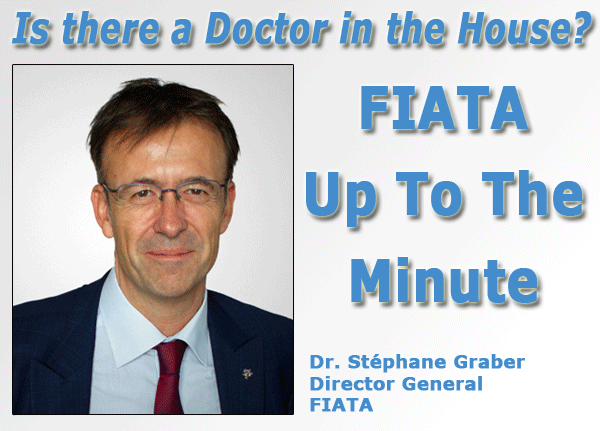 Dr. Stéphane Graber is the new Director General at FIATA International Federation of Freight Forwarders Associations. FIATA.
Dr. Graber had served as Secretary General at STSA (Swiss Trading and Shipping Association), the national trade association for commodity trading, shipping industry and trade finance in Switzerland. He was also Chair and CEO at eGTSA, a company that successfully developed a digital communication platform for commodity trading companies and commodity trade-financing banks (TRAFEC).
Dr. Graber has previously worked at the Economic Department of the Republic and Canton of Geneva, and was President of the Geneva Chapter of the Swiss-Chinese Chamber of Commerce and a member of its Executive Committee in Zurich. He was also an entrepreneur for several years before holding these positions.
Dr. Graber obtained a PhD in Business Administration at HEC – University of Geneva in 2005 and taught marketing in different executive education programmes at the universities of Geneva and Lausanne for nearly 20 years. He was Vice-President of the Swiss Research Institute on Commodities (SRIC) and Academic Director of the DAS in Commodity Trading.
Here Dr. Graber delivers the lowdown on everything FIATA up to the minute May 12, 2021.


FT: The 2021 FIATA Week has adopted a novel approach as opposed to the FIATA Headquarters in Zurich. Both aim principally at FIATA Members rather than the wider public, but what is the added value of a more select participants' list as was suggested this year?
Stéphane Graber: Last year's FIATA HQ Meeting was cancelled, and the FIATA World Congress 2020 was postponed to 2022. COVID-19 pandemic still ongoing, we had to think of a different approach to offer connection opportunities. FIATA is an organization created and dedicated to serve its members and one of FIATA's missions is to provide a platform for networking and meeting with members and among members. These are both National Associations and Individual Members, with their respective requirements to be taken into account.


This new online format allowed many Association Members who could not come to the HQ Meeting before to participate for the first time. The annual HQ Meeting usually allows Association Members' delegates to meet, but we also wanted to pass content for our Individual Members and show them new tools.
This is how the FIATA Week came to be: an innovative event primarily dedicated to National Associations, where their delegates could discuss the strategic priorities affecting the international freight forwarders community together with FIATA's progress in these projects.
The regular Institutes, Advisory Bodies, Working Groups, and Regional Committees were complemented with additional sessions, open to Individual Members (the High-Level Dialogues). We also allowed observers to participate whenever possible.
We are delighted to see from the figures that the FIATA Week was highly attended in a manner similar to previous face-to-face HQ Meetings. We even had to limit the number of participants to three persons per Member, in order to ensure a good participant's experience, as well as maximum diversity for associations and organizations. Once the number of connected participants reached the bandwidth limits, virtual congresses and other on line events had shown technical issues and became poor models, a situation FIATA cannot afford.

FT: This year's spring meeting only just follows FIATA's move to Geneva. Will Geneva not see a public gathering for FIATA Members even in future, or are there different plans for a face-to-face gathering when the pandemic is over?
SG: As we learned last year, we never know what the future will bring. However, we can expect the Geneva Headquarters will organize a FIATA Week in Geneva in a post-Covid 19 format that is yet to be defined. The following editions of the FIATA Week might include some more open sessions. As we have experienced this year in a digital format, with the opening of the high-level dialogue sessions to all FIATA members for example, or we could consider the greater use of technology as a means to allow any FIATA member to participate, even from a distance, if they had not managed to travel at that point in time. This will remain a work in progress: as issues arise, these will be met with flexible responses.

FT: The FIATA Week was the first opportunity for all Members to make acquaintances with the new secretariat in Geneva. Did you have any positive feedback from your Members about the new setup?
SG: Yes, to our greatest satisfaction we have received a lot of positive feedback since the recruitment and set up of the new team in Geneva. This is instilling today a new dynamic to the services that FIATA provides its members with, thanks to the team's diverse and creative background. It is however important to note that the FIATA Week was not the first opportunity for our members to meet the new Geneva-based HQ team. All those participating in the FIATA events organized since the spring of 2020 had already had the opportunity to get acquainted with them.

FT: One of the issues that FIATA seems to focus on at this point in time is digitization of transport documents and payments. One could argue that this is an issue that FIATA institutes and advisory bodies have been discussing for two decades or more with no breakthrough. What justifies this stop and go approach in your view?
SG: In the past, FIATA has been struggling with the implementation phase of its projects. FIATA has had to build the internal capacity to overcome this issue, starting with competent staff at its Headquarters. This is the case today: in his previous capacity the DG successfully led the development of a digital platform facilitating transactions between commodity traders and their funding banks (this was a platform that was sold to a leading block chain start-up at the end of 2019), in addition a highly qualified Senior Technology Advisor holds a successful track record in running several IT start-ups, assisted by a Digital Projects Officer, who had proven her great capabilities in a similar technology-related position at IATA.
The upcoming launch of the Freight-Pay platform in April is another proof that FIATA has finally overcome its difficulties with the anticipated breakthrough!

FT: Another issue of crucial importance is the cooperation with IATA, who allegedly discontinued the cargo agency modernization program, after many years' negotiations. Do you take the view that a personality like Glyn Hughes leaving IATA is at the root of such decision, or are there other reasons? Will the program ever be resuscitated in your view or is there a plan B?
SG: FIATA and IATA share a common goal to develop a safe, secure and unified air cargo industry that embraces global air cargo standards, as well as modern technologies and practices to serve international trade and social development worldwide in a sustainable way. For the past three years, the Cooperation Agreement for the modernization of the IATA-FIATA Air Cargo Program (IFACP) had sought to set out a new framework for working relations that reflects the significant changes undergone by the air cargo industry over recent years and the evolving nature of business relationships between carriers and freight forwarders.
The Cooperation Agreement with IATA brought the opportunity to deepen the dialogue and acknowledge the great progress achieved through our discussions in addressing the mutual needs of carriers and freight forwarders. While an agreement could not yet be reached on certain topics, a strong foundation has already been laid for both organizations to resume discussions at a later stage. We are pleased to continue our collaboration with IATA and renew our ambitions for the partnership.

FT: One of the points that attracted interest among our readers was your agreement with PayCargo, which could be a game changer. How did you perceive the reaction of your Members to this new facility? How fast do you believe the program will pick up among FIATA Members and will FIATA have a financial role with regard to its own membership?
SG: Following the presentation of the platform that took place during the FIATA Week, we have seen a lot of interest from our Individual Members and received very positive feedback. The value of the platform to those members is undeniable. Regarding FIATA's role, much work still needs to be done: it is clear that the financial benefits of the Freight-Pay platform will remain with FIATA members, allowing them considerable economy in the high transactions fees. The hopefully exponential curve in the adoption of the new technology by these Members will benefit from the FIATA team's help. A targeted tool kit has been put together by our team, with a view to providing more details on the functioning of the platform, demonstrating its benefits and its tangible impact on our members' daily activities. FIATA is also creating a group of experts to drive the promotion of the platform among its Members.

FT: Some of our readers, who are also FIATA Members, suggested that the digitalization of transport documents session was interesting, but were surprised to hear that IT standards are no longer important. We all know how irksome the issue of different standards has been for many years, so is it refreshing or disquieting to hear that standards no longer matter?
SG: Standards have always been and remain important. However, a distinction between "standards" and "standardization" is required. There are many already existing standards and new ones are regularly created, whilst the alignment of all supply chain actors and modes of transports to one single standard does not pass the reality test. What is key instead is to ensure the interoperability of the different existing standards and systems. Moreover, all stakeholders have different needs (carriers vs. freight forwarders vs. customers): thus a one-fits-all standard would be way too difficult to implement, if one considers the inherent complexity of each type of workflow. This is why FIATA's top focus is on the interoperability of existing standards: we leverage the past efforts and enhance the communication channels. For example, FIATA has based its e-FBL data model on the UN/CEFACT semantic, to ensure its interoperability with other existing standards.

FT: An entire session has been devoted to the logistics of COVID19 vaccine roll out. You may have read an article we published time ago on this issue; do you see the situation has changed much or is this issue still intricate outside of the USA and the UK, where vaccinations have been comparatively quicker?
SG: The distribution of vaccines is inherently complex due to the product's shelf life and temperature requirements, which must be maintained from manufacturer to patient. An integrated process management between all parties at both national and international level is required to ensure that the supply chain management meets the stringent requirements for vaccine delivery. Noting the places where the authorized vaccines are manufactured to date, early distribution is perceived as having a more localized or country-specific impact. Regional agreements aligned with global cooperation will therefore play a strategic role in ensuring that distribution needs are met for those outside of the key distribution zones. This requires all those within the supply chain to work collaboratively to meet the delivery challenges of this product, which is time and temperature sensitive.

FT: Time ago one of the speakers you lined up had expressed concern about the future of the category, if freight forwarders were not ready to embrace change in their approach to technology. One could argue that freight forwarders have always shown the ability to change their skin precisely when this was required by the season. In your view will this still be the case, or does something else need to be done to avoid decline?
SG: Times have certainly become more difficult for freight forwarders, requiring them to become more agile and flexible than ever before. The COVID-19 pandemic has accelerated this change, as can be noted through the change in the business models of major shipping lines. The business has become more complex, and so has the need for the industry stakeholders to tackle and embrace the evolving technology with professionalism. There is no doubt that freight forwarders have this unique capacity and will continue to adapt. FIATA, as the international organization for freight forwarders, must support and lead the way, especially with regard to SMEs. The sector needs a strong, leading sector representative, as well as a policy leader among the international organizations dealing with the supply chain.
It should be noted with appreciation that the speaker you have in mind clearly expressed his satisfaction with the new organization of FIATA, recalling the need to continue in the right direction and further adapt to the new environment.

FT: Historically, FIATA has not enjoyed ample gender balance, if you look at its Presidency and even Board Members. But you, as DG, have made a change in the choice of officers, who are now predominantly female. However, the pressure to introduce greater diversity in terms of cultural background, which was perceptible years ago, seems to have vanished, is this correct? Is there a strategy to increase the diversity among staff?
SG: FIATA is by nature an international organization, and the HQ staff is more culturally diverse than in the past when the organization was based in Zurich. The move to Geneva was also motivated by the organization's desire to reach out to a larger pool of qualified international people from international Geneva. The issue of gender and cultural diversity should not be a reason to forget that FIATA is looking first for the most competent profiles to lead the organization and achieve its goals. These issues remain very important to FIATA, as it is shown by the recent DG's signature on the Women in Aviation & Logistics Pledge, an initiative to advance gender balance in aviation and logistics, which the FIATA Presidency decided to adopt. FIATA will continue to work with its Association Members, who are the parties proposing delegates for all positions in the governance of FIATA, so as to ensure a diverse representation, reflecting its international nature in our modern society.

FT: Is there any other point you wish to make or any issues you consider crucial in your strategy to meet future challenges?
SG: The world is changing, and the journey is exciting. This is how the President of FIATA invited Members to support each other within the remit of the organization, to unite their regional voices to the FIATA strategy and process, without being averse to change. During the FIATA Week President Pietersen encouraged FIATA Members to look forward with confidence, and not backwards with nostalgia. So, let us collectively embrace this new future of freight forwarding and support FIATA to lead the way through FIATA's Reset Program.
Geoffrey Arend