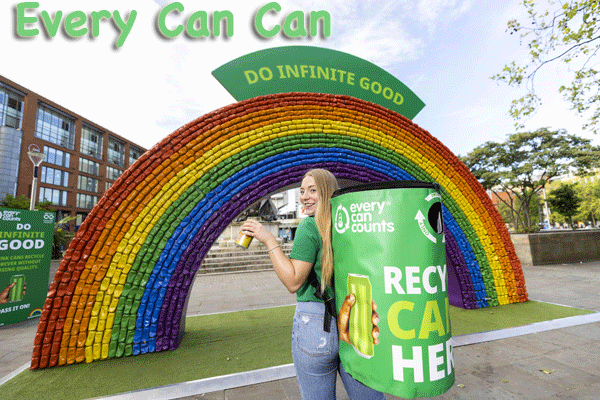 Every Can Counts—Ellie Kehoe, EveryCanCounts employee, looks at the rainbow arch, made from recycled aluminum cans at Manchester's Piccadilly Gardens. The 2,500 recycled cans are a drop in the bucket from the reported 1.5 million drink cans not recycled yearly in the city.
As we go electric this issue, Saturday June 5th was the 47th World Environment Day.
Here is what you can do this Summer here in the U.S., and if you think about it, really anywhere in the world to help the environment as we emerge from COVID-19 lockdowns.
Anyone can volunteer, and volunteering can make a difference to where you live. Get out of your comfort zone by volunteering in the U.S. for the National Park Service, or stay local by volunteering at your farmer's market or the equivalent elsewhere.
Any way you choose to participate, you'll feel the positive impact of getting out of the house and caring for the planet.

Qatar's Deep Dish Commitment

On the airline side Qatar Airways reinforced its outstanding comprehensive sustainability program on June 4th to protect the planet.
Qatar Airways Group said that it is dedicated to environmental leadership across all of its entities, including airline, airport operations, aviation and catering services, retail outlets and hotels.
More click here.

BY THE NUMBERS

While efforts continue and attention is focused on concern for the global environment here are some numbers that underscore the challenge we all face in 2021:
90 billion tons – the number of resources extracted from Earth every year.
7.8 billion – the number of people populating Earth.
4.1 billion – the number of consumers in the world.
5.6 billion – the number of consumers expected by 2030.
70% – the percentage of the world's resources currently being overused.
2.12 billion tons – the number of waste dumped every year.
50 million tons – the number of e-waste produced every year.
$7.8 trillion – the value of the global production of synthetic chemicals.
2050 – the year when the world population is expected to be too big to feed.
2070 – the year when coral reefs are expected to be gone altogether.