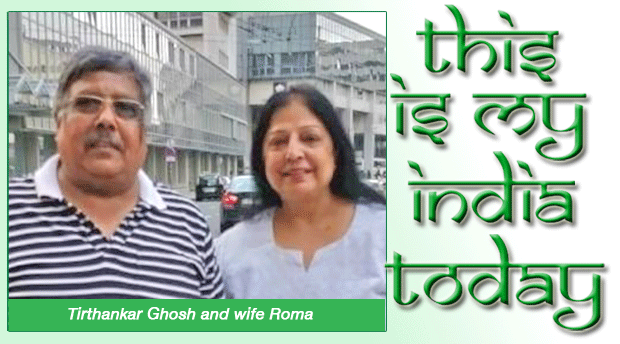 Was I born in this India?
Every morning you wake up with hope that soon fritters away when you look at the newspaper, your WhatsApp group chats that speak of yet another death and extended family members, friends and acquaintances falling prey to Covid-19.
There is, perhaps, no family that has remained untouched.
I lost a dear cousin and another in a few days. Added to that was the fact that the first cousin's son and daughter-in-law along with their two kids also contracted the dreaded sickness. The son had to be sent to hospital and later ICU.
A niece – bright young lady – is still in hospital having spent quite a few days in ICU.
A photograph that continues to haunt is the one of a crematorium with literally hundreds of covid corpses on fire.
And the other that haunts most of us are those of long queues for oxygen.
Where in the world do we find relatives of patients running around for oxygen cylinders?
There is, however, a silver lining if I may call it that.
It is the spirit of us Indians.
Within days, social media was buzzing with news about help – with ambulances, oxygen cylinders, drugs, plasma, food and much, much more.
This, at a time, when we did not see any government or governance.
Even today, we seem to have been left in an India where no one knows what is happening. The economy is not doing well at all, Covid cases continue, though they look like they have been arrested and lockdowns continue. Amidst all this, the government has launched an ambitious project—the Central Vista Redevelopment Project in Delhi.
The cost of the Central Vista Redevelopment project, which also includes a Common Central Secretariat and the Special Protection Group (SPG) building, has been estimated to be around US$2.8 billion spread over four years.
Do we need this right now?
Well, that is 'my India' today! (TG)

FlyingTypers spoke to two professionals, one a marketing specialist and mother, and the other, a veteran forwarder to hear how they had been affected by the pandemic.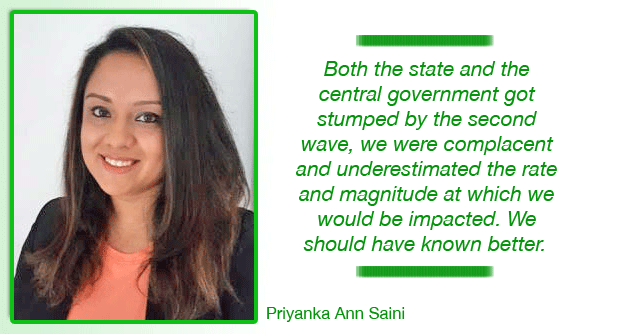 PRIYANKA ANN SAINI, is Chief Strategy Officer, Charlie Pesti. She is a marketing strategist for logistics, shipping, supply chain & solutions.

FT: How do you operate under these conditions?
PAS: It is definitely not the easiest, as before the pandemic, my job entailed a lot of travel and meeting people. While I miss that at times, I try to keep a positive outlook by following a routine, spending time with my family and doing my bit to help the community. Work from home comes with its own set of challenges and one of them is recognizing when to stop in order to avoid reaching burn-out stage. However, it gives you the opportunity to understand what you enjoy doing, prioritize, and up-skill if need be.

FT: What help does business need that the government might provide?
PAS: At a time like this, the relationship between business and the government is completely symbiotic, both agencies need to support each other. These are unusual circumstances and if both work in silos, it can be very disastrous. What is needed is open communication and regular dialogue so that there is an understanding of requirements so that action can be taken accordingly.

FT: Do you see any light at the end of this pandemic tunnel?
PAS: For sure, it would be impossible to carry on if I didn't. There are many lessons that would've been learnt and many paradigm shifts that would've occurred. We've had to reimagine how we work and live our lives, our priorities, what we have, versus what we need. We've come to appreciate how resilient and adaptable supply chains are and at the same time, recognize glaring gaps that need to be filled by technology or processes. These are key lessons that will help us build a better society and future. We have definitely had to live and learn, but I am confident that we will come out of this stronger, better prepared and in recognition of the work we need to do to avoid a recurrence.

FT: What surprises you about India today and how the pandemic is being handled?
PAS: What surprises me is that both the state and the central government got stumped by the second wave, we were complacent and underestimated the rate and magnitude at which we would be impacted. We should have known better. Instead of resting on the laurels of effectively subduing the first wave and assuming that the new strains were more contagious but less virulent (deadly), we should have implemented the required curbs in time. Delayed reactions of affected states, untimely elections and super spreader gatherings such as the Kumbh mela have all contributed to the state we are in today.

FT: What can be done better in the current situation?
PAS: Through a nation indulging in vaccine diplomacy, we have reached a state of not enough vaccines for our own. Local production needs to be ramped up and various vaccine variants need to be used in the country. However, the forecasts say that 'over 2 billion doses will be made available in the country in five months between August and December', which is encouraging. Lockdowns have now been imposed in various states. I think this is the only way to quell the fire. The central Government needs to play a more proactive role in monitoring the situation and imposing curbs even if the state government does not.

FT: Who are the heroes right now? Why?
PAS: Doctors and medical staff for drawing on supernatural strength to do what they do, the police for enforcing the law, the defence forces for transporting critical equipment from far and wide with aircraft and ships and for standing tall against a belligerent China even during the pandemic. Supply chain professionals who are ensuring we get what we need to continue living comfortably. Everyone who is doing their part and making an effort to keep society functioning despite so many challenges. I'd like to make special mention also of mental health professionals, the pandemic has brought many things to the fore and exposed the lack of importance we put on mental health. And also, those helping children through this time - virtual school, workshops, activities. All of this is important and a collaborative and concentrated effort is what will see us through this.

FT: India pharma is famous worldwide with vast shipments abroad to places like Latin America and elsewhere. Why are there not enough vaccines for the homeland population?
PAS: Delay in placing advance orders with vaccine manufacturers are the reason and the export of vaccines is also a factor. Production has been increased by manufacturers but achieving the desired figures will take time. A turnaround for building up vaccine stock will take time. Covaxin has enhanced production and was manufacturing 2 crore doses in April and expects to hit the 3.5 crore mark in June. Covishield expects to produce 10 crore shots a month by July. Meanwhile, the first consignment of Russia's single-dose vaccine, Sputnik has arrived but it will not be available until June. I am hopeful that we have finally corrected course to better manage the situation.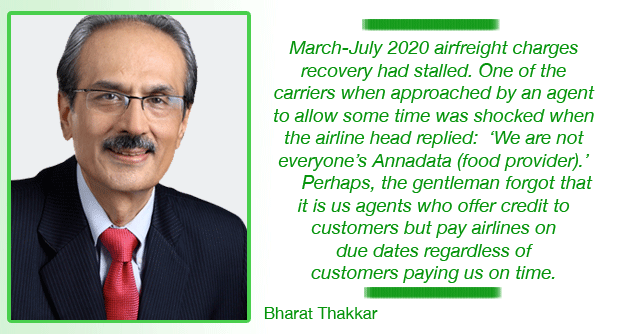 BHARAT THAKKAR is a veteran forwarder from Mumbai and past President, The Air Cargo Agents Association of India (ACAAI)


FT: How do you operate under these conditions?
BT: Seriously, the credit goes to our work force—who are soldiers on the battlefield— at the air cargo terminals, CFS, ICDs Customs, Nodal Agencies after being sanitized by custodians. So, when our teams entered, they were in a safe environment. However, people did get infected and immediate action of identifying who else they came in contact with had to be taken.
When you talk of condition during 2020 -- after September, the conditions looked normal but the threat of infection remained.
Entry to JNPT (Jawaharlal Nehru Port Trust, Mumbai) Customs house was restricted to Customs Brokers as several officers were diagnosed positive.
Just imagine how stressed our staff and we management were at these working conditions, but these precautions were for overall safety.
We say, stay safe, take care, maintain social distance . . .
Well, it's easier said than done and even by maintaining social distance the risk is still there, which we have now seen with the second wave.


FT: What help does India business need that the government might provide?
BT: It has been very difficult to get a satisfactory response from the government since what our government has been doing is to protect us from getting infected with the virus.
As a businessman, I would have liked my services to be allowed to be open with restricted number of staff.
Being in essential services, our team members be allowed to travel in train, bus, metro.
To run a country of over 1.35 billion, the government of India has lots of priorities to take care of: farmers, villages, cooking gas and many other subsidies that were started before the pandemic.
And now this crisis . . .
The government is doing what is best possible.
One can always say what the government can be now doing and what is crucial is to curtail further loss due to second wave and God willing there is no third.
But that is expected to happen and we should be better prepared in business and follow strict advisory of authorities.
Government cannot finance each and every business.
Having said that, business heads and India Inc. should focus on educating our villages where there are no medical facilities for miles.
One of the issues that we air freight forwarders faced from March through July 2020, when exporters were closed, leaving us in the lurch as airfreight charges recovery had stalled and when airlines payment of March 1-15 was due on April 13, 2020, our association (ACAAI) wrote to the airlines' association (IATA) to allow us some time.
However the airlines association declined.
At the same time, the airlines association wrote to our Prime Minister and the Minister of Civil Aviation (MoCA) to provide financial assistance to their member airlines. In fact, the airlines association declined our association's request to the MoCA.
Can you believe that?
One of the carriers when approached by an agent to allow some time was shocked when the airline head replied:
We are not everyone's Annadata (food provider).
Perhaps, the gentleman forgot that it is us agents who offer credit to customers but pay airlines on due dates regardless of customers paying us on time.
This was a one-off request!

FT: Do you see any light at the end of this pandemic tunnel?
BT: India is not in a tunnel. India has a bright future.
Yes, the pandemic is the biggest speed breaker humanity has faced. SAARC countries with lesser population and few others Thailand, Malaysia, Indonesia and their cases in terms of percentage are mind boggling.
Here is the difference.
Like every parent protects their own, our Prime Minister stressed Economy, Infrastructure, Demography (vibrant self-reliance) and Democracy.
Within months, post-pandemic the HCQ (Hydroxychloroquine) production of 3 tons a month went up to 30 tons by April 2020 and India met 70 percent of global demand. India's exports went up three times while imports soared 163 percent. Ministry of Commerce on May 14, 2021 showed outbound trade rising to $30.63 billion in April 2021 from $10.366 billion in April 2020. MOC also states imports rose by 80.7 percent i.e. $8.86 billion during first week of May compared to $4.91 billion in the previous year period.

FT: What surprises you about India today and how the pandemic is being handled?
BT: Take the smallest of examples: Government of India through Air India operated flights to almost 78 airports in 58 countries with relief and to ferry passengers from other countries and issued restriction on flights where infections were at peak. This success paved the way for private operators to start going international. Amazing thing was the Senior Adviser of MOCA co-ordinating with vaccine makers and all stakeholders to ensure vaccines reached the length and breadth of India without losing its potency. The planning was so meticulous that at destinations where night acceptance was not possible, special storage arrangements were made for overnight safe keeping. Such arrangements would not be possible in many countries. What surprised me most was that other than our PM, who has expressed concerns of vaccines and other medical supplies reaching to the 52 countries in the African continent, which has population equal to India's, none such concerns from other leaders.

FT: What can be done better in the current situation?
BT: The more people in our country get angry and create confusion for reasons best known to them, it increases stress amongst people, resulting in immunity levels going down, making us weak and vulnerable. Let all leaders cooperate. Some weeks back we faced O2 shortages. Many said we have enough but our disrupted supply chain caused havoc. However, with awareness, regulated monitoring and several states asking sugar factories to generate O2 from Ethanol brought good results.
Likewise, several industries have started producing O2. Government is expected to issued revised rule that every hospital with over 50 beds must also have their own O2 plant.
What humanity faces today, is a replica of 1918-1919. Joint co-ordinated efforts is the key and the only way forward.

FT: Who are your heroes right now?
BT: 1) Municipal Frontline Team: In spite of the virus, they continue to keep our cities, drainage clean.
2) Airport, Port Teams: We are the unsung heroes of the global economy: Airport/Port/Customs Brokers/Freight forwarders. Without complaining, our teams went on without fuss, resisting policemen stopping them /delaying them by detaining us from attending to our work, risking travel by bus/train. It is only during the pandemic that people sat back and realized the importance of the silent force who work day and night.
3) The medical frontline teams at hospitals: I have personal experience, because after taking the first dose of vaccine, I fell sick after two weeks and was diagnosed positive with Mutant Viral covid and was in ICU (along with 15 others) at K J Somaiya Hospital-Sion Mumbai, 24 x 7 staff were amazing, more attentive than I have experienced during my several surgeries in private star hospitals during the past few years. Just a slight movement by me/others, a nurse would appear.

FT: India pharma is famous worldwide with vast shipments abroad to places like Latin America and elsewhere. Why are there not enough vaccines for the homeland population?
BT: The Indian pharmaceuticals market is the third largest in terms of volume and the 13th largest in terms of value. It has established itself as a global manufacturing and research hub. The Indian pharmaceuticals market is dominated by generic drugs which constitute nearly 70 percent of the market, whereas over the counter (OTC) medicines and patented drugs make up to 21 percent and 9 percent, respectively.
India has one of the lowest manufacturing costs in the world. It is lower than that of the U.S. and almost half of Europe.

FT: Why are there not enough vaccines for the homeland population?
BT: I am neither a diplomat nor a politician. Unfortunately, here we have a culture of blaming others. This must cease. But the need of the hour is for all authorities/and those in corridors of prominence in India to focus on fixing the vaccine supply chain rather than creating public/private divide, as it is easy to point fingers. India is a country of diversity and there will be differences. But not during the pandemic which is expected to become an epidemic and we are not talking about 2022 or 2024 . . . As per my understanding, it is going to be around for several years and we will have to experience this invisible mutant.

FT: What is being done to ramp up production of vaccines and life-saving therapies?
BT: Permitting private hospitals source vaccine domestically and from overseas can increase quantity of vaccine circulation. However, reading news reports it looks like no foreign vaccine maker will start selling here unless our government gives them legal indemnity from claims. Having said that it was heartening to learn that Bharat Biotech was in the final stages of trial of its nasal vaccine before approaching the Indian drug regulator and also in final stages of vaccines for children. Likewise, Dr. Reddy's of Hyderabad has also started production and will be in market by the time we read this. 60,000 Sputnik V Vaccines arrived in Hyderabad on May 16.
However, there are miles and miles to go . . .