Many Happy Returns? Right now according to latest figures, France is operating about half the flights per day as compared to 2019 when things were more or less normal.
Italy is at about 35%.
Overall European aviation flights are counted at about 38% of where they were at this time in 2019.
In Istanbul, hotel rates are at ridiculous levels with Istanbul Sydney Hotel (two stars) rate at USD$15 through mid August. Hilton Garden Inn Ataturk at USD$31 and Hilton Golden Horn at USD$44.
But wait, it is 2021 and as vaccinated populations soar past 15% in some places, all of a sudden aircraft are back in the skies. And that means more belly lift from the roaring generation of aircraft many of which are hidden freighters.
Now we hear there is more space available for cargo.
Will the added capacity coming on line mean rates will level off a bit?
Probably can take that one to the bank, in the old supply and demand game.
As things slowly get back to normal means business could be brightening as well.
On the air cargo side, the decision as to go or not go to industry events this year, the recent blitz push by some events planners and publishers trying to juke up their bottom lines after a 14-month revenue drought to fill the time between now and 2022, could result in some unneeded and potentially dangerous gatherings.
On another front, although less dangerous to your health, are efforts to resuscitate those endless boring webinars where people get together on a computer screen as postage stamp-sized talking heads and pontificate about things from their desks in an endeavor, that most people we talk to, are quite sick of altogether
"When zoom calls and webinars started and there were no other options these events were new and we all tried them out," was one comment.
"But now it is June 2021 and we, as an industry, are at the three-quarter pole in the race to get back to normal."


Time Out

Here are some facts of life in our world today.
According to this week's Time Magazine, "in 2020 alone, there were at least 3 million reported deaths from COVID-19, though the true figure is probably 2-3 times higher.
"In 2021, the COVID-19 pandemic continues to rage on and is likely to last well into 2022 and beyond.
"For ten weeks in a row from the first week of February, 2021, new daily cases globally rose, driven in part by virus variants and by many countries ending public health measures too soon.
"There are still around 600,000 new cases every day.
"Nations like Brazil, Canada, India, Iran, and Turkey—as well as some U.S. states like Michigan and Minnesota—recently experienced COVID-19 surges that in some places overwhelmed their health systems.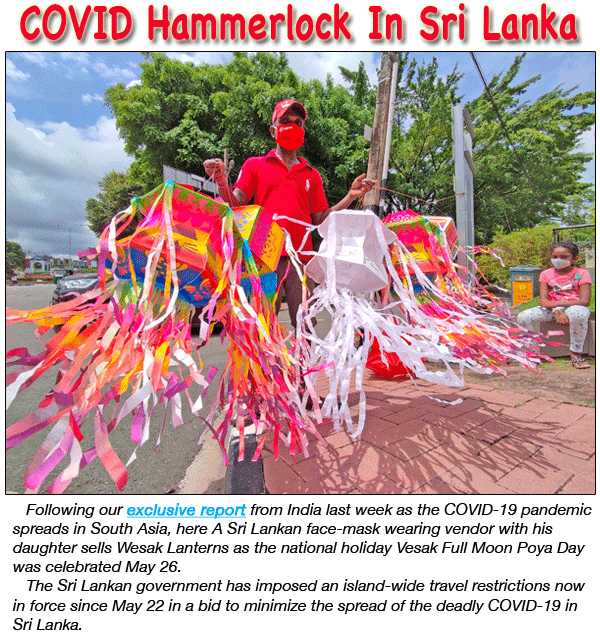 "India, in particular, has become a cautionary tale on how devastating the pandemic can get. While some rich nations like Israel and Britain have ended their own recent surges in part through rapid vaccine roll-outs, low- and middle-income countries have so few vaccine doses that less than 1% of their populations are vaccinated," Time concluded.

The Fine Print Stay At Home For 2021

The unforgiving nasty pop-ups of dreaded COVID in India, Sri Lanka, Turkey and parts of Europe and other places in the world sends a clear message that we still have a way to go to think about live shows and trade events, no matter what those otherwise well-meaning event organizers who are calling and writing you say about getting together, any time during the remaining six months of 2021.
Our view is, take the rest of the year to get back to sending out your message and in just a little over eight months from now, by all means if the COVID skies clear and the creek don't rise, let's get back to face-to-face at CNS, FIATA, IATA, TIACA.
In the meantime as Summer 2021 rolls into Fall and Winter and the urge to merge with our friends and business grows, go ahead and stick your toe in the water a little bit and make some live in-person calls close to home, where we have firm first hand knowledge of what is going on.
Geoffrey

FIATA Cancels 2021 Brussels World Congress

FIATA, the International Federation of Freight Forwarding Associations cancelled the 2021 FIATA World Congress scheduled for Brussels September 26-29, as a result of the ongoing impact of the COVID-19 pandemic.
"We are disappointed that we cannot bring the freight forwarding community together at this time to discuss the many critical challenges and issues of our industry, but we are mindful of the risks that large meetings cause to all," said Marc Huybrechts, 2021 FIATA World Congress Chairman, who also serves as Director-Marketing & Sales for NMBS-SNCB, the National Railway Company of Belgium, based in Brussels.
"I certainly look forward to a future where we can be reunited again, face-to-face, and when the conditions allow for us to do so safely and securely."
The next FIATA World Congress will take place from September 13-16, 2022 in Busan, Republic of Korea. FIATA said that dates for the rescheduled Brussels Congress to be held in 2023, will come later.