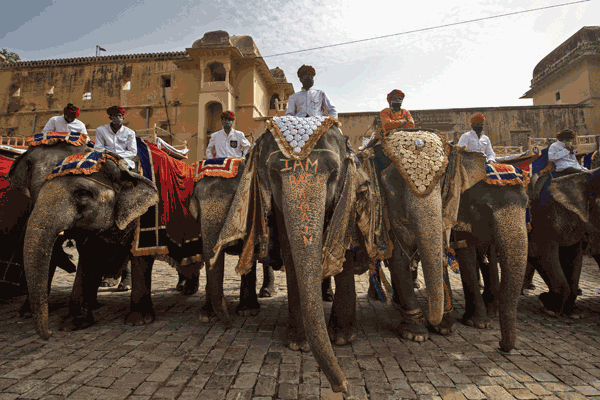 Small steps back to normal . . . Mahouts with their elephants wait for tourists that so far are few and far between at the historical Amer Fort, Jaipur, Rajasthan, India that reopened on June 16, 2021 after authorities eased some restrictions in the ongoing Covid-19 lockdown.

COVID Devastation of India

(New Delhi, June 21, 2021) —Why do we still seem to be living in denial? The second COVID wave that struck major metros and cities—in fact, the whole of India—taking away near and dear ones does not seem to have jolted us.
Why else would we not press the accelerator on vaccinations?
Why else would India media keep on suppressing COVID deaths?
The second wave took away relatives and friends. A cousin with a 10-year-old daughter passed away simply because he could not get oxygen and proper medical care. A nephew could not perform the last rites for his mother. And there are many more.

Government Clueless

But there were leaders – both from the government and the opposition – who went about holding election rallies that saw thousands.
To top it all, the government allowed the Kumbh Mela – simply because it happens to be the largest Hindu religious gathering.
The Mela saw the gathering of millions, of course without adherence to COVID protocols. Most treacherous of all, it now appears that the COVID tests that were done for the Mela were fake.
Strange are the ways that our government works.
The delay in vaccinating the large Indian population has resulted in confusion and apprehension.
Worse our leaders continue to remain in denial about preparations for the second wave, the deaths due to COVID and the oxygen fiasco.

Repression Drives Fake Media

Perhaps, what is more saddening is the manner in which our leaders want to brush off the hard truths about the economy. We have a huge number of unemployed, inflation is staring us in the face and petrol prices are around $1.50 per litre (Rs 100). But our leaders say that it is a temporary blip. And if anyone was to comment or write the truth, it is viewed as anti-national and often a term in jail.

Tweets Tell of the Hell

The frightening condition of India has erupted in Tweets like:
"I must confess I'm not surprised anymore. I've lost whatever little hope I had of our country and countrymen. Personally I believe no government can help us get out of the absolute ruin we are in." (@AnindaManna1969).
Or, the West Bengal Finance Minister saying: "Putting tax on life-saving drugs is criminal, this government is totally unaware of the people's needs." (@DrAmitMitra), and "Unemployment at its worst in nearly 3 decades. 230 million Indians pushed into poverty. Does India's post-#Covid19 situation threaten #Modi's political hegemony?"

Hope from the Heavens

The silver lining, however, has been air cargo.
Air cargo has delivered, despite aviation being the worst hit.
Not a day passes without us being informed that vaccinations have reached some Tier-2 or Tier-3 airport.
Air cargo in India has a potential that suddenly almost overnight is being recognized in almost every quarter.
Blue Dart, for example, has been facilitating the transport of oxygen concentrators amongst other essential COVID relief medical equipment across the length and breadth of India.
As Balfour Manuel, Managing Director, Blue Dart pointed out:
"Blue Dart continues to use its fleet of Boeing 757 freighters and resources at its disposal to play a key role in transporting O2 concentrators and critical medical supplies within the country; through our scheduled and International charter flights, ground network; supporting individuals and corporations alike.
"Through out this cruel pandemic, our people, have demonstrated their 'Can do' attitude standing true to our value of customer-centricity."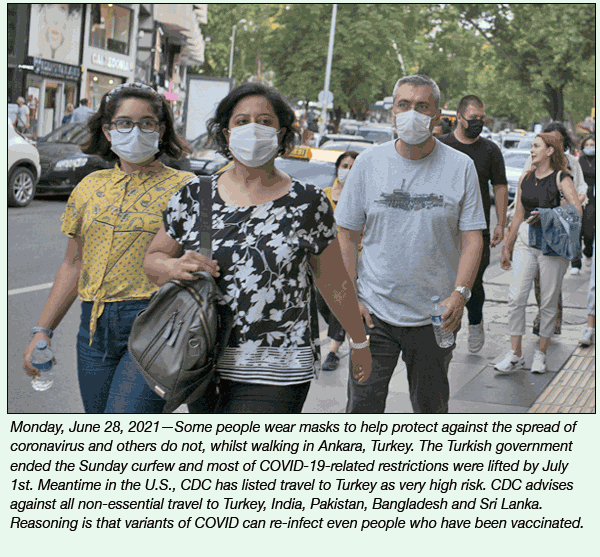 More Home Work Deeper Into Summer

Now it's July – and hopefully more of the country's businesses will open up.
We hope and pray to see less dependence on physical offices.
Work from home has become a lot sophisticated, thanks to technology.
And although cargo entails a lot of physical contacts, technology will be able to cut down the physical presence at offices during dispatches. This shift to technology will help the industry stakeholders to move to block chain and AI and become even more efficient.
Tirthankar Ghosh