ULD CARE and Airport College join forces for an online webinar on June 29, 2021, where requisite levels of competence in ULD safety operations will be discussed.
I remember that we spent maybe the greatest four days of our recent lives ensconced at a small five-star hotel in Paris about a half a block away from Le Moulin Rouge in Pigalle. Moulin Rouge is the place where the ladies danced and invented the Can-can during the 19th Century and today is still in business and packing them for dinner and a show every night.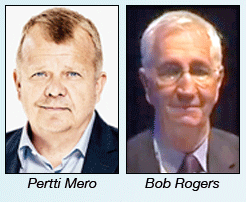 So I got to thinking this week about my friend Bob 'Can-Man' Rogers in Hong Kong, who just happens to be King of the ULDs.
Bob Rogers is the vital force for years organizing ULD CARE.
Now ULD CARE has moved with the times with an interesting educational outreach teaming up with Helsinki-based Airport College for some online courses backed by an Ex-Finnair Cargo guy and Airport College founder Pertti Mero.
The payoff is that Bob 'Can Man' Rogers who knows just about everything when it comes to ULDs, and 'Professor' Pertti are bringing the ability to make everybody in your company smarter within reach of the nearest computer, and that is something to dance about.
"What air cargo needs is a cost-effective, affordable, measurable training session for the many hundreds of thousands of people who may have some involvement in ULD operations," is the reasoning here.
"Our sessions promise to deliver the essential know how to large numbers of people engaged in cargo and ground handling," Bob & Pertti declared.
Learn how learning about the ULD CAN-can impact your business. Click Here.