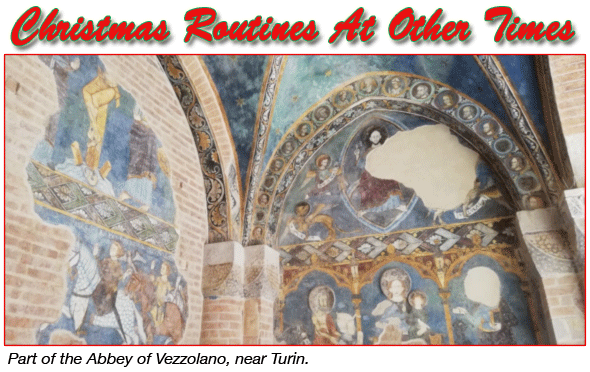 In perfect timing with the season, my friend Geoffrey asked me whether I had a story for Christmas. As it happens, in Europe we were recently faced with a "suggestion" that EU citizens should avoid the word Christmas in favour of more "inclusive" terminology, e.g. the nonspecific Happy Holidays. Just after hitting the headlines, the EU Commission's suggestion was swiftly withdrawn, as most had observed that when you try to become "inclusive" at all costs, that is precisely when you start excluding someone else. The Commission observed the document was not "mature".
So here we go . . . Sunday morning in Turin, it is a sunny winter day, gloriously bright despite the season. Wednesday's snow still covers the roofs around my window and the mountains shine with a yellowish white glare, which the sun streaked on them at daybreak. This is the period of Advent, a time I only learned to appreciate when I lived in Zurich, with its special religious fervour. Years ago this was a time of the year I actually abhorred.
Respectfully leaving the holy Christmas to those who believe, this is the period of the year when we exchange presents and are supposed to be good, if at all possible, even more virtuous than in other months. I guess the concept of Christmas has become almost universal in the world, if nothing else because it generates huge GDP with a massive leap in trade and sales. One way or another we managed to translate the idea of being good into the idea of being rich and that is not the same thing. Another aspect of Christmas time is not precisely good: until Christmas Eve everyone is nervous, has no time for others and the mad rush to meet deadlines prevails on kindness, in particular in logistics. When I was a young forwarder in Turin, this was a tough period indeed.
Working in logistics in Turin in the seventies, you were swimming in smog and pollution, but also in goods and trade: FIAT, Lancia cars, Olivetti machines, clothing, buttons, cables, chemicals, whatever. Above anything else, pens were filling my daily routines: the now defunct Odino Valperga was my employer, as well as the forwarder of choice for most pen manufacturers based in Settimo, one of our fast growing industrial suburbs. Export was so strong in those years that there was never enough land for factories and never enough equipment for the goods.
In 1973 Settimo was said to produce about 65% percent of the entire world production of ballpoint and felt pens. Several companies were active, which are now gone: FAR, CIPSA, GENOSO, WALKER PEN, the list was long. We were exporting millions of pens, my share principally to the UK. Apparently our writing tools were marketed all over the world from London. I had invented, with our correspondent Anglo Overseas Transport, the fastest clearance procedure ever: COW as we called it, i.e. clearance on wheels. It was a novel approach in the UK, which had just joined the EEC. T-forms were quickly replacing the TIR carnet, so our service took wings. That was the key of our success and traffic exploded, making my overtime pay greater than my salary.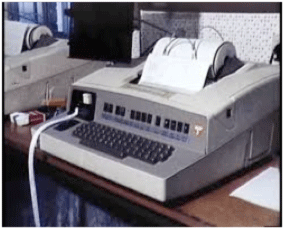 Each December, when Advent approached I was getting nervous: the fight for trucks was getting really hard. I needed at least twenty trucks a week to deliver the groupage loads into the LIFT terminal in eastern London. We worked 12 hours a day, six days a week and the lines of trucks to Mont Blanc were legendary. Snow was our biggest enemy, as climate change was not in sight in those years. The closer Christmas was approaching, the harder the competition for trucks and the higher the mountain of pens in the warehouse . . . The files printing stencil machine was running overtime and our three telexes were working 24/7 to send out "the details". Getting to the telex was a physical struggle every Friday afternoon . . . Anyone remembers this strange object?
Nearly fifty years later, sitting at my desk in this brilliant Advent day in my home town, which is now completely different, I remember the raw passion for the exploding exports, the shouts from the warehouse and the drivers climbing to the office upstairs to pick up their papers, a coffee and a smile. In those years working in logistics was quite mad and undisciplined. If madness is still there, it goes mostly unnoticed, except in the rollercoaster ride of the freight prices. Trade has grown tremendously in the meantime, the goods' dimensions shrank as the packing got bigger, our services are more complex and refined and many transactions no longer require manual procedures, but the mad rush of those endless Advent Friday nights goes on and on in my memory. I wonder whether the Hanx Writer App could recognise the unforgettable (and incessant) clickety-clack of the telex machines. If the App can't I sure can, believe me!
After 2006 winter Olympics, Turin has become a reasonably attractive tourist destination and will host the 2022 Eurovision Song Contest. If you want to look at it from down under, here you go. Turin is still mourning its past industrial triumphs though, as it is trying to deal with the retreat of the car industry that FIAT imposed on us after over one century of controversial development. Coffeemakers Lavazza is perhaps the only global corporation in this area that managed to weather the transition without pain, still being a principal trader in the world. Very few other businesses enjoyed a successful transition into this part of history.
Coming back to pens, I was even surprised to see that CARIOCA felt pens are still on sale and of course Universal spa, one of my former clients, is in the historical note of this evergreen brand. If you open any drawer in my room, pens of all types, colours and origins materialise: doom or delight? Looking at them I cannot avoid thinking of the millions I have sent to the UK, in particular at Christmas. Yesterday's doom is today's delight, that's life.
There is another link between Christmas and pens that is worth mentioning. In my third grade my dreams had come true: my parents and relatives flooded us kids with presents at Christmas. All had become possible through the increase of wealth in the country, in particular in Turin, which was on the fast lane of industrial development in those days.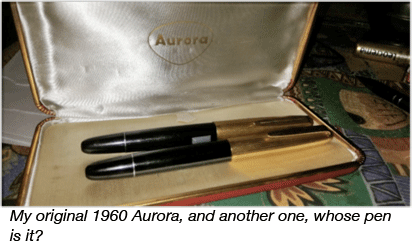 A novel sense of affluence was coming to the families, including ours. In 1960 young Sorgetti was very proud of his Aurora fountain pen, received as a gift for Christmas.
Unlike other pens, my Aurora would not leave stains on my page and it had even a golden cap! I was on top of the world. The Maharaja of Rewa could not feel more affluent than I. How would I know then that pens were going to occupy my later life so abundantly?
When Geoffrey asked me to write this note in preparation of the festive season I went back to my Christmas present, the gilded Aurora pen and tried to imagine what remained today of those childhood emotions.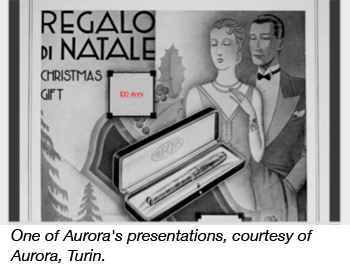 I knew that Aurora still exists in Turin, so I thought of making contact. What I did not imagine was that Aurora had become a more complex business, and is still a thriving enterprise, which successfully managed to surf the globalization years by doing precisely the opposite of what others had unsuccessfully tried: they stayed precisely where they were, banked on their skills and experience, invested heavily in their core business and strived to be excellent. 24 hours after sending my message, I received a polite reply from Mr. Cesare Verona, who runs Aurora today. He is the entrepreneur who managed to steer his company into modern times, maintain a prestigious brand in Turin, whilst attracting a cultural, world class, diversified production around his business.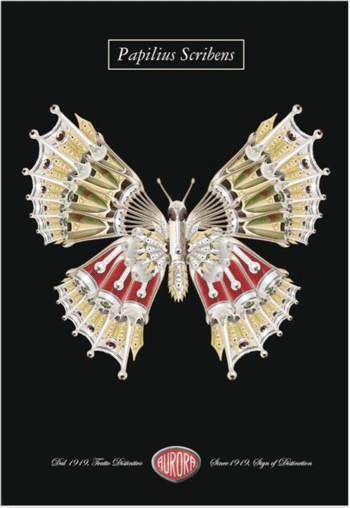 If you have a quarter of an hour to devote to an unusually cultural presentation of a business, please watch the well-crafted video that features Mr. Verona presenting his company's history, inside the city of Turin, emerging from a centuries-long transition.
Please appreciate the stamina running through this great family of entrepreneurs working in a converted abbey, trying to resurrect it to its former architectural glory after decades of mistreatment. The patient let the good one work and wait for the result. In a period when conformism seems to be a duty, this is an exquisite example that success can come from unsuspected parts.
So we come to the end of this small story: I am asking myself what does it mean to be good? What does it mean to behave yet more virtuously because it is Christmas? My take is that Mr. Verona and the ladies and men working with him just represent one of the ways.
There are many other ways to be good, perhaps even more essential. Nurses and doctors who help those in medical care must be good 24/7, no respite for them who, together with the caregivers who help the weaker ones of our society, embraced a mission rather than a job … We have learnt how important that is during the pandemic, haven't we? We should fully appreciate their dedication.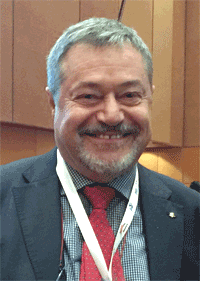 Good are also the drivers who make sure our presents are delivered on time, the staff in the warehouses who sort the parcels, and those who adorn wonderful shop windows with those gifts for the delight of their customers. It is impossible to list all the good ones, they are so many! These people represent the spirit of Christmas and stretch it to cover the entire year, on and on, without surrendering to difficulties. In my opinion being good means striving for excellent results in your work, whatever your call is, with no distinction of gender, colour, religion, creed, and even political belief.
The rest is our love in the family and Christmas is the time when our families unite to feel love and affection. So, my friends, if you know that somebody near you is at risk of being alone at Christmas, please open your family up to welcome "thy neighbour", and treat him or her as you would like to be treated in return.
Happy holidays! How does that sound? My best wishes to all of you for the New Year, too.

Marco Sorgetti