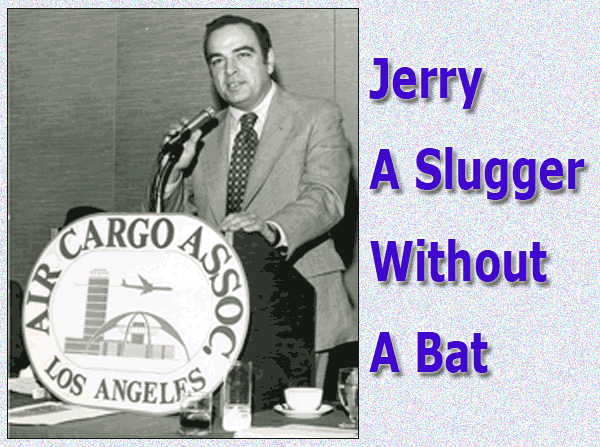 A sad parade is passing by the little bird sitting on our window ledge right now as some missing people lost in the shutdown, pandemic and passing time have left us tip-toeing quietly into eternity.
But how dare they "go gentle into that good night."
Here we recall the life of Jerome "Jerry" Trimboli, the exceptional air cargo builder who served and guided the fortunes of SAS Cargo for more than 30 years.
Jerry died February 3, 2020 (he was born November 3, 1933) leaving behind Dolores, his beloved wife of 62 years, two daughters, a son and a big hearty family including eight grandchildren.
There is a very beautiful homage to Jerry with pictures that our (late) editor Richard Malkin wrote and we presented six years ago in 2015 that begins like this:
Had the Fates been a little kinder to his earliest aspirations, Jerry Trimboli, a slugging outfielder, would have had a better opportunity of landing a slot on the Yankees or Cincinnati Reds.
But despite visions of baseball glory (and fat checks), the Vergilian counsel that the Fates would lay down the right path to the future held true to Trimboli's career. Destiny is unshakeable. Thus, in 1958, he was to exchange a bat and glove for a highly visible role in the booming new international air cargo industry.
His was a calm, consistent, well-reasoned industry voice, not always in step with IATA ideology.
Even after years of retirement, he was inclined to regard the air cargo process as considerably more than a static job.
"There is a route to professionalization which combines elements of experience, knowledge, relationships, and reputation," Jerry Trimboli said.
"The path traveled toward authentic professionalization is not much different in the air freight forwarder industry," he added, "but overseas the process starts with careful internships."
Jerry was a renaissance air cargo man solidly in support of the educated, supple, professionalism and procedural practices, especially in the current, more complex business/service environment.
In the Richard Malkin article the grouping of candid photos is Jerry on the early modern air cargo conference circuit from CNS to IATA and at venues elsewhere in the world where he actually blazed the trail that hundreds of thousands of others would later travel.
But of all our favorites in picture here is Jerry and Dolores, as we remember them, very much in love and full of life.

About Jerry

Jerry joined Scandinavian Airlines in 1955 and started humbly as a warehouse man loading planes while attending Brooklyn College at night and majoring in economics. He also had time to earn his meteorology license. He met Dolores Scolo in 1955, and they were married on June 14, 1958. Jerry later recalled it was love at first sight.
At work, Jerry continued up the ranks, being promoted to airport cargo manager, then to salesman, district sales manager, and finally culminating in Director of Cargo for North America, a title he held for 30 years.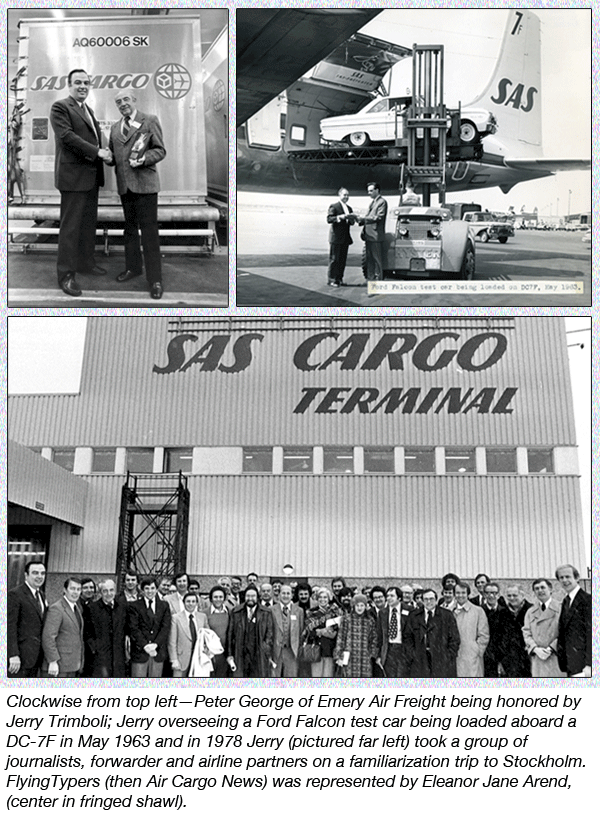 Following his tenure at Scandinavian Airlines, in 1985 Jerry began his own consulting business and also helped to launch InterJet Systems Inc., in Jamaica, NY serving as president. Jerry retired from InterJet in 2006, but continued his consulting business while enjoying time with his family.
In retirement, Jerry enjoyed reading, painting, playing golf, watching the Yankees, gardening and raising tomatoes, and of course, playing Santa Claus every Christmas for his eight grandchildren, whom he loved dearly.
Jerry had a full and adventurous life, and he will be missed so very dearly and remembered forever.
"The rest of those departed cannot steady the unrest of those who follow," is the very memorable quote from the character Jamal in the movie 'Finding Forrester'.
This year it seems like no other; we have spent a lot of time recalling the lives of people of our industry who died.
Dear Jerry Trimboli, this holiday season we think of the sad moments in 2021, of the loss of Joachim Frigger, Buz Whalen, Peter Hansen and Dave Sharma.
Great people who made a difference is the common denominator here.
I think about these people that I knew in my life joining the long list of others gone before, and have decided that each one did things with their lives that made our air cargo industry better and the world a better place to live.
Jerry, we will keep you close to our heart forever.
Geoffrey