Pan Am Clipper Cargo, the mightiest air commerce operation in the world in 1961, created a giant Cargo Building #67 at Idlewild International Airport (IDL today's JFK) to serve Clipper Cargo's burgeoning global fleet of B-707s.
It should not be forgotten that Clipper Cargo 67 also delivered the earliest "automated" cargo handling facility in the world with a staggering $8.5 million dollar investment price tag six plus decades ago.
The action was groundbreaking and excitingly inventive in cargo by a division that marketed itself underneath the "big blue meatball" which is how PAA's PR counsel Tony Funnell sometimes referred to the airline's logo.
Once upon a time the blue Pan Am marquee ranked alongside The Coca-Cola Company as the best-known U.S. brands in the world.
But that's not all.
Pan Am Clipper Cargo also developed an ultra-light weight fiberglass passenger cabin container for cargo.
By removing three rows of passengers seats from the main-decks of several of the carrier's early long-haul B707 jets, Clipper Cargo took a pioneering position of being carried upstairs and downstairs on the early big jets.
Aircraft payload added a net of 2,400 pounds of "cargo in cabin" to the average of slightly over five tons of cargo that B707s carried in the bellies.
Yes, peanuts by today's measure, but 'Cargo In Cabin,' savior of the world in 2021 was planted acorn to oak in 1961.
In 1961, four years before the Beatles flew aboard PAA, the airline in its search for improved and flexible methods of pumping traffic, moving people, and making money on a commercial aircraft, carried main deck and belly cargo on the same early jets to and from U.S. hubs to the world.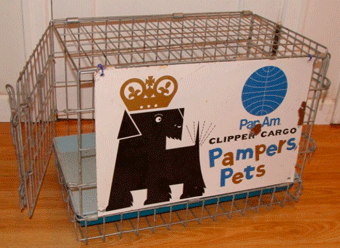 As COVID-19 struck and an almost empty, dreary looking Cargo Building #67 was approaching 61 years of service, a barely memorable footnote in the rush of history, who knew or might have imagined or even cared about all of this two years ago outside on ramps, as people were fastening seatbelts around life-saving, main deck cargo on passenger aircraft at airports all over the world?
Thanks to Martin Bleasdale and Bob Rogers for reminding us . . . everything you need today for 'Cargo In Cabin' except the masks!
Kinda like the early Pet Kennel graphics especially the Dog and Crown.
Pan Am Clipper Cargo had it going on . . .
GDA