You might be wondering if an aversion driven by COVID of attending an industry trade show can finally be packed away in your file of forgotten bad dreams?
Well here are a couple of moments of actuality facing industry trade shows right away on January 17 and February 24, offering a prescient glimpse as to how the near future should pan out for air cargo events during the rest of 2022.
So far leading indicators offer mixed projections depending on who you talk to.
Airforwarders Association( AfA) and its intrepid leader Brandon Fried on Jan 17 in New Orleans "is a go, " we are told, and Air Cargo India slated for February 24 in Mumbai is getting some kick back as COVID rages there.
So just as organized air cargo events gain traction again, fate steps in on the scene and in some cases may mop up the floor with these best-laid plans.
The truth be told, no one seems to really know what to do about all this.
So maybe you can believe your eyes.
Here in America even as the New Year Ball touched down in Times Square, millions of ordinary people continued queued up in mile-long lines in record numbers coast-to-coast waiting to find out if they are COVID positive.
No doubt more than a few people in air cargo are wondering about sitting in a session somewhere.
People we spoke to, by and large, fall into distinct groups.
Anti-vaxers go one way and the vaccinated, some with masks at half staff walk around like they have some kind of immunity.
Some people who have had COVID and been lucky enough to get away unscathed, are ready to rip and get to it, in some cases: "been there, done that".
People all over the world are antsy to get together.
Maybe, talking about industry issues can be handled to a certain extent for one or two more rounds by Zoom and other means, but right now people have had it with the isolation and want to press the flesh and congregate.
But does sick of the lockdowns square with the new proviso that this once-upon-a time adult disease, now includes danger warnings directed toward our children, the same kids that supposedly in 2020 had a remote chance of contracting COVID?
So now we kiss our significant other goodbye to attend a hotel mixer cocktail party or a trade show awards dinner, risking as a couple of professional U.S. football teams did last week, when everybody on the team took ill, that they unwittingly attended a "Super Spreader Event"?
So buckle up. Rarely, if ever, will two industry events so early in the year be watched as closely by the air cargo industry as AirCargo 2022 in New Orleans January 17-19 and Air Cargo India February 22-24 Mumbai.
Happy New Year & Many Happy Landings in 2022!


Word up from Brandon Fried, Executive Director-The Airforwarders Association:
"Excited to be full steam ahead while committed to abiding by #NOLAREADY guidelines for the upcoming #Aircargo2022 conference!"
Register today: https://lnkd.in/dpBv9giH
On January 17, doors open for Airforwarders Association (AfA) Annual AirCargo Conference in New Orleans.
Do believe that at some time, even maybe ten minutes after the end of the world, somebody better tell Brandon, who will be probably off somewhere hosting a panel discussion or giving a speech.
Looking at it all, up and down the line, every journey to adventure should begin in New Orleans. Great food, great vibes, music, plus feeling joy for life like nowhere else that you can be.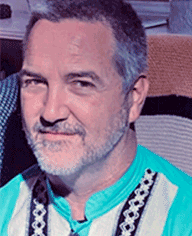 Michael Webber, the airport development expert who attended Tulane University, got married and raised a family in "The Big Easy" said it best:
"Advice to 'just be sensible' hasn't historically been associated with going to New Orleans, where we used to joke that trade conferences needed an official bail bondsman.
"But these are different times," Mike said.
"Even after the devastation of Hurricane Katrina, New Orleans was still what I've always called 'the American city least like any other American city.'
"Being below sea level for centuries has probably provided additional historical iterations of experience with pestilence.
"I've had my booster and will be in New Orleans," Mike smiled.
Believe FlyingTypers can play off of the "Spirit of New Orleans" any time.
Listen to the music here.
Geoffrey