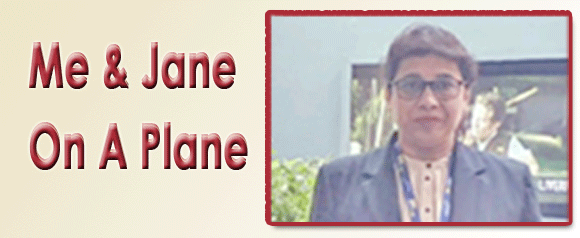 "I have always wanted to work with the best team of worldwide professionals under one banner. And that is ATC Aviation Services AG. The opportunity I have been given will allow me to showcase my strengths and passion for the air industry with my experience of 27 years. This new beginning with an international company will allow me to also deal with the diversity of global culture. And challenges only makes me stronger. I'm happy to join the great skilled team at ATC."
As Deputy General Manager for Turkish Cargo in India for a decade plus 11 months, a leading "Woman in Air Cargo" and total professional by any measure joins the best GSSA in the business. Jane Vaz of Mumbai, Maharashtra, India is now Manager Sales India for ATC Aviation Services AG.
Jane Vaz created history of sorts when she became the first lady President of the Air Cargo Club of Bombay. And all those who know her, are well aware that she does not take her job lightly. After all, she has been in the cargo game for a long time.
Jane brings to ATC and to the shipping community a wealth of knowledge and success during a lifetime as a true pioneer of India air cargo.
Before joining ATC and before departing Turkish Cargo, she was handling cargo for Etihad Cargo and her primary responsibility was to generate sales and fill the belly capacity of the flights. And, even before that she was with South African Airways (Cargo) for nine years. The lady is a hands-on person and is well aware of the loading patterns on a wide variety of aircraft having handled the B-747-SP, the B747-200, the B-747-200(F) and the AB-340-200 among others.
After all these years, what is it that keeps Jane Vaz excited about the cargo industry and especially now having joined ATC a company of aviation professionals considered by airlines all over the world as the best GSSA in the planet?
She answers:
"The ever-growing digitalization has been opening new avenues of global connectivity every day, and has at the same time increased efficiency and sustainability."
Jane also hits the button as a leading woman in air cargo declaring:
"If we overcome our internal barriers and ability to self-promote, we (women) can see immense growth and equal opportunity. Time management, work-life balance and creating a good support network to help ourselves will give us the right balance."
"The cargo industry," Jane Vaz says, "has evolved and grown providing lot of opportunities to women.
"Now, it solely depends on us to recognize and grow with our inner strengths and abilities."
"Wowser", we say!
Good going, ATC.
We will continue to follow "ATC & Jane On A Plane", a great story out of India from ATC, a company gauging real talent as the way to build a great future which looks better every day.