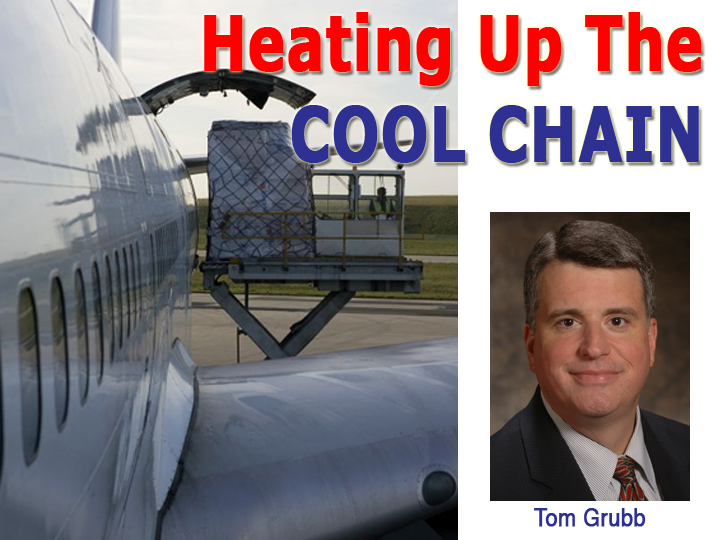 First of all, you have to love the classical overtones.
Tom Grubb, manager, Cold Chain Strategy at American Airlines, knows a lot about what he does, and like any true devotee he loves his work and makes no secret of it!
"The air cargo cold chain is like a symphony orchestra, with many performers playing in harmony as a cohesive group.
"Seamlessly playing as one not only demands professionals skilled in their respective instruments; it is also requires that all participants read from the same score.
"In the pharmaceutical cold chain, safely and effectively moving time- and temperature-sensitive products means all stakeholders need to follow the same standards, regulations, and best practices."
Tom actually told us that a couple years ago and it caught our attention. People who take joy in their work touch us like that.
Fast forward to 2015 and Tom once again assures that at AA Cargo, the heat is on cool chain solutions.
"American is poised for added growth.
"We just opened a dedicated, state-of-the-art Pharmaceutical & Healthcare handling facility at the Philadelphia International Airport.
"The facility has significant capacity for Controlled Room Temperature (CRT: +15°C to +25°C) as well as a refrigerated cold room (COL: +2°C to +8°C).



CRT: +15°C to +25°C

"There is a dedicated active container management (ACM) area with plug-in stations for up to 30 equivalent RKN electronic-type units and the facility has an independent power backup system.
"American's commitment to cold chain is shown in the numerous enhancements we have made to many of American's facilities across our network.
"This is crucial to insure we continue to meet and exceed the expectations of customers.


Active Container Management (ACM), Front Dock

Learning Develops Significant Benefits

"American Airlines Cargo has gained significant experience with temperature control, since launching its "ExpediteTC° services over 5 years ago.
"We began with ground-up development of our Active services and, after some experience with Active, we developed our Passive service offering.
"We continue to invest in our ExpediteTC° program in terms of process evaluation, program features, and infrastructure—including implementation of Controlled Room Temperature (CRT +15°C to +25°C) facilities in key stations across our network.
"This also includes a brand new, dedicated pharmaceutical & healthcare handling facility.
"We were one of the very first air carriers to implement annual recurrent training for all our employees responsible for temperature-controlled shipments and this extends to our ground-handling partners.
"We are currently working on new training tools this year to insure the very best cold chain understanding for our employees.
"This way, they can provide the very best service for our customers.
"Most importantly, when it comes to temperature-sensitive programs, is understanding customer needs and how their products change over time.
"In this way, we will continue to update American's solutions in order to meet customer and product requirements."

Tom Terrific

As Manager of Cold Chain Strategy, Grubb leads global time and temperature sensitive logistics services for American Airlines Cargo. A 23-year veteran of American's Cargo division, Grubb previously served in Operations as manager of Customer Service Strategy, where he was pivotal in the development of American's Active and Passive cold chain services, ExpediteTC. During his tenure with American Airlines Cargo, he has implemented strategic sales initiatives as well as operational solutions for American's product and services portfolio.
Mr. Grubb is currently a member of the IATA Time and Temperature Task Force (TTTF).

Today & Tomorrow

"American continues to see solid growth of our temperature-sensitive pharmaceutical and healthcare business in 2014. Product complexities, as well as increasingly stringent regulatory requirements, contribute to the growing need for specialized supply chain solutions, which keep medicines safe and effective for patients.
"American's temperature-controlled solution provides the features desired by customers and we continue to enhance and evolve the program with added benefits, which pharmaceutical manufacturers and freight forwarders indicate are requisite for properly handling these materials.
"Our vast network capability is coupled with the robust and reliable processes built into ExpediteTC°, which are designed to protect delicate healthcare shipments.
"This is complemented by the recent roll-out of the ExpediteTC° process across the American Airlines' extended network following our merger with US Airways. Philadelphia, for example, is a prime location in the heart of the U.S. pharmaceutical corridor which, when coupled with the world's largest airline, provides temperature-controlled cargo capability to/from Europe, Latin America, and the Pacific.
"Our ExpediteTC program is designed strictly for the pharma and healthcare sectors.
"This is critical given the regulatory requirements for separation of pharmaceuticals and foodstuffs to avoid cross-contamination. That said, American also has an excellent perishables program which can certainly assist any customers with their flowers, produce, fish, etc."

Cool-Chain Closer Look

"As an industry, I think we are all working very diligently to address the concerns with all modes of transportation.
"Given that airport operational environments can be very challenging, it is critical that solutions like ExpediteTC° are implemented, evaluated from a quality perspective, and refined to insure maximum protection for these delicate products.
"Pharmaceutical manufacturers, forwarders, air carriers, and all members of the temperature-controlled supply chain must address these requirements by working together.
"In addition to the needed training, processes, and infrastructure, a key imperative is that all supply chain participants need to be informed and aware of as well as adapt to changing temperature-sensitive regulations, particularly due to the fact that pharmaceutical distribution standards are not universal.
"As an example, the EU's Good Distribution Practices (GDP) quality assurance guidelines have certainly been the focus of much discussion in the past few years, but so too are the regulations from U.S. Pharmacopeia (USP), the U.S. Food and Drug Administration (FDA), and the UK's Medicines and Healthcare products Regulatory Agency (MHRA), etc. as examples.
"Each of these can have differing perspectives and this also extends to individual countries' customs authorities. It is these complexities which are helping to drive growth and rapid change in the temperature-controlled supply chain, as well as the need for enhanced collaboration between all participants."
Talking containers here wondering if you are thinking as a former ops guy about cool-chain containers of today and tomorrow? What for example does the pharma container do today and what looking ahead do you think will be the container of tomorrow?
The newer, electronic units of today are easier to maintain, rechargeable, maintain more accurate temperature ranges, etc. as compared to the dry ice variants developed in the late 1990s which are still in use today. With the tighter restrictions on temperature control, I would expect you will see vendors working on continuing improvement of accurate temperature maintenance capabilities but also perhaps the reduction in the size/weight of these mechanisms, technology permitting. Currently, the systems required are not small and therefore take up payload capacity. Perhaps in the future, these mechanisms can be reduced in size and enable better temp control with less weight and bulk. Also, the ability to have more "real-time" communication with the units including product temperature and unit status is becoming much more desirable as delicate products move through the supply chain. This is happening today but still there is much room for added capabilities as monitoring requirements increase.
Geoffrey/Flossie