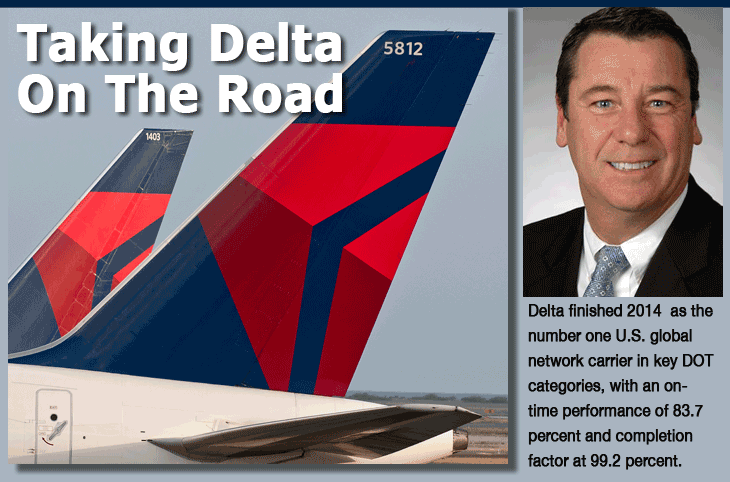 Delta Cargo Vice President–Commercial Ray Curtis gets excited and deeply involved whilst attending air cargo industry events. He can also get pretty worked up about show venues that offer an opportunity to do some good, lasting business.
Big thoughts were sprung and sung in Shanghai recently, after which Delta Cargo's vice president of sales moved back stateside to attend the gigantic Seafood Expo North America/Seafood Processing North America in Boston, followed by a quick post Easter trip to Intermodal Sao Paulo. The CNS partnership conference is up next on the agenda, proving Ray Curtis moves as nimbly from show to show as he does from success to success–here, FlyingTypers catches up with the top executive.

In Boston for Seafood

"We've been participating in the Seafood show for nearly 30 years, and year after year we find great value in being a part of this event. It's an ideal opportunity to connect with our customers and stay up to date on this important segment of our business.
"Delta Cargo is a competitive option for seafood and other perishable products; we have a far-reaching global network and a fleet of aircraft that can deliver perishables to destinations all over the globe and be fresh on arrival."

Reliability Keys Success

"Operational reliability is extremely important for time-sensitive shipments.
"Delta is running a very reliable airline. In fact, 2014 was an exceptional year for our company. We finished the year as the number one U.S. global network carrier in key DOT categories, with an on-time performance of 83.7 percent and completion factor at 99.2 percent. Delta had 95 days where we completed 100 percent of our mainline flights. This is something we are very proud of as a company and are focused on continuing our momentum this year and beyond."


Perishables As A Foundation Business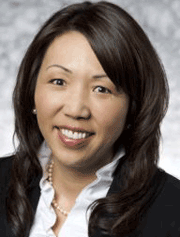 "Perishable products are a key component of our business and we will continue to make investments to support the efficient and reliable transportation for these products in line with the needs of our customers.
"In fact, we have increased the staffing of our product team, led by Alex Clayton, which will allow us to more keenly focus on needs and growing our business in this market and others.
"Our worldwide cooler facilities are set up to support the temperature control environments required to store perishables in transit and on arrival.
"In 2013, we invested $700K in a 3,000-square-foot cooler in our Detroit facility, which features two drive-through doors with pallet-capable storage that increases capacity for shipments of pharmaceuticals, flowers, fish, and seafood as well as fruits and vegetables in ideal climate conditions.
"During the spring of 2014, we opened a 36,000-square-foot, state-of-the-art co-location facility in Miami with Virgin Atlantic, one of our joint venture partners.
"This warehouse has a 7,200-square-foot cooler space with temperature tracking capabilities and monitoring systems allowing for ideal temperature control, which is great for perishable products.
"So, we are continuing to make investments to support this key component of our business.
"We were pleased with the season last year where we were fortunate to grow our business.
"In 2014, we moved more than 31,000 tons of seafood around the world with the majority originating in New York and Boston.
"Our excellent season out of Seattle and Alaska also contributed significantly to that number.
"We were especially pleased with the salmon season in Alaska where we moved more than 2.5 million pounds out of Anchorage in five months.
"Salmon from Santiago and tuna from Palau were also good markets.
"Because fish is time-sensitive, we foresee positive trending for air to continue being a preferred mode of transportation in the future.
"Also, as the world becomes increasingly more health-conscious—consuming more fresh and organic foods—we see fresh fish having growth potential as the demand for it increases.

Paperless Air Cargo

Taking a wider view, Ray Curtis has some ideas that he believes should be shared industry wide.
"The air cargo business needs to continue to evolve and become more efficient for all players in the supply chain.
"At Delta, we are highly focused on removing paper from our business and providing our customers with intuitive, easy-to-use self-service options for booking, submitting AWBs electronically, and tracking their shipments throughout the lifecycle.
"We're seeing real success in our efforts to remove paper from the business and ended 2014 with international eAWB penetration of 41 percent and 75 percent domestically.
"This is an area we remain committed to growing."


How Goes The Shipment At Delta

"We'll start with our people because they're what truly set us apart from our competition; we have the best people in the business.
"Our team strives to take superb care of our customers at each interaction from booking to delivery.
"We make every effort to protect fish from the moment we accept it until it is delivered.
"When a shipment is accepted, we inspect the boxing/packaging to ensure it complies with all of our instructions and IATA's regulations.
"When these guidelines are followed, shipments can withstand a transit time of 48 hours in the event that there's a delay in the arrival.
"To further protect fish and keep it as fresh as possible, we intentionally wait as close to departure time as possible to take it planeside for loading (approximately one hour).
"Upon arrival at the destination, we continue to monitor the handling of fish and keep it in coolers until it is picked up by customers.
"Our team is well-trained on the importance of and the care required for the shipment of seafood.

Performance Is Job One

"As I mentioned before, Delta's operational performance is exceptional.
"We're continuing to make investments in technology that also support the shipping process.
"Our teams are actively working closely with their customers to educate them on the benefits of booking their shipments electronically and moving from paper to electronic air waybills.
"In the second quarter of this year we will be launching a newly-designed customer experience on deltacargo.com that will offer more intuitive self-service options for booking, electronic air waybill submission, and tracking shipments, further simplifying the user experience.
"Modernizing our business is something we need to work together as an industry to achieve.
"We operate in a very competitive market. In the air cargo industry, our planes don't fly any faster, so we have to make an impression that makes customers want to do repeat business with us.
"We have an unwavering focus on customer service.
"Look, we realize they have options, and we want them to continue to choose Delta Cargo for their shipping needs.
"Our people continue to make the difference."

Next Week At CNS Partnership

"Our theme is to connect with our customers.
"The team is looking forward to seeing our business partners and colleagues this year at the CNS Partnership; they are our focus and why we do what we do.
"We're committed to providing the products and services our customers need to grow their business.
"It's incredibly important for us to continue to have conversations with our customers about their needs and where we can make improvements.
"CNS also provides an additional opportunity to thank our customers for the business they continue to give us year after year," Ray Curtis declared.
Geoffrey