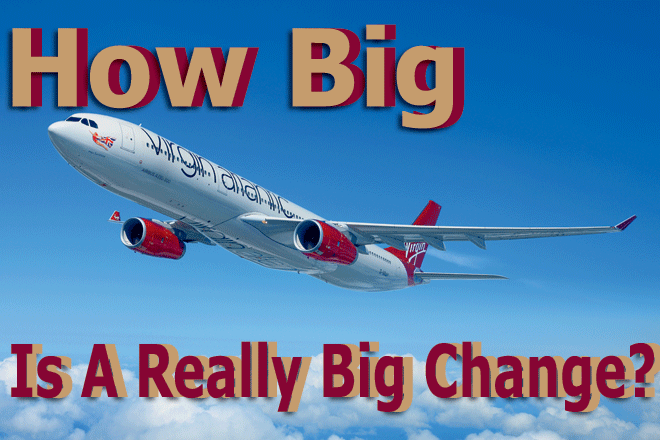 "Huge, and we are not underestimating or taking anything for granted," said Dominic Kennedy, Virgin Atlantic's Managing Director, Cargo.

"Our entire business model is based on giving customers more choice and flexibility, whether this means more routes and frequencies, new products and services, or the ability to interact with us in the way they want to do business," he said.
"Now Virgin Atlantic Cargo is set to be the first airline to adopt Accenture's cloud-enabled, end-to-end AFLS 8.0 cargo management platform to spearhead our future digital experience when AFLS 8.0 goes live in early 2020.
"This is doing to drive Virgin Atlantic Cargo's digital transformation. Once the system is fully operational, based on the release of subsequent phases, our customers will be able to interface directly through APIs and connect with the airline's new web platform for pricing, bookings, allocations, and operations, while 'live chat' and Chatbots will offer immediate interaction, based on each customers' communications preferences.
"We want our customers to continue to experience great service, and through their channel of choice.
"In 2019 we are making positive progress in many areas, but to modernize and future-proof our business we need a far-reaching digitization program that allows customers to interact with us in new and innovative ways by offering them the opportunity to do everything they do with us today by phone and email via a digital platform.
"So, our commitment to the future by taking a significant leap in capability is the natural next step.
"The AFLS 8.0 platform will accelerate our digital transformation and give customers even more reasons to choose to work with Virgin Atlantic Cargo," Dominic Kennedy declared.
"But we are also not forgetting that there is collateral organizational change that also goes along with this kind of advancement.'
"The way we do our business, including processing transactions and a raft of other activities, gets a big jolt for the better in my view, and we are ready for it.
"We have been very well served for the past decade by our current Mercator IT platform.
"However, our future is increasingly benefiting from our partnerships, so the ability to interact is primary in our thinking moving ahead.
"Virgin Atlantic Cargo has also taken a closer look at the best way to widen our distribution model to drive efficiencies to our customers.


Partners Up For The Future

"We are working with all our wonderful partners to develop different strategies to take advantage of every strength to meet or exceed any demand," Dominic Kennedy said.
"Our partners are onboard with our 2020 IT move.
"Virgin Atlantic Cargo is in a privileged position, with 40-plus aircraft and 180 people in our great team, which means we are extremely flexible and responsive in changes in the market or, to our customers' needs," Dominic Kennedy said.


About 2019 Business

Dominic Kennedy said that 2018 was a strong year with great performance all around. However, 2019, which came out the gate fairly strong has, at mid-year, "seen some softening of demand.
"But what makes us different is that we not only meet the needs of our customers, we want to exceed their expectations. This is a core part of the DNA of Virgin Atlantic.
"As a relatively small carrier we cannot rely on the network as some others can, so we always need to make sure that we are winning in service delivery.
"As an example, at Air Cargo Europe in Munich in June, we were engaged all week long in dialogue with our customers to find out how we are doing and what else can we bring to the table that will make their shipping experience with us work best?
"Virgin Atlantic relies in some manner on our traditions as we move ahead in 2019.
"We were one of the first carriers to structurally survey our customers.
"Currently, and for the past half-decade, a monthly survey goes out that provides us quick health check metrics to analyze how we are doing.
"This feedback has been used during the tenure of my time here (approaching two years) to serve as a barometer to better apprise all of us up and down the line, of what is working; and then it informs strategic decisions moving forward.
"As example, the feedback told us our customer service center located in the UK that also served our customers in the USA and South Africa was not meeting our pledge to exceed expectation.
"So we took what our customers were telling us, and created local USA & South Africa customer service centers to serve our customers in these very important markets."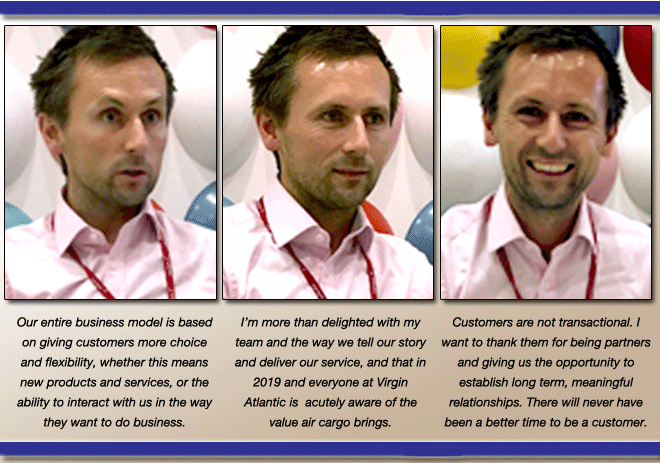 About Dominic

Dominic Kennedy is responsible for leading and growing the commercial, financial and operational performance of Virgin Atlantic's Cargo division, having taken up his current post in August 2017. He is also in charge of the airline's Transatlantic joint venture with Delta Cargo and its long-haul international cargo sales and management agreement with Virgin Australia.
Dominic joined Virgin Atlantic in March 2005 in Fleet and Network Planning, providing analysis on all aspects of capacity and revenue, including aircraft acquisition, new route studies, configuration changes and product investment. In 2008, he joined Cargo to create and manage its Price and Product team and, later, Revenue Management and Capacity Control.
In 2014, as Director, Commercial Planning, he led a team responsible for Virgin Atlantic Cargo's commercial activities, covering revenue management, capacity control, pricing, commercial insight, revenue integrity and joint venture activities – helping the airline to maximize the business potential of its global cargo network.
You ask Dominic about himself and there is a hush.
He does not brag about himself, and for what it's worth, it's refreshing.
The question is, how about a self-report card after two years and the answer?
"I'm more than delighted with my team and the way we tell our story and deliver our service, and that in 2019, everyone at Virgin Atlantic is now, more than ever, acutely aware of the value air cargo brings to our overall business.
"It's absolutely fair to say that the investment we are making as outlined earlier would not have been possible today without the positive contribution and heart of cargo at Virgin Atlantic.
"The leadership team has thought a lot about how this business is changing, and what we must do to position ourselves to continue in the years ahead.
"The technology piece we spoke of earlier has been a long time coming and galvanizes our thinking as to what is required.


Getting It On With Delta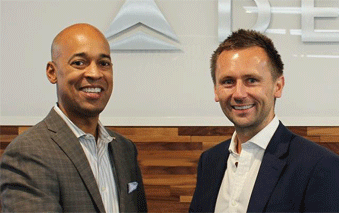 "We have been quite fortunate working together with Delta.
"For us with Delta, as they are a shareholder in Virgin Atlantic, we have gained knowledge, based on their experience and expertise.
"We are benefiting from the diversity and interaction with Shawn Cole's Delta Cargo team. This is a major plus for us and we are for them. It's all about working together.
"Undoubtedly there are great things we can do together.
"Our long-standing decade-long partnership with Virgin Australia for long-haul international cargo capacity is an agreement that also continues to deliver mutual value.
"We are really pleased, especially during the past 24 months, about how that agreement has developed as Virgin Australia has expanded into Asia, which has had the net result of offering the customers more options.


Someone to Admire

"I came into an aviation career because my uncle's brother was a RAF pilot.
"Later he lived in Hong Kong, whilst serving as a Cathay Pacific Captain.
"That inspired me to work in aviation as well as my Dad teaching geography and sharing his love of far-away places.
"When I graduated from school, I saw an ad offering a job teaching English in a small town in Japan, and the deal was done.
"I knew . . . travel and moving from the familiar to places yet to be discovered were in my DNA.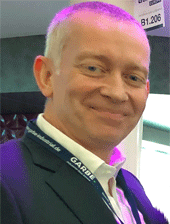 "When I was first employed at Virgin and worked in fleet optimization for three years, I didn't really know that we had a cargo division.
"I was offered a position in cargo where I met and went to work for Dan Parker for eight years.
"Dan Parker was an exceptional mentor, not only for me, but for everyone.
"Dan Parker is not only someone to admire, he was also such a nurturing force at Virgin, and we still stay in touch," Dominic Kennedy said.
When we asked Dominic to deliver his worldview in a couple of sentences that we might share with you, dear reader the answer was immediate:
"Customers are not transactional. I want to thank them for being partners and giving us the opportunity to establish long term, meaningful relationships. We never take their business for granted.
"We want to support our forwarder partners, so they can support their customers and with all the exciting developments we're working on, we want to ensure there will never have been a better time to be a customer of Virgin Atlantic Cargo. We have a very exciting future ahead of us," Dominic Kennedy said.
Geoffrey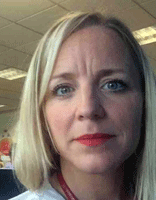 "We see a fantastic growth opportunity in Israel and have chosen two respected partners who are a perfect fit for Virgin Atlantic," said Claire Fallon, Regional Sales Manager as VS inked a pact with WTA Aviation and Swissport in Israel to support launch of daily A330-300 flights from London Heathrow to Tel Aviv September 25.
WTA gets the nod to filling 20 tons of daily cargo capacity onboard Virgin Atlantic's Airbus A330-300 flights.
Swissport will provide cargo handling services at its 21,000 sq. mt. warehouse terminal at Ben Gurion International Airport.
Fully equipped with temperature controlled cold and chill rooms as well as dedicated areas for valuable goods, DGR and live animals, and able to deliver real-time technologies to optimize cargo build and for shipment tracking, Swissport matches up Virgin Cargo in Tel Aviv with JV partner, Delta Cargo, extending the airlines' co-location program.
Let's sing the new partnership into the best of luck and success all around.