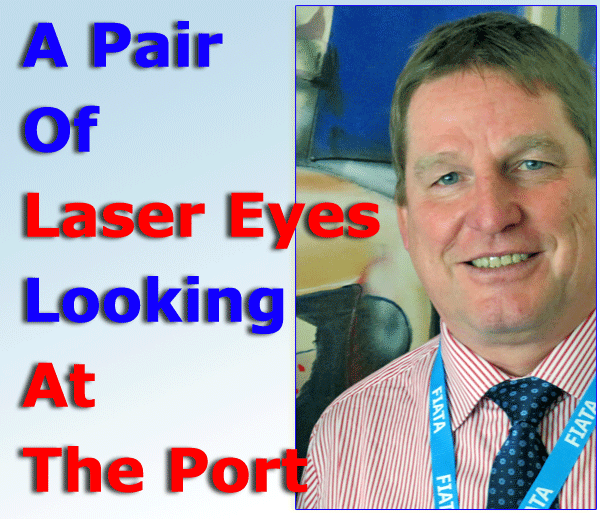 Jens Roemer, Chair of the Working Group Sea (WGS) of FIATA, is a person on the go: Jens and I checked the first part of this interview from his parent's house in Hamburg, Germany, his hometown, during a short break. The rest was done whilst he was travelling back to Antwerp, where he lives and works.
Looking at Jens's eyes you cannot miss his laser glance, most inquisitive, yet somewhat cool, never embarrassing. Jens told me he is six years from retirement, not sure he will be going back to Hamburg then. Considering what we have seen since he took the WGS in charge, there is still plenty of time to make an impact between shippers and forwarders on one side and forwarders and liners on the other before he leaves. Let us hear this maritime industry expert talk about his experience and plans.
Jens Roemer, turned sixty on June 18th, is German, married with three children. A very straightforward record occupies the beginning of his life: Abitur, the Army, Diploma in the '80's and the "Speditionskaufann" training, the paramount door-opener to any German logistics company, then an MBA, what else? Much earlier, in October 1982 A. Hartrodt (GmbH&Co), Hamburg decided to bank on the promising 21-year-old and opened its doors to him. He still works at Hardtrodt in 2021, next year it will be his 40 years' jubilee.
In 1985 Jens packed his bags and worked outside of Hamburg: Frankfurt first and a couple of year later – leave the capsule if you dare – Singapore, Malaysia, Philippines, Thailand, Indonesia and Vietnam. Until 9/11 WOW meant windows of the world, surely Jens Roemer did not miss any of that. In 2000 he returned and settled in Antwerp with functions spanning over Europe. In fifteen years' activity in Asia Jens also had pivotal roles in local associations, with important international functions. In the '90's he became deputy Chairman of the Singapore association, with responsibilities in ASEAN and regional bodies, also teaching at the local Institute for Technical Education. His engagement with the Belgian Freight Forwarders' Association is now 20 years old. This led Jens to FIATA, where he was elected in the Extended Board in 2013, the same year taking over as Chair of the WGS. Here is a recap of the long and interesting conversation with Jens Roemer.

FT: As a well-travelled professional executive you have lived in Europe and in the Far East. Were you homesick or was it for family reasons that you decided to return?
JR: I was not really homesick. Wherever you are in the world there is always something nice to enjoy and being a social person I enjoy cultures, religions, food; this is a big gift, a bit sad now that we cannot travel much. Staying abroad is amazing how close you get to other cultures. I still have very many friends in Singapore. Singapore was home for me for 13 years. All three kids were born in Singapore. Antwerp is home now and that is a place where I live comfortably, but my postings have been of a lengthier period, thus giving me time to really get to know and appreciate the places and cultures. I may retire in Antwerp, but never say never . . .

FT: Has the pandemic experience changed your approach in business, during and after the pandemic, professionally? And in your private life?
JR: This is a tough question. I appreciate social contacts, meetings, etc. it has been a terrible period, not being able to socialize is really hard for me. I should however not complain too much, as I enjoyed a reasonably high threshhold for managing the crisis. Changes . . . when it comes to business, the effect on the supply chain is what means change: as freight forwarders we did a lot to keep it up and running. Looking at the disrupted supply chains, the pandemic accelerated digitization. Container bookings for example: now everyone expects this on line. In principle it should be more efficient, but the environment is less proactive. Disruptions and changes happen constantly and follow-up emails and phone calls have exploded. Albeit not so efficient, emails have become the main business tool, more than ever before. With shipping lines, getting the right person on the phone is difficult.
I am proud of our team, always ready to go the extra mile for our customers, yet the dichotomy in delivering a so-so product, not perfectly satisfied you cannot get better service. Without you it would even be worse. We have tried to support our customers in a moment of uncertainty, when their confidence was waning. Looking at the human side, people feel the frustration. Despite the support from the hierarchy we can only hope our employees count on their stamina. Even with the boost in digitization, we need to consider and respect the human capital, which is essential.
In my private life I have the privilege of an understanding environment: much of the stress at work was mitigated when I resorted to my family. As I speak, my wife is driving and I can take your questions, this is a real help!

FT: What has waterborne transport shown during the pandemic? We have read many upsetting headlines concerning maritime transport, blank sailings, shortage of containers, rolling of boxes, sailings becoming almost unreliable. Do you think this is just due to the pandemic or is it the extension of a tendency that started earlier on, and if so why?
JR: Nobody should be surprised for the situation we have lived. If shipping lines ask for a high price now there is nothing to complain about: it is a free market. My shareholders expect me to maximize my profits and the shipping lines are doing the same, we are all in the same boat, we must all face the same market with its ups and downs. But how could we have allowed this market to develop itself in this manner? Above all the regulators, the FMC, the EU and Chinese institutions all have been witnessing nine major shipping lines, an already relatively limited number, organizing themselves in just three alliances: now there are only three sticks to choose from.
The wind of mergers and acquisitions has been blowing at full force for years and nothing was done, or could be done to change. This is how we were left with just half of the landscape we had before. Liners can legally arrange and adjust their sailings, within the agreements that have been approved. The question on whether this adjustment is made to meet the market demand, or falls short of doing so, is open with no effective answer so far. With bigger and bigger vessels, the market is anyway restricted. On EU/Far East some nine vessels should meet the requirements of how many thousand customers? On the other hand, this is not a cheap ride. You need a big investment if you wish to come into this trade. Nobody can enter the market now, as the investment is too big for newcomers. Ports go out of their way to get the big vessels as these make big numbers. Vessels became bigger and bigger, it seemed to make sense back then, but the landside did not meet the challenge. In higher peaks, the landside cannot cope: there are not enough drivers and chassis. All are working at their limit: if anything goes wrong, e.g. the pandemic, well, that is/was the tick that made the system collapse. Congestion was bound to happen: one cannot be surprised.
Still I honestly do not think that we could have predicted the pandemic outbreak and the consumers' behaviour that has been triggered. The tsunami came onto everyone in the business, with few exceptions. The shrinking number and dimension of the shipments arrived at a moment when ships were the largest ever, sailings and callings were shrinking in favour of the containment of costs. The impact on the frequency of services was then abnormal and there were months of total bewilderment in the market. Now we are on the other side of the hill, with containers and ships stuck in congestion, we try to run services despite some 20% capacity drops. Forwarders can pave the way to new agreements, but they cannot be expected to absorb any kind of pain without comments.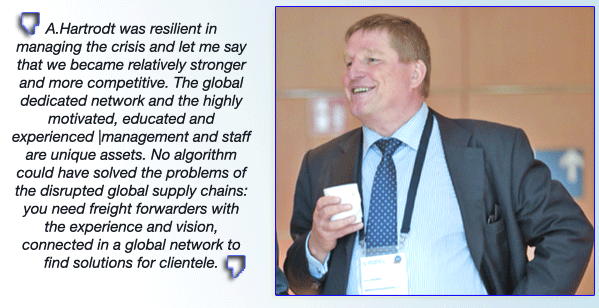 FT: Should there be an industrywide campaign to correct the trends we observe in the sector, or some other form of coordinated effort led by FIATA? Or should governments look into the industry? What would be the message?
JR: We all know the role of international organizations is vital but limited; we may not expect UN institutions to exceed their mission either, but perhaps the regulators (at least the most powerful such as the FMC and DG COMP in the EU) should have acted differently and tried to control the snowballing size of the ships. There is room to reconsider certain approaches. CLECAT is strongly lobbying the EU and we must bring these issues to the regulators' attention (e.g. Demurrage and Detention rules recently published by FIATA). The open question is whether it is already too late. We have desired and created a free market and we must not flatter ourselves that we could lobby a free market to suit our requirements. We can lobby institutions, not the market. In this light, the shipping lines will be in the driver's seat for at least the next two years. Profits will be invested in vertical integration, i.e. canvassing more and more services to compose a wider portfolio of services.
Unfortunately, freight forwarders are not competing at the same level. Liners seem to place themselves ahead of forwarders also in data sharing and they benefit from subsidies that forwarders fail to see. This is an area where FIATA's help will be crucial. Forwarders need to be proactive to define a new relation with shipping lines and shippers. With a proactive and efficient data exchange, we could decide what to do on arrival in Antwerp when loading in China, long before the ship comes in. As we see in the news, there is another burning issue: disaster prevention. The CTU code is important: incidents are invariably due to inappropriate loading and lashing. Perhaps we could use the CTU code by reference in our contracts: we are specialists in loading containers and we can surely be of assistance. Am I daydreaming? Shipping lines are not keen to listen, but we are always trying.

FT: What are you most looking forward to doing, both business and personally, as restrictions ease and COVID finally recedes? Have you already planned your next business trip? Will you travel extensively again?
JR: If all of a sudden I had no restriction and no obligations, I would pack the car with some vitals and drive, just drive to each and every friend and relative I have not been able to meet in the last two years. I am more than sure that my wife and children would be willing to come with me and share the same feeling. I am sorry for the airplane, but I need to feel free to drive where and when I want without any sort of restriction right now. Daydreaming?

FT: Are you tired of zoom, webinar and other web-driven contact? Or will you make that medium a go to form of contact and communication?
JR: Let me be short and direct on this one. Zoom and other virtual paraphernalia have been good, even precious and will remain an asset. No idea where we would be today if we had had no support on this side, but nothing can replace personal contacts. I think we shall slowly come back to that, perhaps less frequently. As I said before I am deeply social: you cannot fight your own nature.

FT: In your contact and communications what have you experienced that impacted and impressed you the most? Is anything in the dreadful experience we have lived to be saved, or just to forget as fast as possible?
JR: I was surprised that most of us adapted to a new situation with relatively few disruptions. IT infrastructure was more robust and people more resilient than we had thought. Whatever we do next I do not think this experience will be easily or soon forgotten. We learnt how important our collective health is and how fragile our certainties are: public health is serious business and we need to address it conveniently.

FT: How do you expect your company to emerge during the rest of 2021? Can you feel the respect and encouragement? Name the highs of course, but also what can we all do better?
JR: A.Hartrodt is strong and I am doing my best to keep it in that shape, in the face of the current uncertainties. As I said we must be able to develop a closer relationship with our customers. In my view there is the key for our future business. Overall A.Hartrodt was resilient in managing the crisis and let me say that we became relatively stronger and more competitive. The global dedicated network and the highly motivated, educated and experienced management and staff are unique assets. No algorithm could have solved the problems of the disrupted global supply chains: you need freight forwarders with the experience and vision, connected in a global network to find solutions for clientele. Last but not least, our financial strength has proven to be a chief asset, with the financial exposure created by freight rates spiralling tenfold, payable upfront in the spot market!

FT: Coming to FIATA, are you happy of the move to Geneva? Quite an achievement for the Secretariat in the period we have been going through, correct?
JR: Moving in this period was quite a challenge and pushing this forward against all odds has been brave. All went well and we may rejoice now. Clearly there was a bit of luck in the accomplishment. Members will have time now to absorb the changes and decide whether they are happier now. Of course the change is more noticeable now that the registered office has moved, but the evolution had started a few years back. In the end FIATA is just human resources and the global network. The global network has moved closer together. Today you need to fight for a single container at a time, with communication running across continents, yet closer than ever before. Understanding the situation on both sides has developed as never before. This was possible due to the human resources' evolution in the organization.

FT: We know you have had considerable experience in motivating your staff. What would you tell a young woman to persuade her to enter the transport and logistics sector, in light of your career experience. Is there any special feature that makes logistics appealing for a young lady, in your view?
JR: Easy one . . . I have had so many wonderful female colleagues, with really inspiring personalities. Historically logistics had never been for males only, in particular in '70's and '80's many women came to pretty high places in freight forwarding. In Asia there have always been many more women, e.g. in the Philippines the scene is nearly only for women even today. This being said, in recent times women have been perhaps attracted by other areas: finance, insurance, learning. Perhaps it has to do with the relatively higher salaries in finance and insurance, with a more flexible employment of time. CLECAT is proficiently managed by Nicolette van der Jagt, and that is a good example. I try to be as close as possible to people, regardless of hierarchy and gender, I make no differentiation. All this being said, logistics is the ideal arena for women, where their organizational skills can shine in the proper light.
Marco Sorgetti