Writing about Peter Lamy in this issue came with the sad news that his father Don Lamy, a major factor in U.S. cargo for many years died of leukemia on March 11, 2021 at age 84.
In addition to his son Peter and daughter Susan, Don leaves his two grandchildren Don Lamy and Keith Lamy.
Don was born in Guernsey Channel Islands, United Kingdom May 30, 1936.
He recalled living as a young boy under German Occupation during WWII. The Channel Islands were the only portion of the United Kingdom under German occupation.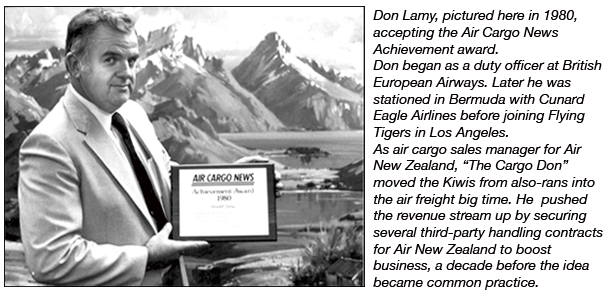 In 1963 Don immigrated to the USA where he immediately began a memorable career in air cargo.
Truth be told, Don was a force of nature when we knew him as top man in the U.S. at Air New Zealand, the airline he served and became famous for building Air New Zealand Cargo USA.
From Los Angeles, Don had that cargo operation humming and punching way above its weight for decades.
Don was also a major force in organized cargo, in fact he was quite instrumental in sponsoring and giving his time toward the betterment of our industry through his efforts, that included early CNS Partnership Conferences and organizing and supporting the fledgling Los Angeles Air Cargo Association (LAACA) at LAX.
Today both organizations continue as major forces for good in air cargo.
Don was a big guy who walked into a room and you knew he was there.
He was a take-charge individual and was inclusive. But he did not suffer fools and always had a great penchant for rallying people to a cause of getting things accomplished together.
Also not to be overlooked was Don's appetite for good food and drink.
For years a rite of passage at LAX was the annual ANZ BBQ staff and customer event that was held outside in a small parklike area between office buildings at the airport, featuring succulent New Zealand lamb and other goodies at a festive networking event.
The story that Sal Sanfilippo who served as ANZ Director of Cargo the Americas, tells about the barbecue was typical Don Lamy:
"Don started it," Sal said.
"The story is that a big load of fish missed a connection back at a time when the reefer situation is not nearly what it is today, and the decision was taken to cook up the fish, have a party and invite our staff and customers in.
"We have been holding our employee annual barbecue ever since," Sal said in 2005.

Don Lamy's son Peter who today heads up Intelligent Supply Chain Management (iSCM) and American Worldwide Agencies (AWA) noted that his Dad was talking air cargo right up to the end of his life.
"I learned logistics from a great man, a dreamer and a doer, who was full of love for life and was talking Air Cargo and Air New Zealand with ideas right up until the end.
"We plan to round up some of his mates and family and have a memorial service October 8 aboard Ned Wallace's boat," Peter said.
Never very self-centered or seeking the spotlight, Don opened up his Facebook page prior to his departure from this dimension and wrote some simple words in a poignantly sentimental goodbye dated March 3, 2021 celebrating life as he approached the gates of eternity.
"Good morning friends and family," Don wrote.
"This is my goodbye to you all as I peacefully passed on in my sleep this morning.
"I have spent some quality time with Sue and Peter the last two weeks as my mind so kindly let me visit friends past and present, going to places like Guernsey and New Zealand all from my recliner.
"Life was a great journey with some amazing experiences.
"With that I bid you farewell."
Last words come from Don's friend Haig Barsegian, who recalled:
"Don and I spent a lot of time together as Sales Reps for Flying Tiger Line. We had adjacent sales territories and would often meet up for lunch. Great sense of humor. Never saw him get angry. Later on when he was with Air New Zealand, he would contribute kegs of beer at the annual Los Angeles Air Cargo Association bash in Palm Desert!
"Don will be missed!"
As mentioned, Ned Wallace will sail off on a sentimental journey with some other Lamy stalwarts to honor the great man October 8th.
"Dad was always very low key," son Peter said.
"Toward the end we talked about life and Dad said during that conversation:
"'If someone had a notion to do something for me after I'm gone,'" he said, 'might be nice to plant a tree,'" Peter recalled.
Works for us.
Happy Landings and thanks for the memories, Big Don Lamy.
Geoffrey