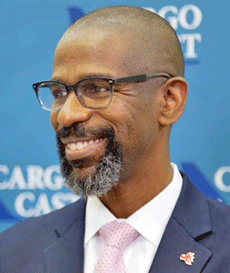 Elliott Paige M.Econ, IAP
Airport Director, Air Service Development
Harstfield-Jackson Atlanta
International Airport

On 9/11/2001, I was in Geneva, Switzerland working at the Development Division of the World Trade Organization Secretariat. I had transitioned from an internship to a short-term contract and I was working at that time doing a paper on the participation of African countries in world trade. I was actually annoyed because while researching on the Internet, I noticed the connection had slowed down and some sites were frozen. I saw a weird picture of one of the World Trade Center buildings smoking, but thought it was fake and moved on to my research. Suddenly, my office colleague, Amar Breckenridge from Sri Lanka, burst in and said that, "America was under attack." Then I tried to get online and after many minutes happened upon a website with details of the buildings demise.
I called my then brother-in-law who worked on Wall Street, but the lines never connected. I then called my then wife and daughter who were suppose to be in NYC to visit her brother, if they had extended their flight for a longer visit after visiting me in Switzerland. However, they did not, else they would have been stranded. Instead my then wife and daughter left to ensure they arrived back in Antigua in time for the new school year.
Back in Geneva, all work stopped. For companionship, my colleagues and I went to a bar and watched the whole scene unfold on TV for hours.
The result was that WTO member countries signed on to a new round of trade negotiations, the Development Agenda, after months of stalling because they felt we needed to build global solidarity on trade to reduce terrorism.