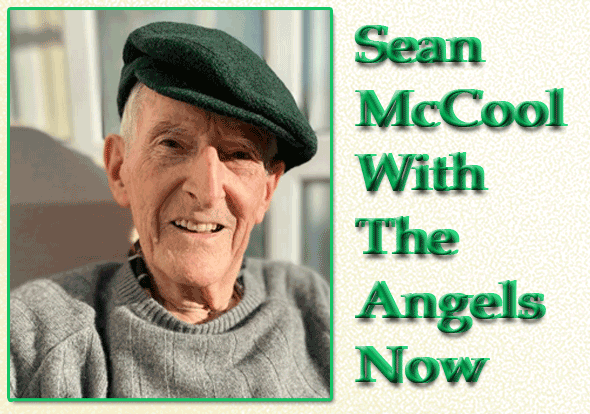 Air cargo pioneer Sean McCool died peacefully Friday June 16 in Dalkey, Dublin Ireland at age 92.
At the end surrounded by his family, beloved husband of the late Phyllis, loving father of Jean, Gilly, Suzy and Ian; Sadly missed by his children, sons-in-law Rory and Pat, daughters-in-law Lorraine and Suzanne, grandchildren Sam, Leah, Rebecca, Ben, Conor, Hannah, Jack, Ali and Evan, great-grandchildren Alfie and Nina all mourned loss of a most dear patriarch.
"Too Cool" was how we described this great man and that thought reverberated with an extended family and wide circle of friends in air cargo that included legions of transportation people around the world.
With his passing, a never-to-be forgotten era in the history of European, and especially Irish aviation and air cargo is gone.
"My poor Dad slipped away this morning (June 16) after a tough few weeks with various ailments," Ian said.
"It was a lovely peaceful release for him and had the most beautiful of passings, surrounded by his family."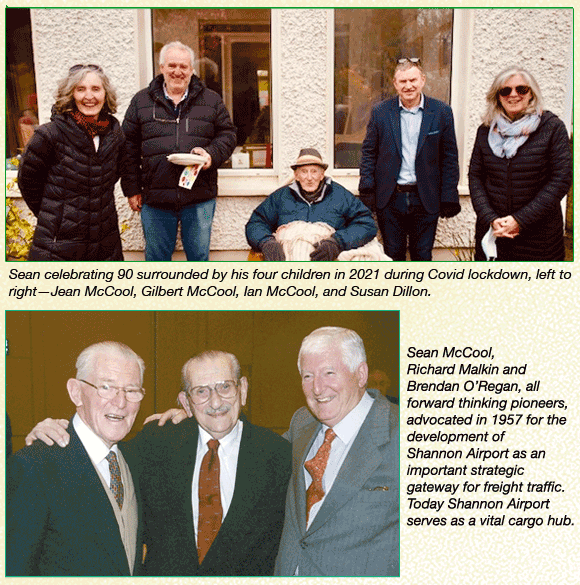 McCools yesterday and today have been a constant of the Irish air cargo scene for more than 65 years.
Established by Sean in 1989, International Airlines Marketing Ltd. (IAM) is Ireland's largest Air Cargo General Sales and Service Agent (GSSA), responsible for over 20 percent of all airfreight traffic from Ireland.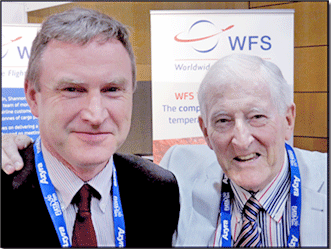 The father and son team for the past years, with Ian at the helm today serves American Airlines, Etihad, Air Canada, All Nippon Airways, and South African Airways.
Sean's career began in the 1950s at Seaboard World Airlines (his first airline job). He later moved on to Brinks (which he introduced to Ireland) and Aer Lingus commercial cargo, where he was responsible for the establishment of the highly successful cargo operation in Ireland and Europe.
Between 1960 and 1964 Sean participated as an Aer Lingus Executive on the Marketing Committee of the Confederation of Irish Industries.
Sean was a founding member of the Irish Air Cargo Institute and the Irish Institute of Freight Forwarders (IIFA), where he was awarded an Honorary Fellowship for service to industry.
He was a former Council member of FIATA, the Irish Exporters Association, and a past VP of the European Confederation of National Freight Forwarders' Associations (C.L.E.C.A.T), a consultative body to the EU Commissioner of Transport.
"My first airline job was at Seaboard World Airways, the pioneering all cargo airline that served Ireland from New York," Sean recalled.
"I was responsible for both sales and operations and on call around the clock," he said.
"I'd call the cargo terminal from home every morning before the night shift left to make sure the transfers had been made.
"Sometimes, after the flight came in, I'd get a call in the middle of the night and go out to the airport to help sort the shipments.
"It was all-hands-on-deck back in those days," Sean remembered.
"On the sales side, I spent a lot of time contacting forwarding agents here in Ireland.
"There weren't too many of them back in those days," Sean said.
"I would also spend several days a month out on the road converting surface to air.
"That was tough work and could take months, maybe even a year before a shipper would even pay the slightest interest.
"It was the toughest kind of selling," Sean McCool recalled.
Sean never quit, even as a retired "non-voting" CEO of International Airline Marketing Limited, (IAM) the company he created.
The story is remarkable in the history of transportation in Ireland, but also of the world.
Sean was especially close with his good friend, the late Richard Malkin, and others making the case for the formation of Shannon Airport itself.
Sean McCool was the true meaning of the heart and soul of the air cargo community
Sean is rightfully honored universally as one of the true pioneers, thinkers and achievers in the history of Irish air transportation.
He was the godfather of Irish air cargo.
GDA
Reposing Sunday (June 18th) in Quinn's of Glasthule from 2.00pm to 4.00pm.
Monday (June 19th) to the Church of the Assumption, Dalkey arriving for 10am Funeral Mass which can be viewed on www.churchservices.tv/dalkey followed by a private cremation.
No flowers please.
Donations in the name of Sean McCool, to the Blackrock Hospice.