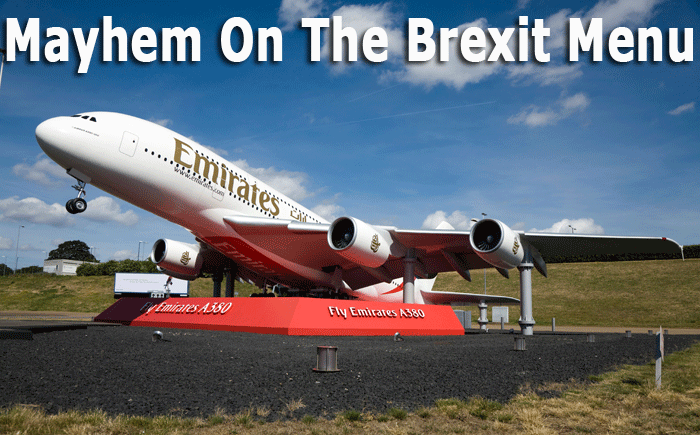 Hey, Emirates, name Heathrow A4 380 for Ram Menen and his team, that delivered the Emirates SkyCargo brand to the top of the world in 2012.

Editor's Note—Every time I look at this picture of a giant model of an A380 on the A4 approach to London Heathrow, the thought occurs, why not name that airplane "Ram Menen?"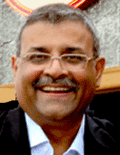 Ram Menen, one of the original founding team at Emirates Airline, headed its cargo division since its inception in October 1985. With Ram Menen at the helm, the airline rose to become the largest international cargo airline in the world in 2012.
Mr. Menen retired from Emirates in June 2013 as the Divisional Senior Vice President Cargo.
Trained as an engineer, he spearheaded the conceptualization and development of the LD-36 (AMF) type of ULD (Unit Load Device) which increased usable space on each lower deck pallet base by 33%. Ram also helped develop the cool dollies, which are extensively used at some airports to maintain the integrity of the cool chain on the ramp.
Ram is a FCILT (Chartered Fellow of the Chartered Institute of Logistics & Transportation), as well as, FRAeS (Fellow of the Royal Aeronautical Society). He is one of the founding members of The International Air Cargo Association (TIACA), serving as Vice President in 1993 and 1994, and as President, CEO and Chairman of the Board in 1995 and 1996.
Today, with his wife Malou, he splits his time between homes in Luxembourg and Kuala Lumpur. Their son, Ram Menen Jr. continues in the family transportation tradition, and recently went to work for Amazon as a logistics specialist.
Ram still keeps his hand in, occasionally speaking and commenting on the air cargo business that he loves and knows so well.

Ram Talks Brexit

The Brexit deadline marches ever closer. The UK is scheduled to leave the EU at 11 pm local time on March 29, 2019. As that deadline looms for Brexit, Ram Menen observed:
"We can expect mayhem.
"There is currently a procurement frenzy to stock up with goods because of the uncertainty and to beat the initial confusion and chaos that is likely to unleash post March 29, 2019.
Ram says that in a no-deal scenario, "cross border sales are likely to be in a turmoil, especially where land transportation is concerned as all cargo will have to go through the border control process, which is likely to create major bottlenecks at various customs points."

Queues & Volumes

Mr. Menen predicts:
"EU/UK will have a patchwork of Air Services Agreements that will let movement of people and goods to continue.
"This will result in an increase in demand for air cargo, as air cargo will help beat the queues at the land border crossings.
"Of course, the higher cost of logistics and likely tariff will increase the landed cost of the goods, which could result in slowdown of business volumes between UK and EU countries."

World View

"The air cargo market could see an initial dip in Q2 and Q3," Ram said.
He noted that there would probably be higher demand for capacity into UK from Far East (mainly China and India) and the U.S.
Menen forecasts "intra-Asia traffic will continue to be strong.
"We will start seeing movements towards the end of Q3, when inventories start getting depleted," Ram declared.
"India will also see growth in its domestic market, especially in the e-commerce segment and will also continue to benefit from the fallout of the U.S./China trade war."
In the short term, he points out, there will be a slight slowdown in China's export traffic in the traditional cargo business.
"However, the growth in domestic and cross-border e-commerce will compensate for some of the demand for capacity."
Tirthankar Ghosh
Post Brexit, Part I, click here.