We spent a wonderful evening last Thursday (February 18) sitting with Ed Chism, recently retired Cargo Manager, USA Emirates Sky Cargo, Duncan Watson, VP Cargo Commercial Operations America, Middle East, & GCC, and a couple hundred "close friends" at an event to honor and celebrate Ed's retirement.
It was a very lovely, stylish encounter at The Garden City Hotel in Long Island, New York. There were good people, warm surroundings, and fine food and drink, with Emirates handling everything with grace and ease.
I kept thinking about May 19, 1927, nearly 89 years to the day, when The Garden City Hotel hosted Charles Lindbergh. He woke the morning of May 20th and took the short drive to Roosevelt Air Field, where he climbed into the cockpit of his tiny monoplane, "Spirit of St. Louis," and took off for Paris, France, landing May 21, the first man to fly solo non-stop across the Atlantic Ocean.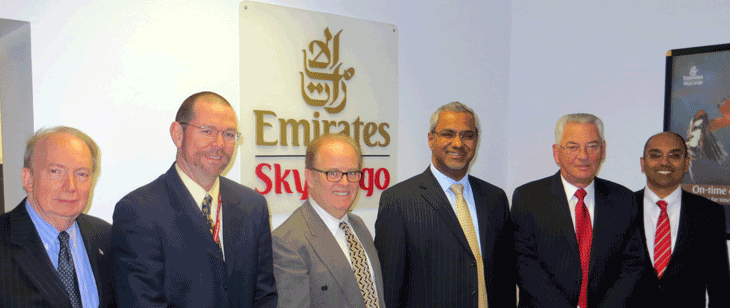 All Emirates SkyCargo—from left to right, Bruce White, Eddie O'Neill, Brendan Furlong, Nabil Sultan, Ed Chism and Hiran Pereira.
A Class Act

Saying his goodbyes after a stellar 50-year career in air cargo, Ed, who speaks in very soft tones that demand proper listening, said:
"I owe all that has happened to the wonderful people who surround me—my family, my lifelong friends and our wonderful people at Emirates, who are the best in air cargo."
Ed then asked:
"Would the people from Emirates raise your hands?"
A split-second later he raised both his arms at the audience and said, "higher!"
What simple, heartfelt, uplifting evidence of the closeness and love shared in the Emirates community.
Ed then said, "I love you too!"
Ed's class, heart, and very tender goodbye and farewell were extraordinary and shared by everyone in the room last Thursday.
Amongst all the people I have ever known in my life, Ed Chism is certainly one of the greatest. Among other things, he lifts people.
And he does it speaking in a whisper.
Later Duncan smiled and said, "Ed's people would do anything, including walking on hot coals, for him."


Duncan Salutes Ed

"He truly was a great leader," Duncan Watson said.
"Our job at Emirates SkyCargo has been made ever so much easier by Ed Chism.
"I have only worked with Ed directly for the last two years but can say that this has been a very enjoyable experience for me and I learned a lot from him.
"He is a truly respected, well liked, and professional person who delivers with a unique style and character all his own," Duncan Watson said.
"The performance of the USA business under Ed's stewardship both as GSA since 1993 and as Emirates SkyCargo in 2004 has been fantastic.
"The growth followed from the first New York flight launched in 2004 to 12 destinations serving with passenger flights and freighters.
"This now results in a business in robust health and ready for the next stage of growth and development as it is being handed on to the new management team," Duncan concluded.


From Pan Am To Emirates
Every once in a lifetime (or in my racket, if you are really lucky, a couple of times), you get to talk to somebody who truly lights up the room.
It is Ed Chism's presentation, experience, wisdom, positive point of view, and cutting right to the chase that sets this air cargo executive apart.
Ed has been in the cargo business since Lyndon Johnson was U.S. President.
He has been humping and moving freight around the world since he was 19 years old.
He has risen in the air cargo industry from an entry clerk at PAA to waking up one day and having the rather sad and thankless task of closing down Pam Am Clipper Cargo altogether at Building 67, JFK, when the great airline was finally grounded forever in December 1991.
"I was always fascinated with airplanes and the airlines.
"A friend of mine worked for American Airlines so I asked him if there were any jobs at AA and he said no, but that he heard that Pan Am was hiring.
"So at 19 I went to JFK PAA Hangar 14, put in an application and they asked me if I could type and I replied:
"'Sort of.'
"They told me there were some openings in cargo and although I wasn't much interested in the field, I indicated interest, figuring that was a good way to get my foot in the door.

(Photo Left) Pictured at JFK Air Cargo Expo 2005are (L to R) Ed Chism, D0lores Hofman, Queens Air Services Development, Air Cargo Association President, Jim Larsen. (Photo Right) Isaac Nijankin and Ed Chism.

"Air cargo is where I started and stayed for the past 43 years.
"I worked for Pan Am for 25 years.
"I had actually started in Building 67 the week it opened, driving a forklift in Import on the midnight shift with Tuesdays and Wednesdays off.
"We were not automated much at the time except for the Flow Access System, which was basically the first FedEx system several decades before that company went into business.
"Building 67 was designed for B707s so most cargo were small packages.
"The system was not perfected, and when the B747s came on, we ripped it out so that we could build up containers and pallets and other unitized freight.
"I did all the jobs and finally worked in a satellite unit in the passenger terminal that coordinated the freight on and off the flights as my first management experience.
"Later as a supervisor and a duty manager in both import & export, I moved up to director of ramp operations at a time when JFK International was Pan Am hub for six B747 freighters.
"At that point I was in charge of postal activities, cargo ramp, and also coordinating freight, both passenger and all cargo.
"When in the mid 1980s Clipper Cargo headquarters moved from Manhattan to Building 67, my job under Thor Johnson was worldwide director of sales and services, where I served until the airline shut down.
"Looking back, I learned everything at Pan Am.
"From documentation to U.S. Customs to all the regulatory authority requirements to security, you did it all—you had to do it all and that was it.


(Photo left) Emirates launched service to JFK in October 2004. Celebrating the service from l to r were Ed Chism, Russ Rumenik, Bruce White and Peter Sedgley—several generations of air cargo expertise. Shortly after this snap occurred, Mr. Ed & Co. started filling up the flights. (Photo Right) At TIACA 2000 in Washington, D.C., left to right—Prakash Nair, Emirates SkyCargo Manager Network Cargo Sales Development: Ram Menen, Emirates SkyCargo Divisional Senior Vice President Cargo and Ed Chism.


GSA To SkyCargo

"I guess my entrepreneurial spirit was greatly helped along by that experience because just after the airline went out of business, I declined to join Pan Am II, preferring to open my GSA company at JFK International off airport in Springfield Gardens.
"We had several companies that we conducted various tasks for, including consulting, but Emirates was among our first accounts, and eventually Emirates grew into our biggest.
"Our association began with a presentation for Ram Menen, which he accepted.
"In 1993, Emirates began booking air cargo in USA; as an offline carrier we had zero revenue as we began moving freight via interline partners from New York to Emirates' London flights.
"As my GSA company expanded, we set up two Emirates freighter flights weekly from JFK to Dubai.
"Initially the freighter flights grew nicely in the scheme of things, as those flights were always full and continued up until Emirates began flying into New York from Dubai non-stop.
"Emirates is truly a great airline.
"If you want to draw comparisons between Emirates and Pan Am there is no comparison from an air cargo viewpoint.
"Emirates SkyCargo is far superior to anything Pan Am Clipper Cargo did or hoped to become, even in its heyday.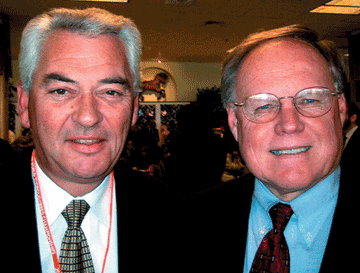 Ed Chism with longtime friend and colleague Jim Baxter.
Some Work To Be Done

"The big challenge to the air cargo industry ahead continues to be about the same as before, and that is getting forwarders and governments to endorse and practice utilizing paperless air cargo or e-freight.
"Here, America is a good example of the problem of putting e-freight into practice.
"In some cities you can do paperless business with exports, but not imports.
"In other cities it can be the other way around, while in yet other USA destinations it can be all shipments or worse—not allowing e-freight as part of the supply chain process at all.
"Everybody knows that for real change, there has to be a collaborative effort across the board, but no one seems to know how and when that will happen."

Smoke Dreams
Often when talking to Ed he says:
"C'mon, let's go outside and have a smoke."
Without a word we stand outside as Ed continues the conversation, cigarette in hand.
"Let's face it," Ed said, "change, whatever the need, comes very slowly to air cargo. Aside from some information technology driven by the Internet and newer handling systems that have come on line during the past twenty years, the air cargo business has not changed all that much over time.
"You still make out airwaybills, do consolidations, and then book the cargo on a flight.
"Pallets are still built and airplanes are still loaded as they always were in air cargo."
"The real magic in air cargo," Ed says waving his cigarette, "is keeping it simple, letting everyone know what to expect and always staying close to your customer."
We said goodbye to Ed Chism last Thursday with some promises to get together again sometime.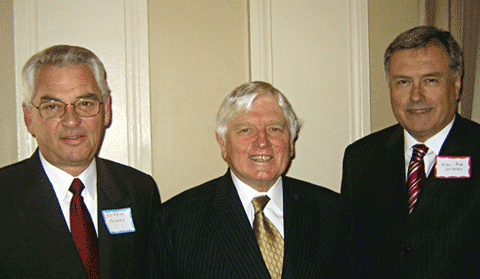 Ed Chism pictured with (ltor) the late Sir Maurice Flanagan and Nigel Page.
Now through that conversation with Ed I can recall a time when New York was the center of the universe for some truly great air cargo executives who served the famous international flag airlines and freight forwarders, during an era when the top USA gateway was here—the jewel in the crown of any international air cargo business.
These few dozen people in various positions, from the top to the bottom, seated in offices on and around JFK International Airport, changed history over decades, and (among other achievements) gave birth to industry groups like CNS and TIACA to create much of what we know today as organized air cargo.
There is still some of that breed out there among us, like Ed Chism, Thor Johnson, Guenter Rohrmann, John Ryan, Barry Lennihan, Jerry Trimboli and others who showed up to bid Ed Chism farewell.
They gave Ed Chism a plaque festooned with a silver dhow, the ancient Arabian trading ship.
This last glimpse of him surrounded by admirers in the hotel where Lindbergh also had a big night inspired nostalgic thoughts and a sense of longing.
But now we just wish him well, sharing the hope of everyone in that room that Mr. Ed and family have many happy landings in a multitude of years ahead.
Geoffrey/Flossie