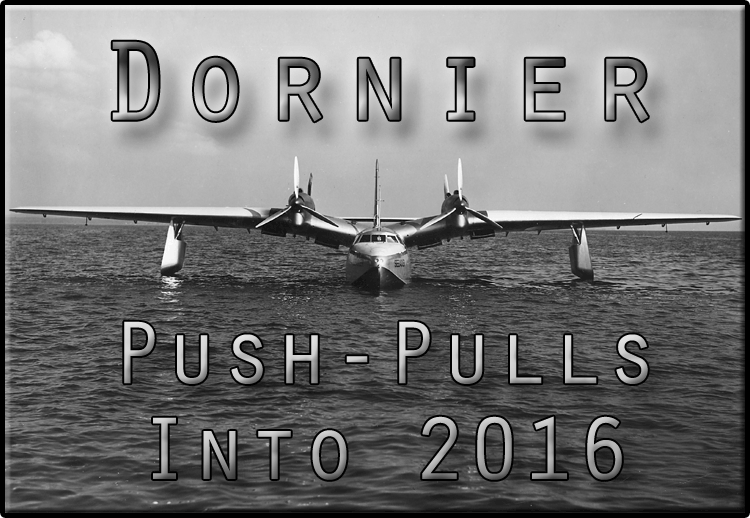 Some things never change.
It was 1929 when the giant Dornier DO-X landed in New York to be re-engined at North Beach Airport (today's LaGuardia) before continuing on its a worldwide flight.
The DO-X utilized a dozen Liberty engines in a "push-pull" configuration.
Folks who know about Liberty engines (of WWI fame) might also recall that those pioneering (and reliable for their time) power plants ran at one speed: "on." Based on the technology of the day, each push-pull pair required a mechanic that shinnied inside the wing and up between the engines whilst en-route to service.

The DO-X trip to North Beach was for replacement engines in the form of Wright Whirlwinds, which supplied a more up-to-date power source and allowed the pilot to feather the engines during flight—a big improvement, although the mechanic's rather harrowing configuration continued.
The DO-X was a giant airplane with lovely and ornate furniture and even oriental rugs on the cabin floor.
A later aircraft, the elegant, four-engine (also push-pull) gullwing DO-26, was utilized to establish airmail service from Europe to South America during the early 1930s (it was serviced and launched from picket ships stationed in the South Atlantic).
The header photo of the DO-26 floating on the water underscores why the DO-26 is considered the most beautiful flying boat ever built.
Fast-forward to today, as the scene shifts attention to the successor company in all of this. Dornier Seawings (still led by a Dornier) has announced the production launch of the Dornier Seastar, the result of a German-Chinese joint venture.
The formal debut of the new venture will be held this Wednesday, February 17, 2016, at The Singapore Airshow at Changi.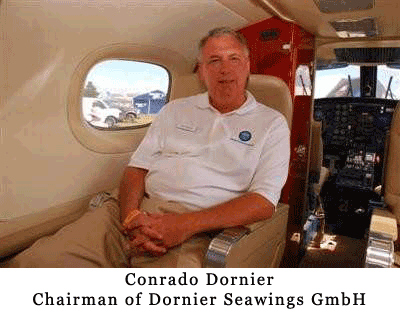 "Dornier Seastar carries seven people in comfort (or six with a lav) with sumptuous leather seating and is engineered to operate from runway and water surfaces," said Conrado Dornier, Chairman of Dornier Seawings GmbH.
Interestingly, the power-plant configuration for yet another generation of Dornier flying boats is still arranged with the spinners in a "push-pull" mode, although one 2016 engine surely has the power of several of the older generation engines that hoisted the DO-X aloft a long time ago.
Seastar advances Dornier's hopes for a new century in which the world will embrace push-pull Dornier aircraft serving China and other global markets.
Geoffrey