The JFK Air Cargo Association delivers the JFK Air Cargo Expo 2020 on Thursday, March 26, 2020 from 10:00 until 14:00 at Russo's on the Bay in Howard Beach, Queens, New York.
Branded "Airside, Landside, & Everything in Between", the year of 2020 marks the 21st anniversary of this grand airport event that gets down to cases with display stands, a thoughtful discussion panel at 10:00 in the morning plus great networking and an engaging selection of speakers that will serve up some forward thinking.

Toastmaster General of USA Cargo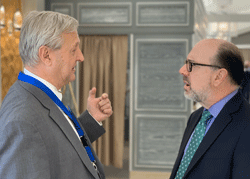 JFK EXPO 2020 will feature Luncheon Keynote Speaker Brandon Fried, Executive Director of the Airforwarders Association, who in 2020 is emerging as "Toastmaster General" at air cargo events from New York, Chicago, Los Angeles and points in between.
Brandon, just off the Airforwarders Association's big annual gathering in Nashville, will share latest news, underscoring what's hot and what's not during the luncheon and also will be a part of the panel session. Brandon is pictured here talking to Mike Bednarz, Manager of Air Cargo Business Development for the Port Authority of New York & New Jersey.

Expo Offering Sponsorships

Exhibition Hall at the JFK Cargo Expo will feature scores of exhibitors offering products and services.
Displays are modest and compact at JFK Cargo Expo, but contact is constant and face-to-face encounters offer some quality hours of excellent networking with people who make the air cargo industry move in the greatest city in the world.
JFK Cargo Expo Admission (including Luncheon) is $95, Exhibitor Tables are $325 (including admission).
Expo sponsorship opportunities are available and begin at $250 and up.
More click here.
Not to be missed!
Geoffrey