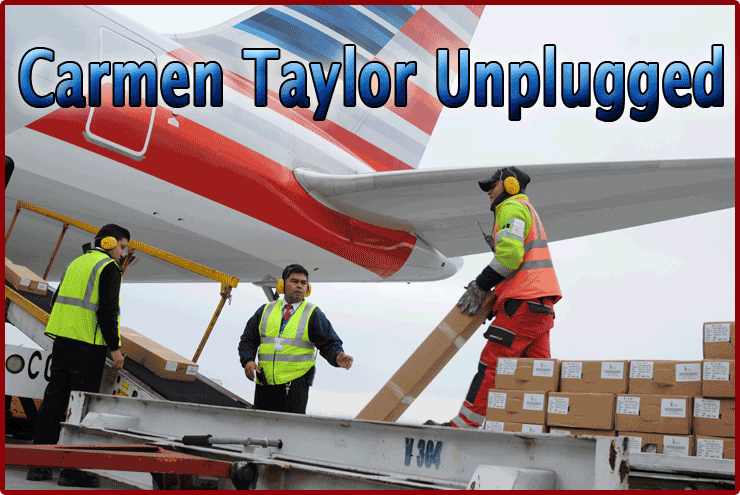 Back in 2012, Carmen Taylor, Managing Director of AA Cargo's Latin America sales division, which includes South America, Mexico, Caribbean, Central America, and the southeast region of the United States, was recognized by Miami World Trade Center for "exceptional leadership in promoting and enhancing free trade and international business."
The three-decades-plus veteran of American says simply:
"I love my job."
When it comes to exceeding expectations and taking things further, Carmen makes business as usual unusual.
"My philosophy is make the customer successful, and they will also make you successful," she said.
"At American Airlines Cargo our top priority continues to be our unique focus on delivering an enhanced service, including offering an expansive, incomparable network and a diverse selection of flights to choose from, all while exceeding our customers' expectations.
Fresh For Easter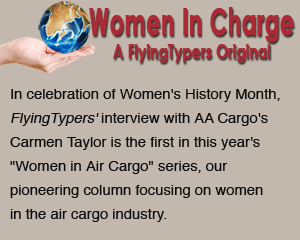 "Our fresh flower business continues to grow as we add new routes, improve our perishable network, and add on more service options this year.
"In 2015, we saw a significant increase of flowers worldwide from last year.
We expect to continue to see growth with the addition of new and bigger coolers, which are being added at our hubs that see the largest amount of flowers.
"The bulk of our traffic comes out of Latin America and Europe, including Costa Rica and Amsterdam—some of the top floral producers in the world.
"The U.S. is also one of our top flower export locations, thanks to the consistently mild climates and resources on the west coast. The speed and temperature-control capabilities we can offer as an air carrier give our customers more global options for shipping perishable products with shorter shelf lives to more locations around the world. Plus, with the consistently high demand over all 12 months, even in climates not equipped for flower production, we can maintain an influx of this popular commodity, especially around major holidays, including the upcoming Easter."
Play Me Hearts & Flowers
"During the Valentine's Day season, which we define as the two weeks leading up to the 2016 holiday, we saw a pretty significant boost in the fresh flower volume through our hubs.
"During this time of year, we transport a variety of different fresh cut flowers, including roses and carnations, [which are] some of the most common types we ship throughout the calendar year."
Perishables Top Priority
"Moving perishables by way of air gives you the added benefit of speed and transparency. With modern technology, we have the ability to track our cargo at each connection point, and we have cooler facilities strategically placed across our network. These cooler facilities were designed to maintain a refrigerated temperature of 5 degrees Celsius, perfect for perishable shipments such as fish, produce, and flowers that need to arrive fresh at their final destination."

O&D by Priorities
"In general, the types of flowers we move vary greatly, but as mentioned earlier we see a fairly large amount of carnations, roses, tropical flowers, ornamentals, and foliage—just to name a few.
"The majority of our flower shipments are destined for the United States (New York JFK and Miami, primarily), Europe, and Asia. With an expansive network and efficient flight schedule, we're able to transport flowers into the U.S. from nearly anywhere on the map, connecting through to the international destinations with the highest demand for this popular perishable.
"For example, flowers out of Bogota can make it into the hand of a distributor in the U.S. within four hours (or connect elsewhere, as needed).
"Out of the U.S., some top perishable commodities, aside from flowers, include berries and asparagus to the MCLA region and seafood and produce to Europe."
Why We Love Carmen
Born in Lyon, France, Carmen says of being a woman in air cargo:
"The demands are there—no matter who you are—to deliver all around."
"We are very proud of the role we play in facilitating international trade and helping consumers worldwide gain access to a large variety of goods available in the market."

On The Mark
"In July 2004, (our) good friend Mark Najarian, who was at the time our VP Cargo Sales, gave me an incredible opportunity to run our Cargo Sales business in Miami. "Although I was a little nervous at the beginning—since I knew very, very little about the cargo industry—I very quickly learned that the cargo business is a 'people-to-people' business."
"The experience of being 'real' with people had an immediate impact:
"Once you have built credibility within your customer base, they will support you. "Working in cargo for the last nine years has truly been a very rewarding experience.
"I feel extremely fortunate that my work with American Airlines has given me the opportunity to travel across the globe," Carmen Taylor said.


A Matter of Heavylift

"As a passenger carrier, we receive a lot of questions around the benefits of utilizing commercial aircraft verses freighters for the movement of cargo.
"The key benefit is daily, nonstop service across our expansive global network.
"When you combine our schedule with our trucking and interline partners, we can reach nearly every major (and minor) trade market in the world in a very short period of time."

Priorities Right Now

"Right now, it's all about finding more effective and seamless ways to interact with our partners and customers.
"From online tracking to customer surveys and enhanced facility layouts, we're using our talented employees and valuable industry partnerships to enhance the products and services we can offer.
"We want, and highly value, feedback from the organizations and individuals we work with all over the world and find those conversations are the ones that keep us evolving at an exceptional rate."

Forwarders Straight To The Heart

"Like many of our air cargo counterparts, we rely on the support and resources of our forwarders on a day-to-day basis. The relationship we have with our forwarders allows us to share the benefit of offering our customers more connection opportunities across the globe. This includes more direct services between the origin and destination points, thus minimal handling throughout the process. Especially for the transport of temperature-sensitive or highly-valuable commodities, enhanced tracking and security measures are crucial features for every member of the supply chain."
Geoffrey