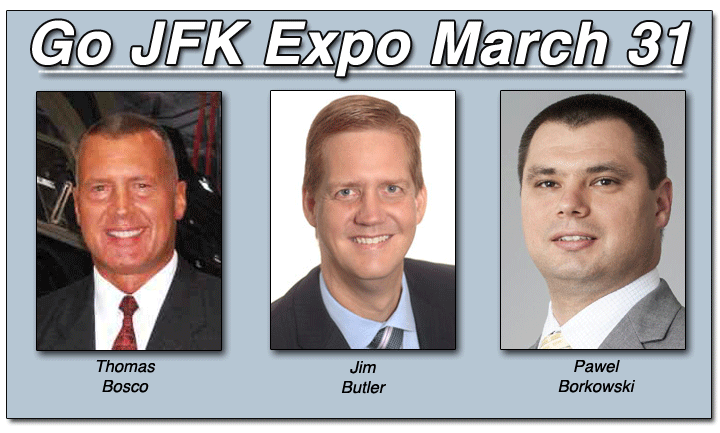 It's hard not to fall in love with the annual JFK International Airport "Air Cargo Association Expo," held at Russo's On The Bay near the main runways of the southern Queens facility in New York City. Transportation alums gather in Howard Beach, Queens, on March 31, 2016 all day from 08:00 until 17:00 hours.
This year, as has happened for the past 17 years, some dear hearts and gentle people will once again set up displays and get their trade show networking mojo on for a day of networking, speeches, and a panel discussion.
Headlining this year's gathering, which was breathlessly branded "Air Cargo Industry Transformation & Specialization," are some opening remarks by Director of Aviation at the Port Authority and good-guy Thomas Bosco.
Tom Bosco has a big job and a bigger airport at JFK, with lots of empty land in the cargo area "'neath starry skies above." The landscape rolls by like a big magic carpet outside the windows of the world's airlines, which arrive and depart nightly in massive numbers from a New York gateway that once handled 60 percent of all the airborne commerce generated in America.
Today—even with LaGuardia and Newark tonnage added to the tally—New York still trailed Miami, Los Angeles, Chicago, and Memphis (FedEx) in total air cargo throughput in 2014.
On the bright side, the JFK Air Cargo Day will include a power-lunch address delivered straight from the shoulder, right from the heart by Jim Butler, Cargo President at American Airlines, the biggest air carrier in the world.
Bag, Tags, & Water Bottles
   
The Expo's Exhibition Portal features over forty exhibitors from all segments of the air cargo industry displaying their products and services.
Typically sold-out well in advance, it offers the wonderful benefit of direct, face-to-face interaction and networking with airline, freight forwarder, and other key industry decision-makers in a dedicated and focused environment.
Cool Chain On Ice
   
"Cool Chain Dynamics: Hot Topic, Cold Facts" will feature panelists including Ron Schaefer, Project Lead Center of Excellence (CEIV) Pharmaceutical Logistics, IATA; Chris Connell, President of CFI – Commodity Forwarders Inc.; Pawel Borkowski, Manager Product & Express Development, Delta Cargo; and Brandon Fried, Executive Director of the Airforwarders Association.
Bottom Line
   
Air Cargo Industry Transformation & Specialization: JFK EXPO 2016
Russo's on the Bay
162-45 Cross Bay Blvd., Howard Beach, New York, 11414
March 31, 2016
8:00 am - 5:00 pm
Registration: $85.00; Expo Table: $300.00; Sponsorship Banner: $200.00
More Information: JFK Air Cargo Association
PO Box 300887
JFK International Airport Station Jamaica, NY 11430
(516) 508-2534
jfkaca@aol.com
Geoffrey