On March 2 the first Boeing 727 (N7001U) ever built took off for its final flight, traveling from Paine Field in Everett, Washington, to Boeing Field in Seattle.
The plane will go on permanent display at the Museum of Flight as part of Boeing's centennial celebration at the museum.
The B727 was restored inside and out at the Museum of Flight Restoration Center at Paine Field.
In service with United Airlines, the N7001U's first flight was on February 9, 1963.
During its career at United Airlines it carried about 3 million passengers.
The B727 was a huge success.
With 1,831 aircraft built, the B727 was the first commercial jetliner to sell more than 1,000 aircraft.
The B727 is credited with keeping open smaller, inner-city airports like LaGuardia (New York), Midway (Chicago), and Templhof (Berlin) because it made money on short haul flights and had the ability to get in and out of limited ground and air space facilities.
DC9 Born In 1965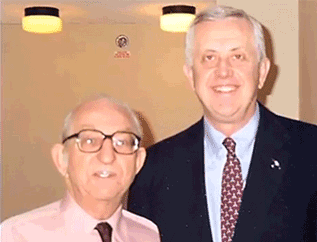 A little known highlight in all of this is something my friend and colleague, the late REG Davies, (pictured here) told me.
Ron served for 40 years as Curator of Air Transport at NASM in Washington, but prior to that he worked at Douglas Aircraft for Donald Douglas in Santa Monica and Long Beach, California.
"Douglas had a plan to build a short range twin- engine jet aircraft, but during the late 1950s [while] awaiting engine development was focused instead on a bigger, four-engine long range jet (DC8) to replace the DC7 for trans con and international range flight.
"I recall engineers from Boeing who we thought were primarily focused on building long range aircraft, visiting our offices in Santa Monica and spending hours talking about our plans for the DC9.
"The upshot is that the B727 tri-jet in 1963 beat the twin engine DC9 (1965) to market, although Douglas might have delivered the DC9 first.
"Of course, the B727 with three engines set records and out of the gate first was a runaway success."
Fast Forward to 2016

In an interesting twist of fate, the B727 tri-jet has been out of service since 1983 because of fuel costs and environmental concerns, and the DC9—more economical, and with twin engines—has survived in various updated forms and is still in service today.
The later twin jet series includes the MD-81, MD-82, MD-83, MD-87, and MD-88.
The MD-88 model is still flown extensively by American Airlines and Delta Air Lines.
The last version, the MD-95, was renamed Boeing 717 after the McDonnell Douglas-Boeing merger in 1997.
In total, the series that began with the DC9 in 1965 and ended with the MD-95-B717 in 2006 lasted 41 years, with over 2,400 aircraft built.
Geoffrey